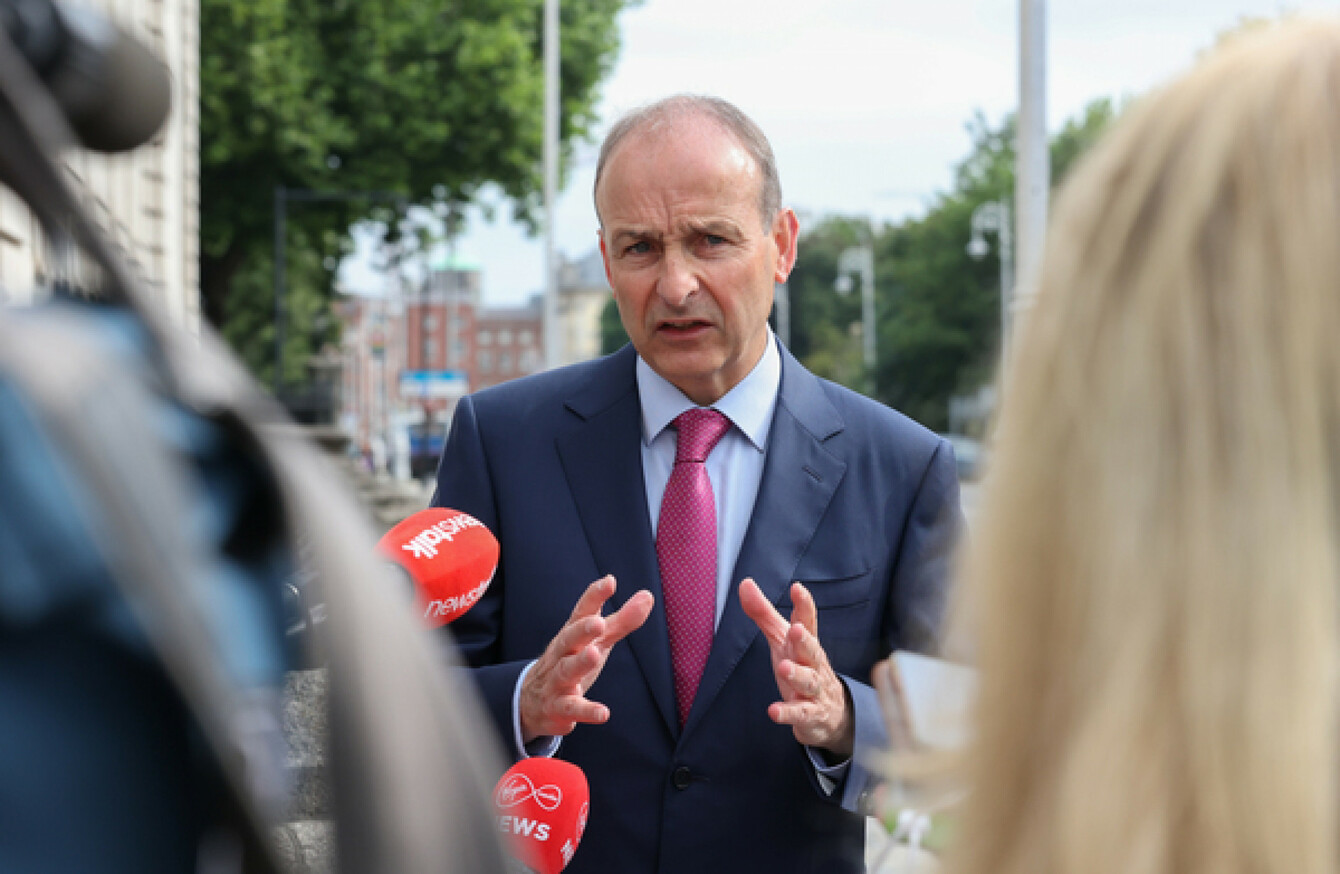 Taoiseach Micheál Martin outside Government buildings this morning.
Image: Sam Boal/RollingNews.ie
Taoiseach Micheál Martin outside Government buildings this morning.
Image: Sam Boal/RollingNews.ie
Updated Jul 27th 2021, 7:00 PM
CABINET AGREED TODAY that children aged between 12 to 15 are to be offered a Covid-19 vaccine.
A statement said that the operational and clinical details for how this will take place will be reviewed in the coming days.
It is understood that this age group will be offered the vaccine from next month, but parental consent will be needed.
A government spokesperson confirmed that there is "no talk" that children will need to be vaccinated in order to return to school in September.
The new advice received from the National Immunisation Advisory Committee (NIAC) for younger children is understood to have stated that a parent's decision to accept, defer or refuse a vaccine for their child should be respected.
The government spokesperson said there is no suggestion that vaccination will be a prerequisite for children to enter into schools.
He said that the vaccine programme has never been mandatory, stating it is an individual's choice.
He dismissed any suggestion that schools could put their own rules in place, stating that education guidelines for the reopening of schools in September are "blanket guidelines for all schools".
Cabinet was told that antigen pilot programmes are being run in childcare settings and third-level colleges. These pilots will be assessed and feed into how such rapid tests might be rolled out in schools in the new term.
Chief Medical Officer Tony Holohan tweeted this evening that he encourages parents and guardians of those aged 12-15 years of age to register them for a vaccination as soon as the opportunity arises.
An information campaign specifically for parents is to be launched as soon as possible, with vaccinations likely to begin next month for those that come forward.
Children over 12 in the UK are set to be offered a Covid vaccine but only if they have underlying conditions and are vulnerable, or live with someone at high risk from the virus. However a number of EU countries such as France offer vaccines to those over 12.
The European Medicines Agency (EMA) last Friday recommended authorising Moderna's Covid-19 vaccine for children ages 12 to 17, the first time the shot has been authorised for people under 18.
The World Health Organization has said that it cannot yet make a "general recommendation on vaccinating children" with different Covid-19 vaccines. 
However, its Strategic Advisory Group of Experts (SAGE) has concluded that the Pfizer/BionTech vaccine "is suitable for use by people aged 12 years and above".
"Children aged between 12 and 15 who are at high risk may be offered this vaccine alongside other priority groups for vaccination, " the WHO said in a statement. 
Vaccine trials for children are ongoing and WHO will update its recommendations when the evidence or epidemiological situation warrants a change in policy.
The WHO has said that a Phase 3 trial of the Pfizer vaccine in children aged 12-15 years "showed high efficacy and good safety", leading to the age being moved down from 16 to 12. 
The WHO added therefore that countries should consider vaccinating children aged 12-15 with the Pfizer jab if a large proportion of other age groups are already vaccinated: 
Evidence suggests that adolescents, particularly older adolescents, are as likely to transmit SARS-CoV-2 as adults. WHO recommends that countries should consider using the vaccine in children aged 12 to 15 only when high vaccine coverage with 2 doses has been achieved in the high priority groups. 
Cabinet
Health Minister Stephen Donnelly brought the Cabinet a memo today on the new advice received from NIAC for younger children.
In a statement following Cabinet's approval, Donnelly said that to date, the efficacy of the two mRNA vaccines that have been approved by the European Medicines Agency for use in this age group was reported as 100%.
"Today's announcement is an important step in offering that same protection to our younger population." 
Speaking this afternoon on RTÉ's News at One, Minister for Foreign Affairs Simon Coveney said "it will be a decision for parents to make with their children".
Coveney said it would be a big help in preventing the spread of the virus, stating that government will give reassurances to parents that it is safe to give the vaccine to their children.
#Open journalism No news is bad news Support The Journal

Your contributions will help us continue to deliver the stories that are important to you

Support us now
Coveney said he expected to see a "strong uptake" in the over-12s age cohort. While he said he did not want to give a commitment that the over 12s would be vaccinated before September, the minister said there is reason to "look ahead with a lot of confidence".
The minister said there has been a modest increase in hospitalisations, but Cabinet was told today that the pace has "slowed down" in the last number of days.
Meanwhile Taoiseach Micheál Martin has said that walk-in vaccination centres are due to open over the Bank Holiday weekend.  
Speaking on his way into Cabinet this morning, Martin said the Government want to get more young people vaccinated sooner. 
"I think it has been a very effective programme so far, but we want to encourage high participation rates now among the remaining age cohorts," he said. 
"To that extent, the HSE will be adding walk-in vaccination centres over the Bank Holiday weekend to facilitate further vaccination among 16, 17, 18 year-olds onwards in particular."
It comes as people 16 and 17 can now register to receive a Pfizer/Biontech or Moderna Covid-19 vaccine.
Cabinet was also told today that preliminary advice from NIAC is that priority groups for booster shots in autumn/winter should include nursing home residents; those over 80, those with underlying conditions, and healthcare workers.
The HSE has been asked to put forward its operational plans for the autumn.
Cabinet also agreed to increase the number of people who can attend a wedding from 50 to 100 people from 5 August.
With reporting by Christina Finn