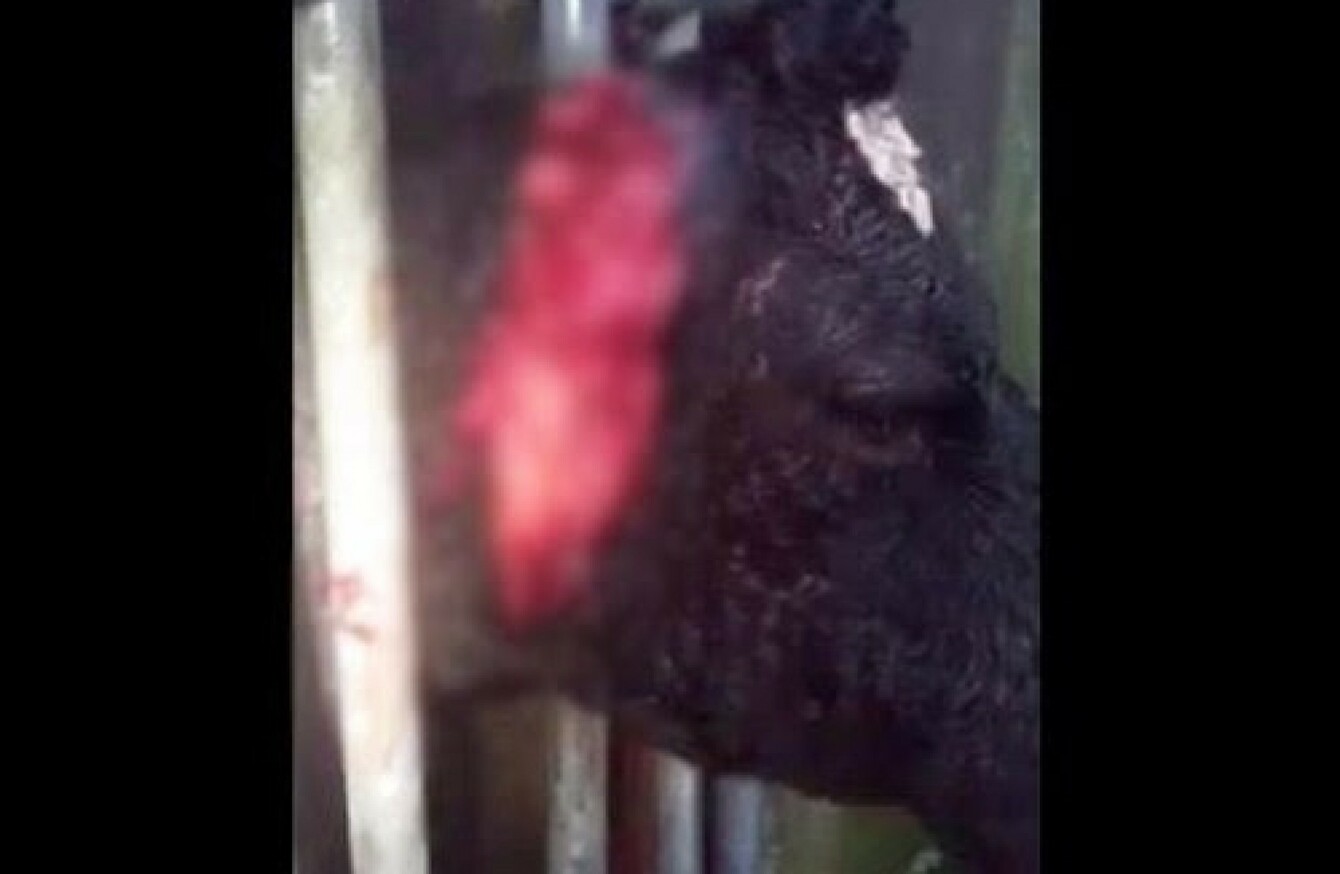 Image: RTÉ/Mallow Vets Facebook
Image: RTÉ/Mallow Vets Facebook
A VET HAS issued a warning to dog owners to be properly aware of the movements of their animals after two cows were viciously attacked.
John Collins, a vet in Mallow Co Cork, released graphic footage on Monday of a cow with serious lacerations to its ears following what he said was an attack by dogs.
Speaking this morning on RTÉ's Today with Seán O'Rourke show, John said that he had received a call on Monday from a local dairy farmer Frank O'Connor, a regular client of his.
Frank said that two of his cows that were close to calving had been attacked by dogs.
"It was only when I drove to actually visit his farm that I saw that the cow's ears had been literally ripped off," said John.
The cows were in a state of distress, with blood gushing from their wounds. John said that he had never seen anything like the kind of damage before in his career.
"With respect to cows or larger animals… I would never have heard of it before," he said.
"I got quite a shock because there was blood all over the pen where the cattle were."
When I saw the ear and the lacerations on the ears and the lacerations on the tissues that were left behind I had no doubt in my mind that it was something big that had attacked them.
The farmer said he had heard dogs fighting loudly before the incident – and that he was certain dogs had attacked the cows. However, he never saw the animals.
"He only heard the commotion in the shed… and by the time he had gotten there the damage it was done," said John.
John treated the cows as best he could and said that they should recover well and that there was "no reason why they should be traumatised anymore."
"When I saw them obviously I instigated first treatment and I gave them pain relief and covered them with antibiotics," he said.
I went in the following day and I was able to do some grafting of skin from their necks and attach some new skin as best I could to what was left of their ears and it seems to be working quite well thus far – they seem to be reasonably content in themselves.
Pet owners
John said that he was unsure who the owner of the dogs was, but issued a call to all pet owners to be aware of the movements of their animals.
It begs the question about pet owners: that they need to be mindful of where their dogs are at all times and if needs be to keep them indoors -to keep them in their houses or their kennels or wherever they may be.
In light of this attack and the attack earlier this week of a woman in Mitchelstown by a Bullmastiff breed, John was asked whether he thought that some breeds should be banned from being kept as pets entirely.
"In my experience as a veterinary surgeon since 2001 I've seen and worked with all kinds of breeds – big and small," he said.
It is my contention that any dog can be sent down the wrong path as it were – that the owner can affect them to become aggressive.
It isn't necessarily a big dog or a small dog. I've seen very, very aggressive pet dogs – or small dogs as it were – and conversely I've seen very quiet and very loveable and very affable large dogs or breeds that might be perceived to be aggressive.
"So I think that it has an awful lot to do with the owners and their handling of the dogs and their treatments of the dogs especially as young pups.
He closed by saying that no one can ever be 100% certain that their dog wouldn't attack – so he cautioned people to always be careful when dealing with animals.
The video is available on the Mallow Vets Facebook page (warning: Graphic Content)