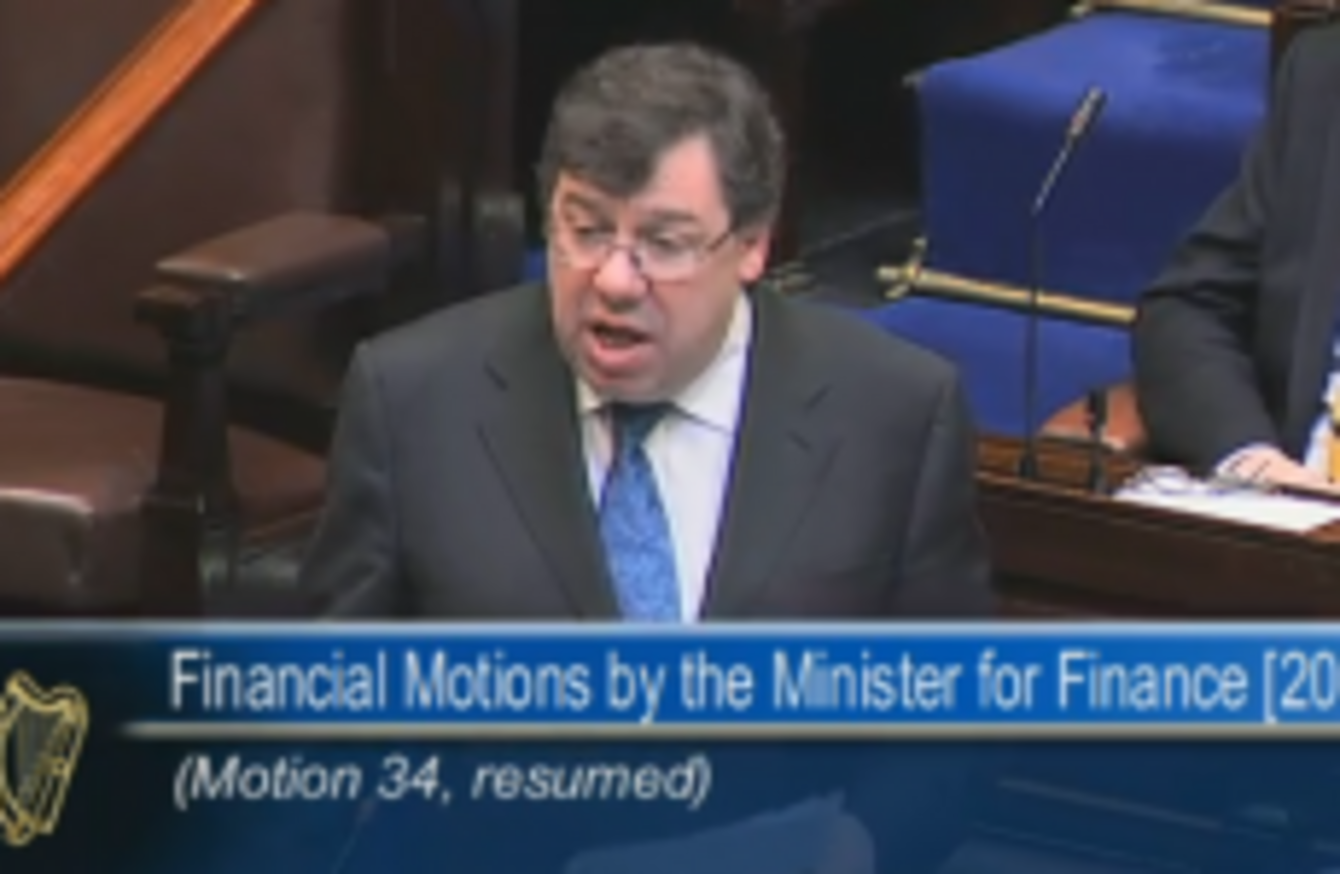 Updated at 13:45
TAOISEACH BRIAN COWEN has reacted angrily to suggestions that his government boasts of initiatives introduced while in power but fails to apologise to the Irish people for the current economic situation.
In an increasingly emotional interview with Sean O'Rourke on RTÉ's News at One, Cowen said: "I am extremely sorry we're in this situation… and I take responsibility as the Taoiseach day and night".
Cowen accused RTÉ of taking a particular editorial line, saying: "I'm regarded as arrogant if I defend myself".
O'Rourke said he had never been given direction on his interviews.
Cowen to lead FF into next election
Brian Cowen insisted last night he would lead the government into the next election – saying it was his duty, as Taoiseach, to try and regain the confidence of the Irish people.
Speaking on RTÉ's 9pm news, Cowen said that "from my point of view, yes – I will lead Fianna Fáil in the next election."
Even before the introduction of yesterday's Budget, Cowen was already statistically the least popular incumbent in the history of opinion polling, with last week's Red C poll commissioned by the Irish Sun showing just 8% of voters looking to keep him as Taoiseach after the next election.
"The only statement you will hear from me is that I'm determined get on with leading this Government. I'm very proud of what we've achieved thus far in difficult circumstances," Cowen said.
"We have done what we set out to do this autumn, which was to do a four-year plan, get the monies in place on the basis of what was required when we were out of the markets, and now we have a Budget."
Dáil savagery
Cowen also denied that the country was "banjaxed," as the Labour Party had described, and this morning further continued to savage what he felt were the incompatible policies of the main opposition parties.
Labour, he said, wanted to double the income tax take under their own Budget, which would have left the standard income rate at 22% and the higher rate at 45%, while Fine Gael was happy not to introduce any new taxes. Reconciling those positions for an alternative Budget, was impossible.
"Looking back, I doubt that any Government has acted so decisively and with such energy in a short period of time, or done so much political heavy lifting," Cowen insisted.
"It must be clearly understood that, if we are to be in a position to borrow to maintain our public services, State pensions, unemployment benefits, our schools, our hospitals, and to pay those who work in them, we must adhere strictly to the agreed parameters of the National Recovery Plan."
Enda Kenny insisted, however, that aspersions over his party's economic policies were unfounded, as they had been costed by the Department of Finance upon the invitation of the government itself.
"The best and finest service that you and your ministers could render now is to allow the people give a new government a fresh and a clear mandate," Kenny said, noting that only one Green TD of the six had attended the morning's Budget debates.
Additional reporting by Susan Ryan