A CoderDojo session in the kitchen at Dogpatch Labs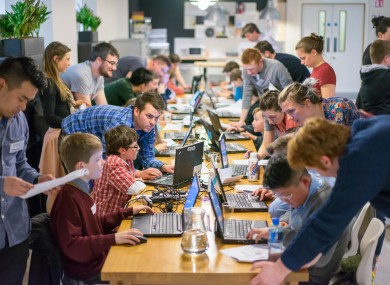 A CoderDojo session in the kitchen at Dogpatch Labs
WHEN JEFF BEZOS started Amazon two decades ago, the company was famously run from his converted Seattle garage.
But if the legendary entrepreneur repeated the same feat today, it's unlikely the online retail juggernaut would be spawned behind a roller door.
Instead, it would probably be breathed into life in one of the thousands of co-working spaces appearing worldwide.
In Ireland, there are now co-working offices in all the major cities, from warehouse-sized complexes for tech startups to a barge in the heart of Dublin's Silicon Docks.
These are the offices of the future where startup founders and freelancers rub shoulders, paying by the month or even day for desk space when once they would have been chasing leases or confined to the spare bedroom.
One of the largest in Ireland is Dogpatch Labs, which relocated early this year to the CHQ Building in Dublin's docklands after first opening in late 2011 as an invite-only startup hub run by US venture venture capital firm Polaris Partners.
It previously spawned successful Irish tech companies like travel software firm Boxever, although it has since converted to a pay-to-play model after Polaris Partners switched to a purely sponsorship role.
"I think this is definitely the way that things are going, that we are moving towards offices as being a service," Dogpatch Labs managing director Patrick Walsh told TheJournal.ie.
Why would all of you want to have your own ESB or internet bill, for example, how does that make sense?"
A report last year from DeskMag.com and Emergent Research put the number of people in co-working spaces worldwide at over 160,000 – compared to only 20,000 in 2010.
Over that period, the number of shared offices had ballooned from about 500 to over 3,000. The field is also becoming highly specialised with a rise in facilities like "makerspaces", offices tailored to those in fields such as robotics and 3D printing.
While the immediate lure of shared offices for many is the low up-front cost – typically between €300 to €400 a desk per month, including all necessities – it is the ability to rub shoulders with other like-minded people that also acts as a major drawcard.
More than desks and chairs
Walsh said one of the most important elements of any good co-working space was finding ways to help members network, recruit and learn from their neighbours.
The people who are doing this really well know it's not just about desks and chairs – it's about how you create a community and the decisions you make about who you let in… and who you don't," he said.
Dogpatch Labs currently features 150 desks spread across 13,500 sq ft with plans to add nearly 50% more floor-space before the end of the year. Like most co-working offices, it comes with communal kitchens, private meeting rooms and other shared facilities.
Its management will also soon announce a partnership with five other co-working spaces in destinations like New York to give users access to desks even while travelling.
In Galway, Barry Duffy opened the tech-focussed SuperPixel Labs at the start of the year and he agreed the old model of startups getting their own offices made "less and less sense".
I really liked what Dogpatch had done in Dublin so I tried it here," he said.
Duffy was in the process of looking for space in London to repeat the move, as well as expanding on the current 10 desks which had already been filled in Galway.
You get the networking opportunities from just being around people who are in a similar place to you, which is why we wanted to get the right company mix in there," he said.
Identifying
According to George Boyle, co-founder of the Fumbally Exchange, one of Ireland's most-successful co-working collectives, the secret to creating a good space was all about building a strong community.
"It has to be like-minded people people, they have to share an ethos – they have to be clustered around some kind of identity," she said.
"There are a lot of people setting up an office with a few desks and making money from it, and some of the people working there tell me they almost may as well be working from home.
What we create here is a community that people subscribe to – people aren't coming here just to take a desk and work."
The Fumbally Exchange, which celebrates its five-year anniversary this year, has spread its footprint from Dublin to Balbriggan and Waterford, and Boyle said its members were in discussions about opening in up to 15 locations from Cork to Donegal, Belfast to Glasgow and London.
While the not-for-profit organisation has focussed on those working in innovation and design, it includes people and enterprises from fields spanning from engineering to marketing, and from architecture to event planning.
We really try very hard to make things into projects. We have programmes to try and force people together – almost like speed dating – to raise people's awareness about what everyone's skills are."
Keep it down
Naturally there are downsides – and not all co-working spaces suit all people. Privacy is the major luxury of the exclusive office that is sacrificed to the collective, while the ability to build your own company "brand" also gets harder the more outside influences get dragged in.
Paul O'Hara, whose social enterprise ChangeX has been based in Dogpatch Labs since early this year, said there was a tendency for co-working offices to lead to a "generic culture" for the firms based there.
Then there was the noise factor, which O'Hara said some people struggled with.
A lot of people understand the code of conduct in a shared workspace, but there are also a lot of people who are new to the concept who can get a little bit rowdy," he said.
But for smaller organisations like his, which has "four-and-a-half" members, co-working offices paired the convenience of instant, affordable access to facilities with the ability to tailor the space to their needs as they grew, he said.
"When we were moving in, the rationale was that we're a non-technical team who are doing a tech startups so I thought it would be good to immerse ourselves in that scene.
You put yourself in the way of little things happening when you're sitting at the same table for lunch, or even just next to people in the office. I think that's way way easier… in fact that may never happen if you're not in a shared space. On balance, it has worked out pretty well."
This month, as part of TheJournal.ie's ongoing startup and small and medium enterprise (SME) focus, we are looking at peer-to-peer services and the sharing economy.
To view other stories from our collection, click here.