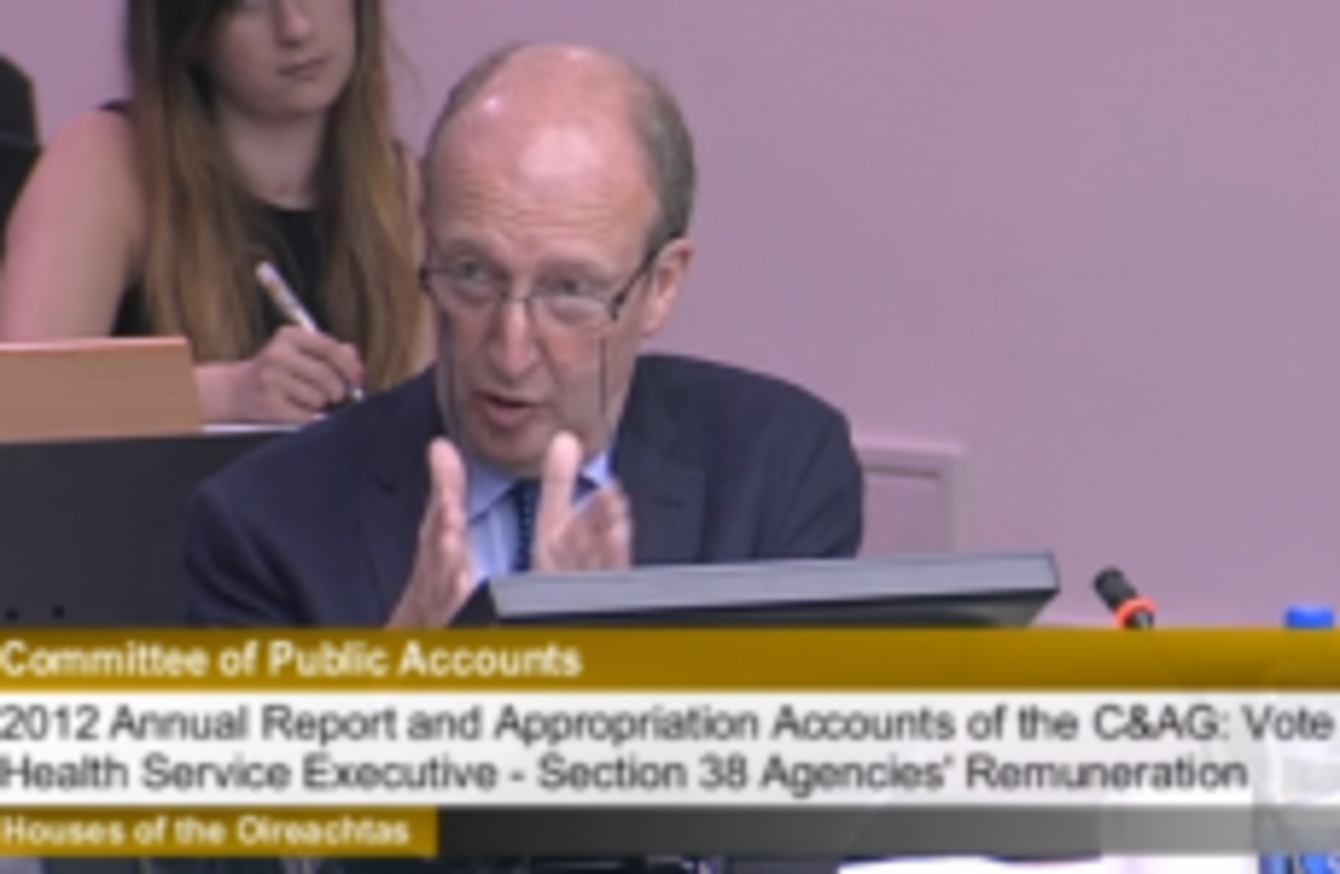 Shane Ross
Image: Oireachtas TV
Shane Ross
Image: Oireachtas TV
Updated: 1.30pm
THE NEW CHAIR of the Central Remedial Clinic has said that the organisation is looking into the €742,000 pay-out made to former CEO Paul Kiely.
Kieran Timmins told the Public Accounts Committee that the group's remuneration committee was "looking at it".
"We don't see the point in contacting Kiely until we have all the facts," Timmins said.
Earlier, former Chair Hamilton Goulding rejected Independent TD Shane Ross's suggestion that Kiely "wrote his own cheque" in terms of his retirement payoff.
When Goulding said he was unaware of  Kiely's salary arrangement when he was appointed chair in 2010, Ross suggested it was "a secret because it's so much".
Goulding did admit that he "thought his level of pay would have been half of what it was".
The Cregan Report into finances at the Clinic found that Kiely received a 2.5% pay increase in September 2008, bringing his overall pay to €234,449.
He was not affected by the public sector pay cuts introduced in January 2010.
Fine Gael TD Kieran O'Donnell asked how "Mr Kiely was able to basically come up with his own dowry" while cuts were imposed on other CRC staff.
Hamilton added that a "confidentiality clause" prohibited the board from informing the HSE of Kiely's salary. It was revealed in January that Kiely was paid a total retirement package of €742,025.
John Cregan, the interim administrator who conducted the report, said that "less than a handful of people" were still earning salaries that were outside of the HSE pay scale.
He later clarified that six people were in receipt of such salaries.
Cregan noted that these payments would have to be "red-circled" under 2015 due to contractual obligations.
Charitable wing
During the meeting, Laverne McGuinness, Chief Operations Officer at the HSE, said that she and her colleagues "didn't appear to know about the existence" of the Friends and Supporters of the CRC, the charitable arm of the CRC.
Ross questioned how this could be the case, saying: "It didn't take me more than about 20 minutes to find out about the Friends and Supporters and it and certainly didn't take me more than 10 seconds to find out they had €40 million there".
The Cregan Report, which was published last month, concluded that the CRC set up its charitable wing for the sole purpose of getting as much money as possible from the HSE.
McGuinness said that the Friends and Supporters group should be wound up and its functions transferred to the CRC Board as soon as possible. She added that excess money paid to Kiely should be recovered.
The report also found that the charity arm gave a loan of €3 million to the clinic to bail out its pension fund. It also repaid €550,000 on behalf of CRC Medical Devices, a company set up by the Clinic, which was sold last year at a loss. No one present was able to give specifics as to how much the sale cost.
Why are we here?
Goulding told the Committee he was unsure of why he was called before them today.
He said that the Cregan Report found "no wrongdoing and no need for further investigation".
As such, he said it "slightly makes me wonder why we're here".
Goulding said that the report, which was carried out by interim administrator John Cregan, "positively and unequivocally exonerated the board."
Sinn Féin's Mary Lou McDonald pulled him up on this later, saying she would dismiss what he said as "throwaway" comments that she "shouldn't read too much into". Hamilton agreed.
#Open journalism No news is bad news Support The Journal

Your contributions will help us continue to deliver the stories that are important to you

Support us now
McDonald then asked the new CRC board members to confirm that they were public servants and, as such, subject to questioning about their finances and potenital pay cuts.
Timmins confirmed on their behalf that this was the case.
Ross questioned the fact that the report into the Clinic was carried out by Cregan, who works for the HSE.
He said he was not disputing the report's finding that "the board know ignored its obligations to HSE", but said the report would have had "more credibility" if it was carried out by someone independent of the HSE.
'Abandoned'
Hamilton denied that the board had "abandoned" the CRC when it resigned, as suggested in the report. He said the members "resigned because we were pushed".
Following a meeting with the HSE in December, Hamilton said that the then CRC Chair Jim Nugent was "very bluntly told if the whole board doesn't go, HSE funding will cease".
He said Nugent then told him: "Ham, it's over: the board all has to go."
 Ross said that CRC should not have put its hand "into the pockets" of people who had made donations in order to top-up executive's salaries.
Hamilton said that he felt "deep sadness and regret" about the controversies surrounding the Clinic. He noted that his mother founded the CRC when he was 4 years old, adding that he has been involved with it for decades.
"I can only apologise for any shortcomings or inadequacies on my part … I have to add, however, that nothing I did or failed to do happened with any motives other than what was the best for the Clinic."
The meeting is ongoing. 
Originally published: 11.52am