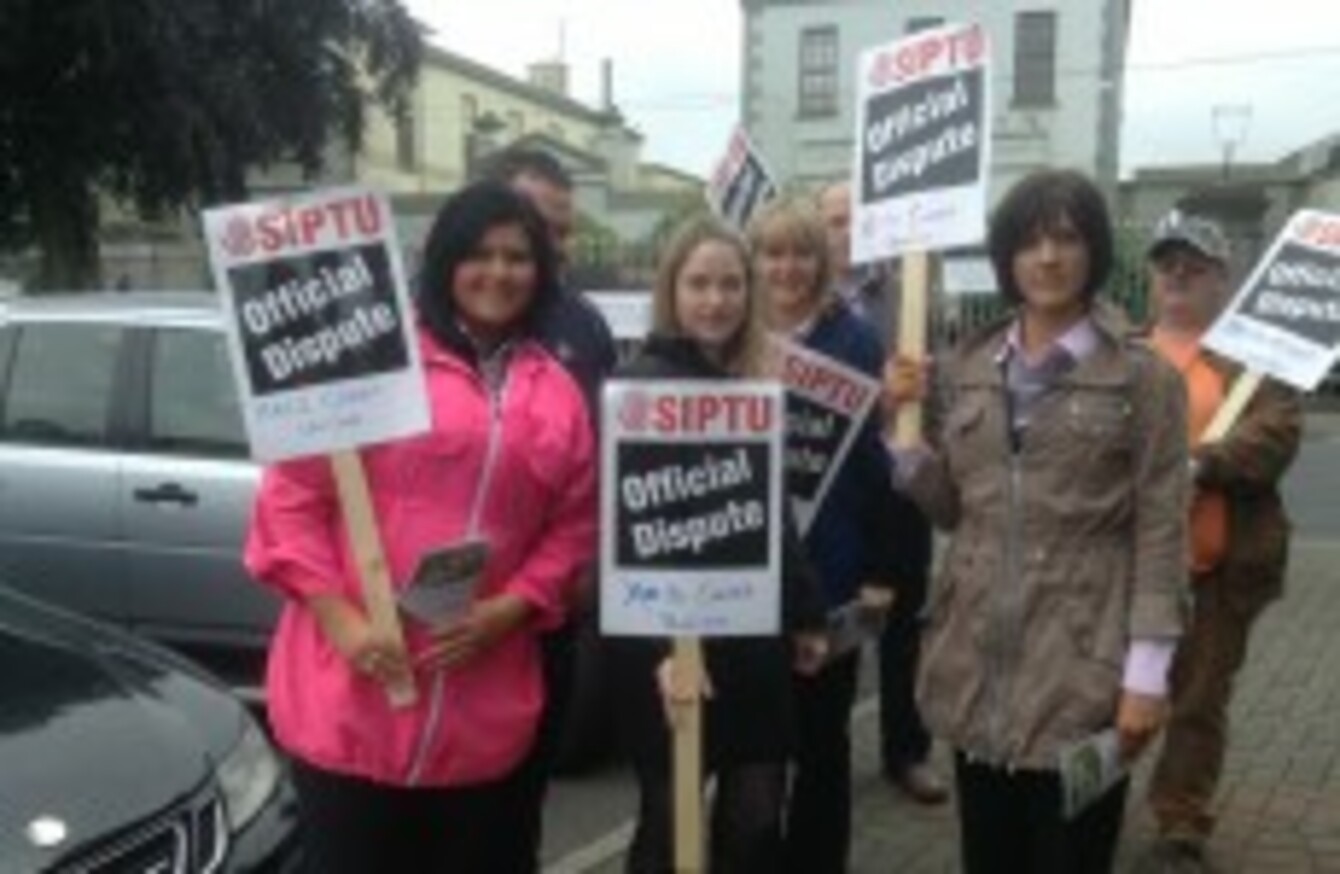 Tara Fitzsimons (left) Niamh McNamara (middle) Catherine Curran (right) Danielle Delvin (behind the middle) at the protest today
Image: Aaron McNicholas
Tara Fitzsimons (left) Niamh McNamara (middle) Catherine Curran (right) Danielle Delvin (behind the middle) at the protest today
Image: Aaron McNicholas
UP TO 30 people have been protesting outside St. Colmcille's Credit Union in Kells, Co Meath today in a dispute over recognition of a trade union by the management at the financial institution.
Staff members claim that the credit union has been refusing to engage with their SIPTU representatives. In a statement distributed outside the building, the staff said they joined SIPTU in June 2012 because management had tried to reduce their working hours.
According to the statement, credit union management continues to refuse to meet with SIPTU officials, even after a Labour Court recommendation this May which called for the trade union to be recognised. Kells Credit Union disputes this.
"We are left with no other option but to withdraw our labour in order to ensure that Kells Credit Union respects and complies with the terms of the Labour Court recommendation and recognises SIPTU as our representatives," the statement said.
The strike will last only one day, but SIPTU sectororganiser Adrian Kane has said there will be further industrial action if credit union management does not implement the Labour Court recommendation.
Outside the credit union building, the strikers encouraged passing drivers to sound their horns and advised visitors to the credit union to come back tomorrow.
In just over 20 minutes, TheJournal.ie saw three visitors decide not to enter the building after hearing what a spokesperson had to say. One other visitor said she needed to go in. Labour Party councillor Tommy Grimes said 99 per cent of visitors have refused to cross the picket line.
"At the end of the day, [management] will have to talk," Grimes told TheJournal.ie. "This is not going to go away."
Credit Union response
Despite the support shown by members of the local community, Cllr Grimes would not describe today's strike as a victory. "A message has to go to the [credit union] board of management. It's not them and us. It's for the workers. They are entitled to be represented."
Kells Credit Union has been responding to concerns raised on their Facebook page by referring users to a blog post on their website last December. The post contains a letter addressed to the SIPTU General Secretary which claims the credit union has always recognised the right of its staff to join a trade union.
"SIPTU has complained that Kells Credit Union has declined to recognise SIPTU for collective bargaining purposes," wrote Cathal Usher, chairperson of Kells Credit Union Board of Directors. "This is distinct from and different to the… claim that there is a refusal to recognise the right of a worker to join a trade union."
The credit union called on SIPTU to acknowledge that employees are not required to attend meetings with their manager on an individual basis only. The credit union said that employees are simply invited to do this and they also have the option of being accompanied.
The strikers have called on members of the public to contact credit union management and ask them to respect the Labour Court's recommendation. The Credit Union has apologised to customers for the inconvenience caused.