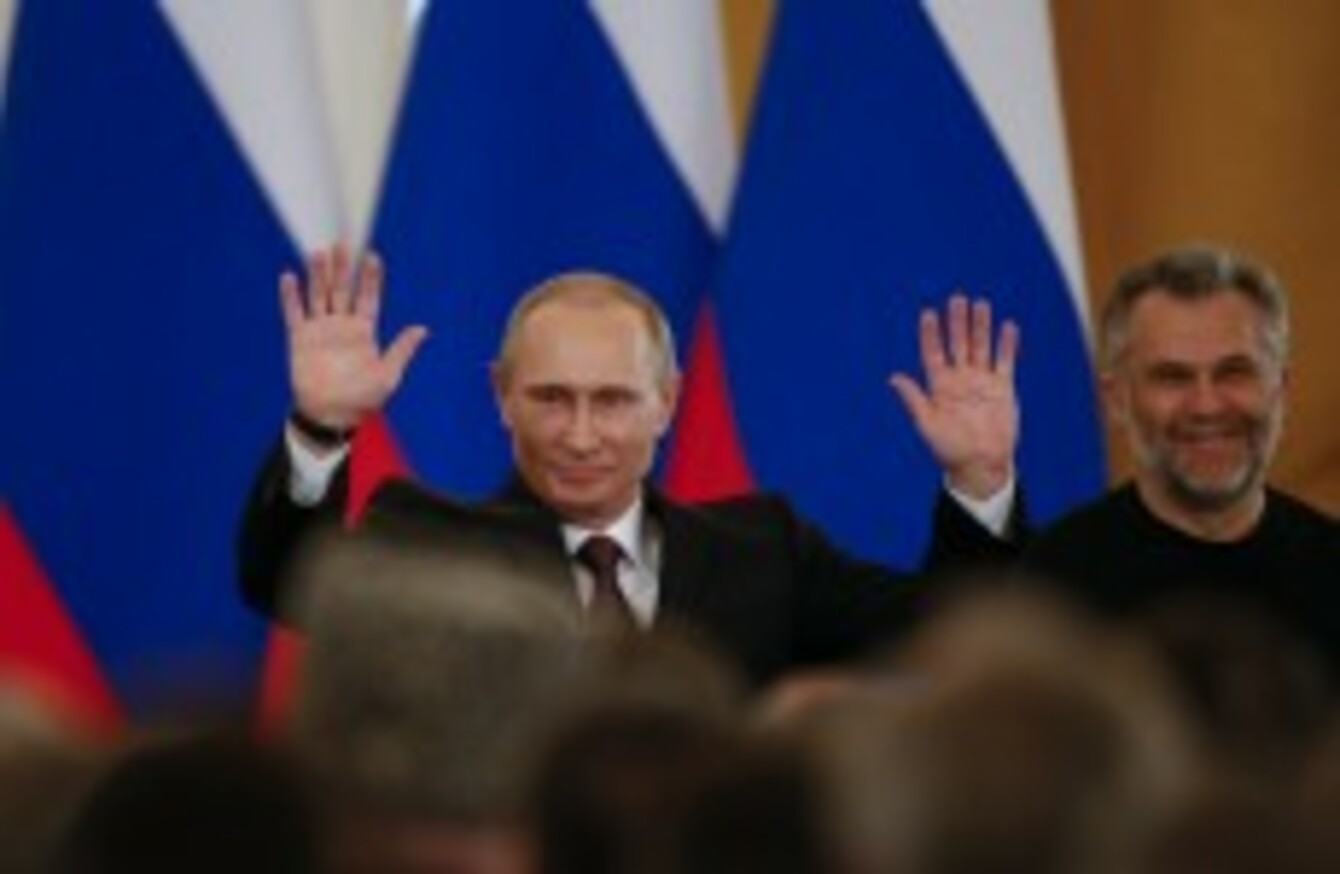 Image: Alexander Zemlianichenko/AP/Press Association Images
Image: Alexander Zemlianichenko/AP/Press Association Images
VLADIMIR PUTIN WAS in joyous form at a briefing at the Kremlin today where he signed a treaty making Crimea part of Russia.
Crimean Prime Minister Sergei Aksyonov and other Crimean leaders also attended the ceremony in jubilant spirits.
Russian lawmakers, who still have to formally ratify the treaty, broke into applause and cheers after the signing.
Here's what we have seen happen today as the international crisis continues…
1. The process of integration has started
Russian President Vladimir Putin signed a treaty making Crimea part of Russia today.
The Kremlin says it now considers Crimea to be a part of Russia – and not the Ukraine.
"In the hearts and minds of people, Crimea has always been and remains an inseparable part of Russia," Putin said in an emotional address broadcast on television.
2. Putin reasserts Russia as a powerful entity once more
Today marks the first time since World War II that Moscow is expanding its borders and represents the most radical redrawing of the map of Europe since Kosovo's 2008 declaration of independence from Serbia.
The move to make Crimea part of Russia also came faster than people thought. And the signing was not flagged in advance.
Putin's defiant speech brushed off US and EU sanctions, adding that Russia was "tired of being pushed into a corner by the West".
He said that the Kremlin had been "repeatedly deceived on issues like NATO, missile defence and visa-free travel".
He slammed the Soviet-era decision by Nikita Khrushchev to gift the peninsula to the Ukrainian Soviet republic as riddled with "violations".
When Crimea suddenly ended up being in another state, Russia felt it was not simply robbed – it was plundered.
He also warned the West about 'crossing a line'.
3. The UK has suspended all military cooperation with Russia
Britain's Foreign Secretary William Hague tweeted this morning:
I condemn Russia's recognition of Crimea as a 'sovereign state'. A clear attempt to pave the way for the annexation of part of

#Ukraine
And this afternoon he confirmed the suspension of all military cooperation.
4. More US and EU sanctions could be on the way for Russia
US Vice-President Joe Biden has promised that Russia will see more sanctions if it "continues down this path" in Crimea.
He said Russia's actions in Crimea were nothing more than a "land grab".
Russia's political and economic isolation will only increase if it continues down this path and it will in fact see additional sanctions by the United States and the EU.
Francois Hollande, president of France, has also urged a 'strong' response from Europe.
5. France is mulling over its options
French Foreign Minister Laurent Fabius has said that France's €1 billion sale of warships to Russia could be under threat.
Referring to a 2011 contract to provide two Mistral helicopter assault ships, Fabius said: "What is being envisaged is the suspension of these contracts but … that would only be in the event of us moving to a third level of sanctions and we are not there yet."
6. Ukraine bemoans lack of common sense
And it never will, according to Yevgen Perebyinis, a spokesman in the foreign ministry.
He told Interfax-Ukraine news agency that:
We do not recognise and will never recognise the so-called independence and so-called agreement on Crimea's integration into Russia…"
He added that the signed accord had "nothing to do with democracy, rule of law or common sense".
7. The G8 will discuss measures against Russia
Hague, noting that Putin has chosen a "route of isolation", confirmed the G8 leading economies would discuss measures against the country.
8. Merkel says Russia is acting against international law
"The so-called referendum breached international law, the declaration of independence which the Russian president accepted yesterday was against international law, and the absorption into the Russian Federation is, in our firm opinion, also against international law," German Chancellor Angela Merkel said today.