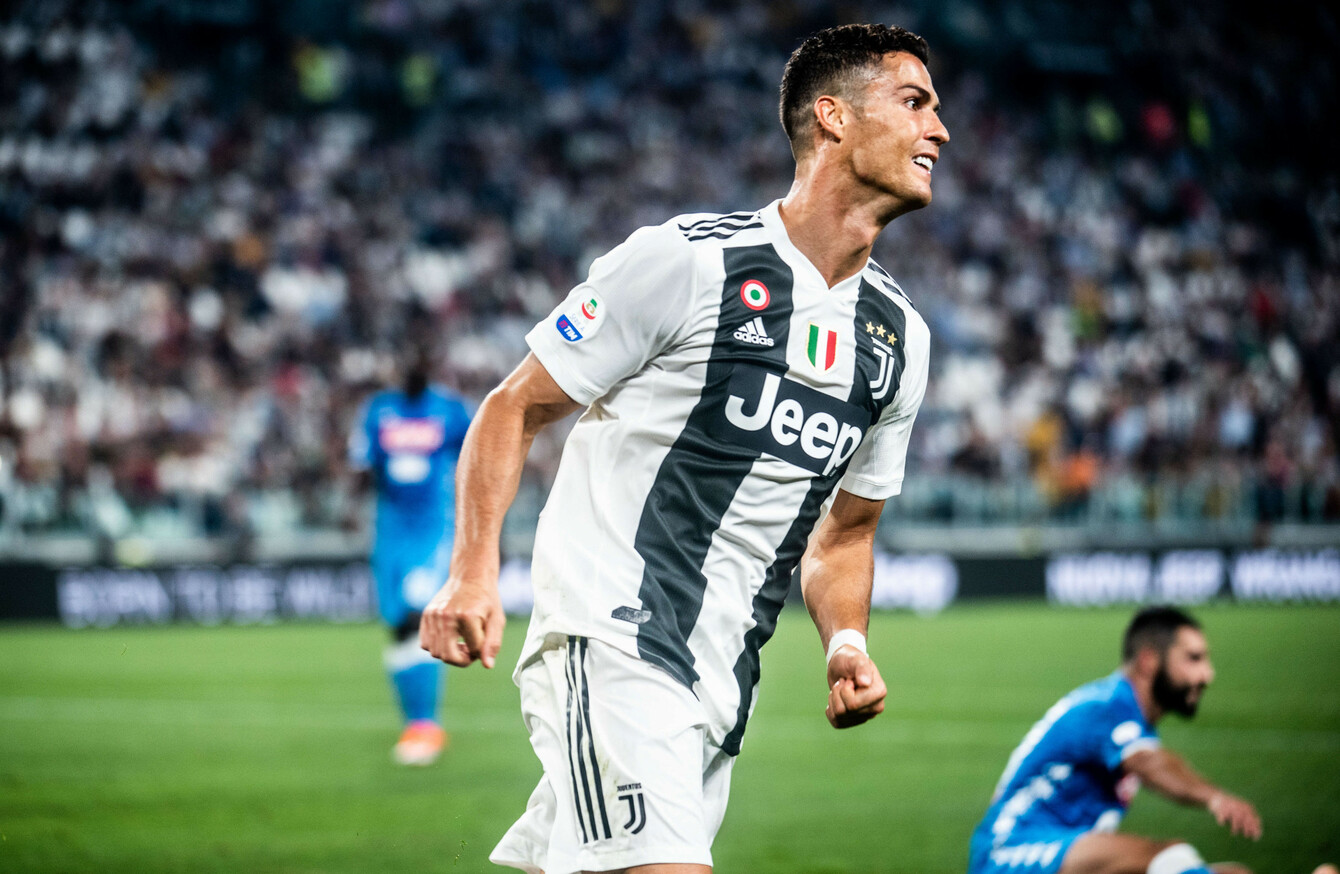 Image: Alberto Gandolfo/PA Images
Image: Alberto Gandolfo/PA Images
ITALIAN FOOTBALL TEAM Juventus has issued a statement defending star footballer Cristiano Ronaldo, in the wake of rape claims which have come to light in the past week.
It comes after sponsors Nike said earlier today that it is "deeply concerned" about the "disturbing" allegations facing the five-time Ballon d'Or winner. 
The club – who recently signed Ronaldo from Real Madrid – said: "Cristiano Ronaldo has shown in recent months his great professionalism and dedication, which is appreciated by everyone at Juventus.
The events allegedly dating back to almost 10 years ago do not change this opinion, which is shared by anyone who has come into contact with this great champion.
Kathryn Mayorga, 34, of Las Vegas, accused Ronaldo, in a 32-page complaint filed last month with a district court in Nevada, of raping her on 13 June 2009.
Las Vegas police this week said they were reopening a case filed on that date but did not identify the victim or the alleged perpetrator by name.
Mayorga alleges in the lawsuit that she was pressured into signing a nondisclosure agreement to keep the alleged rape secret and is seeking no less than $200,000 in penalties and damages.
The complaint was first reported by the German magazine Der Spiegel. Lawyers for Ronaldo have reportedly threatened to sue the magazine over the story.
Nike, meanwhile, told The Associated Press today that it's "deeply concerned by the disturbing allegations and will continue to closely monitor the situation."
Nike has had a contract with Ronaldo since 2003.
In a series of tweets yesterday, the footballer denied the claims against him.
"I firmly deny the accusations being issued against me," tweeted the 33-year-old.
Rape is an abominable crime that goes against everything that I am and believe in. Keen as I may be to clear my name I refuse to feed the media spectacle created by people seeking to promote themselves at my expense.
"My clear conscience will thereby allow me to await with tranquility the results of any and all investigations," he added.
With reporting from AFP, The Associated Press