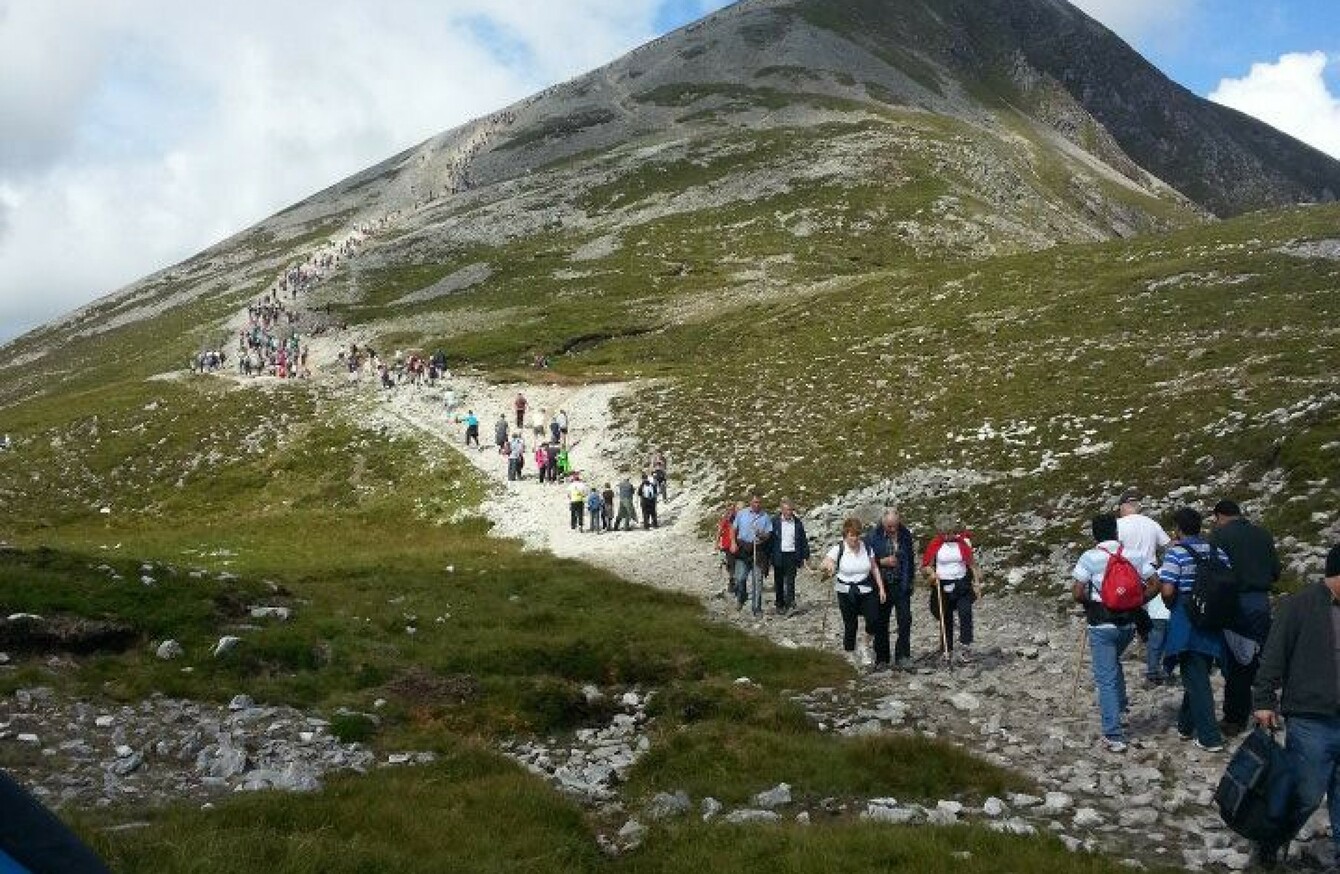 Croagh Patrick pilgrimage
Image: Order of Malta
Croagh Patrick pilgrimage
Image: Order of Malta
NEARLY 25,000 PILGRIMS from Ireland and overseas are expected to climb up Croagh Patrick in Mayo for 'Reek Sunday'.
Many will still do the climb barefoot, despite warnings not to.
Reek Sunday takes place every year on the last Sunday of July. The tiny church at the top of the mountain only opens for Mass on this day of the year.
It takes about two hours to climb the mountain and 90 minutes to descend.
The peak time for climbers is between 8am and noon according to Jerome Hopkins, the team leader of the Mayo Mountain Rescue Team.
There will be 120 volunteers from the Order of Malta providing support to pilgrims today.
Take precautions
Already this year, the number of call-outs for help has increased by 30% compared to last year. The Order is stressing the importance of wearing suitable clothing and bringing the right equipment.
Spokesperson and Lieutenant Eamon Berry said:
Extreme caution is urged upon all climbers given the dangers posed by the climb. It is imperative that suitable footwear be worn, along with warm clothes and rain gear, as well as sun protection. All climbers should also bring a plentiful supply of water and snacks, while extra care must be taken with children on the mountain.
Hopkins warns that climbers should be prepared for mixed weather. He also says people descending the mountain should be cautious.
Take your time, don't be rushing down. It's when people are coming down that most of the accidents happen.
Previous pilgrimages
Last year, all events were cancelled due to extreme weather conditions. Hundreds of people ignored the warnings and climbed anyway, leading to 10 people needing treatment for hypothermia.
In 2014, three people had to be airlifted from the mountain after sustaining injuries.
In recent years, Mayo Mountain Rescue have voiced their concerns about the "serious erosion" of the mountain, after a report by Mountaineering Ireland found the paths were "in a significantly degraded state".
Mountain Rescue Ireland have up to 100 volunteers on the day. They are assisted by the Order of Malta, Civil Defence teams, the Irish Air Corps, An Garda Siochana, Mayo County Council, the Murrisk Development Association and Church Authorities.
Mass will be said at the summit at 8am and every half hour, until the final service at 2pm.