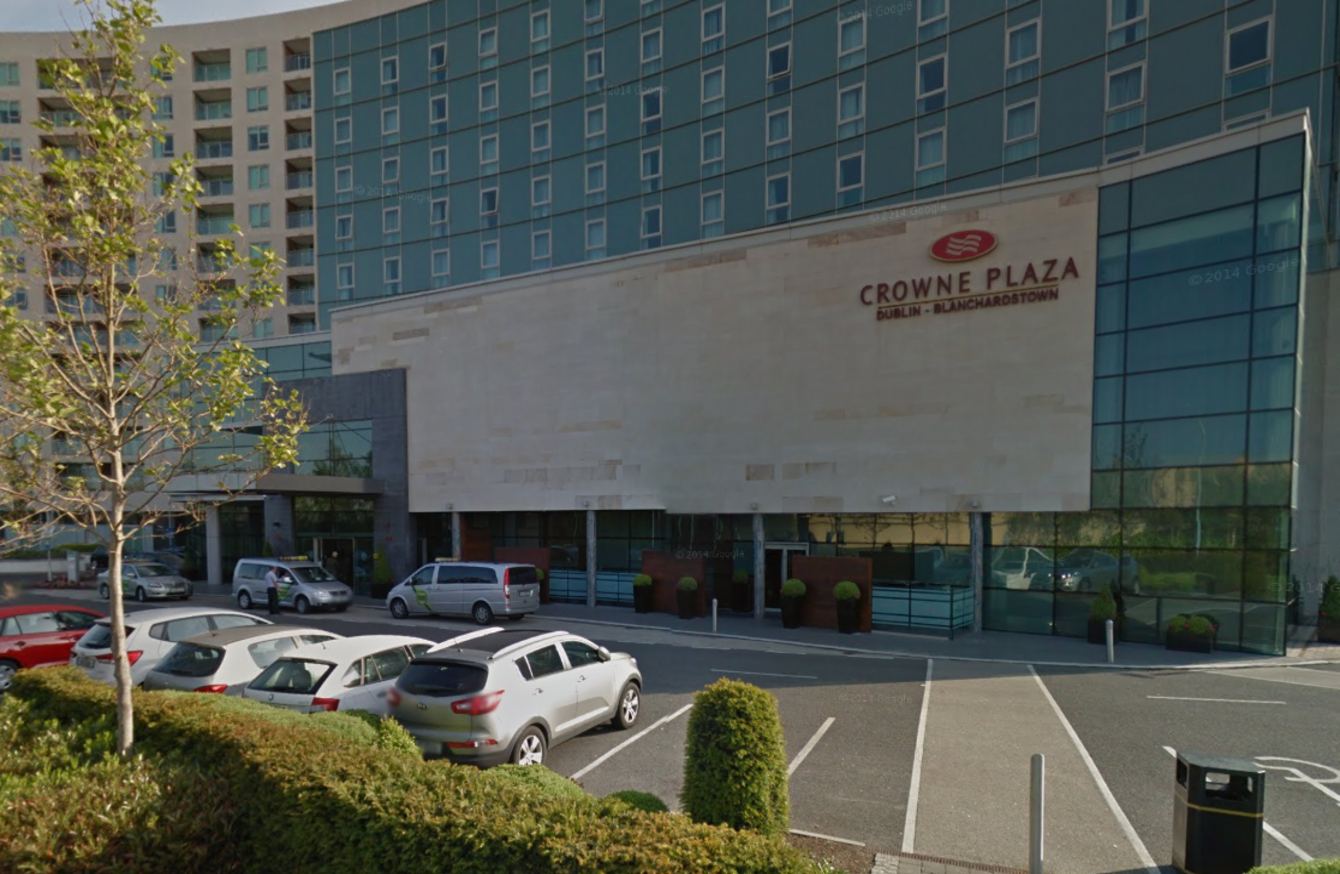 Image: Google Street View
Image: Google Street View
A 32-YEAR-old operations manager, who struck her head on a sign after using an "unorthodox and hazardous" route through a Dublin hotel car park, has seen an award for damages slashed by half in the Circuit Civil Court.
Judge James O'Donohoe said Natalie Malone suffered a head injury two years ago after she and boyfriend Sean Adams had parked their car at the Crowne Plaza Hotel, Blanchardstown, to get a hot chocolate in the hotel restaurant.
As the hotel entrance door closest to them had been locked and an intercom had been broken that day, they made their way to a second entrance, manoeuvring between parked cars and using a shortcut instead of the designated walkway.
Large protruding sign
The judge told Malone's barrister, Eileen McAuley, that in doing so, they had needed to squeeze between a parked car and a bollard close to a wall.
Malone had not seen a large protruding illuminated sign on the wall and hit her head on it before being knocked to the ground from the impact. She had suffered a one-centimetre laceration to her forehead which bled heavily.
Malone, of Fortlawn Avenue, Blanchardstown, had been taken to the Emergency Department of Connolly Hospital in Blanchardstown where her wound was stitched. She had also suffered a soft-tissue injury to her neck.
Malone, who sued the hotel owner, Tifco Ltd, of Northwood Court, Santry, Dublin, for negligence, told the court the wound had left a scar on her forehead.
'Failed to pay attention'
Barrister Conor Kearney, for the hotel, said his client denied liability and claimed Ms Malone had contributed to her injuries by not using the designated walkway.
Kearney told the court that Malone had failed to pay attention to where she was going.
Judge O'Donohue said he was satisfied Malone had used a precarious route. He also noted that the hotel had since her accident modified the walkway access.
The judge, finding that the parties were liable on a 50/50 basis, awarded Malone €6,000 damages -half of an initial award of €12,000- along with her legal costs.