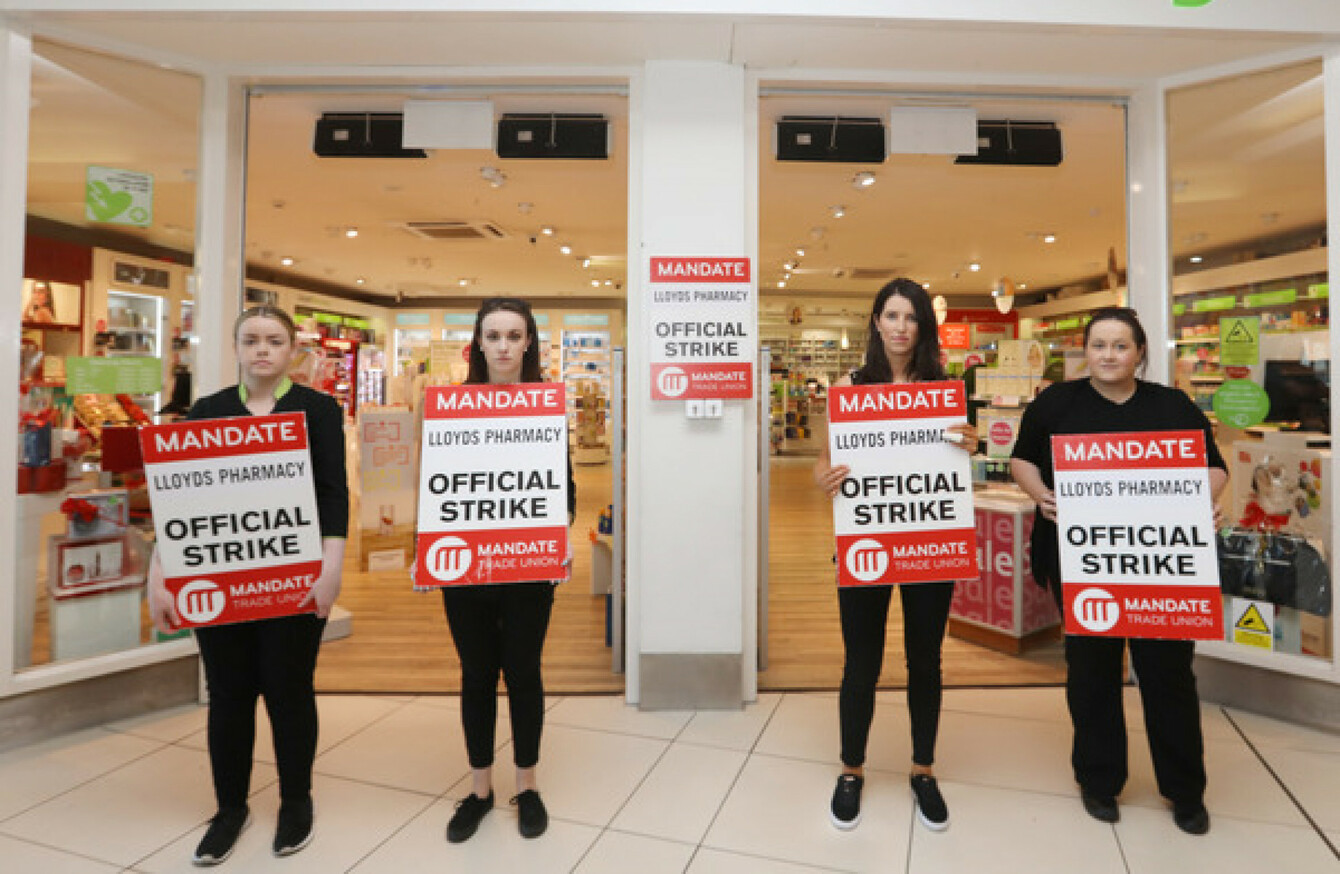 Staff protesting outside Lloyds Pharmacy in Nutgrove, Dublin in June
Image: Leah Farrell/RollingNews.ie
Staff protesting outside Lloyds Pharmacy in Nutgrove, Dublin in June
Image: Leah Farrell/RollingNews.ie
NEW FIGURES FROM the CSO show that 1,923 working days were lost to industrial action in the second quarter of this year, a slight increase on the first quarter. 
However, it is a significant drop compared to the same time last year, when 20,312 days were spent on strike in the second quarter of 2017, involving 2,417 workers in total. 
There were three disputes in total involving 888 workers between April and June this year, which resulted in the 1,923 days of lost labour. 
As highlighted on the CSO's website, 75.2% of these days lost were caused by disputes in the financial, insurance and real estate activities sector. Workers at Irish Life went on strike for 24 hours in April over their pension scheme, while staff at Lloyds Pharmacy began a series of strikes in late June over pay and conditions. 
The public administration and defence economic sector for compulsory social security had the second highest number of days lost.
In comparison, the first quarter of 2018 had only one dispute, which saw 300 workers involved and only 290 days of work lost. Industry appeared to be the main sector affected.
The large discrepancy between the 2017 and 2018 figures can be accounted for as a consequence of the Bus Éireann strikes last year. The strike lasted twenty-one days and allegedly cost Bus Éireann €500,000 per day. Irish Rail was also on strike during this period for one day, as well as Dublin Bus. Workers at Tara Mines were also on strike for six days.