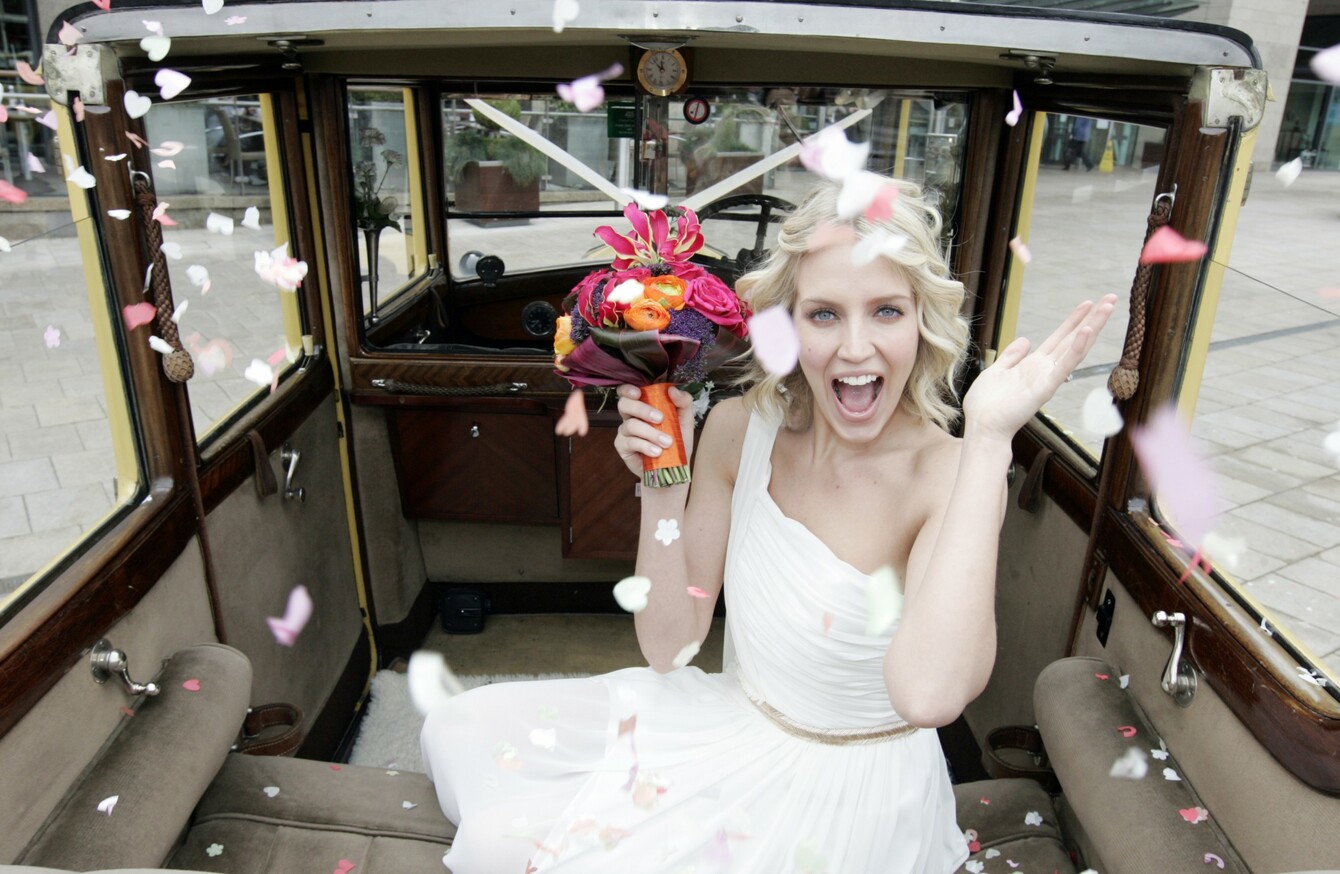 Men and women are marrying later and later.
Image: Mark Stedman/RollingNews.ie
Men and women are marrying later and later.
Image: Mark Stedman/RollingNews.ie
BRIDES AND GROOMS are continuing to marry at an older age according to new stats released by the Central Statistics Office.
Figures for 2016 show that the average age of a groom in an opposite-sex marriage is now 35.7 years compared to 35.3 years in 2015. That translates to grooms being an average of about five months older.
Brides in an opposite-sex couple now marry at an average age of 33.8 years compared to 33.2 years last year. That's about seven months older.
In same-sex marriages the partners are generally older when they marry. Men in same-sex marriages are 40.5 years on average while women are 41.
The trend in the increasing average age for brides and grooms has been rising year-on-year with 2016 the oldest in both cases.
"In the past 50 years, the average age of grooms decreased from 29 years in 1966 to a low of 26.2 years in 1977 and increased to a high of 35.7 years in 2016," the CSO stated today.
A similar trend is evident for brides with the average age decreasing from 25.7 in 1966 to 24.0 in 1977 and increasing to a high of 33.8 in 2016.
Grooms were older than brides in 62.3% of opposite-sex marriages.
Marriage equality
In the first full year in which same-sex couples could marry, there were 1,056 such unions in 2016, making up 4.7% of all marriages in the State.
In the case of same-sex marriages, the majority (56.6%) of those who married were previously single while 39.8% had previously been in a civil partnership.
Seven civil partnership ceremonies were performed last year.
In the case of opposite sex couples, 87.8% of marriages were the first marriage for both the bride and groom.
There were 2,444 marriages involving at least one divorced person in 2016, including 552 marriages where both parties were divorced.
Take me to church
In 2016, religious ceremonies accounted for 64.8% of all marriages with Catholic ceremonies the largest of that group at 53.7%.
The majority of non-religious ceremonies were civil marriages at 28.5% of all marriages.
Same-sex couples were far less likely to have a religious ceremony with 80.5% of such marriages being civil ceremonies. The next most popular way for same-sex couples to marry was in Humanists ceremonies at 9.2% of ceremonies.