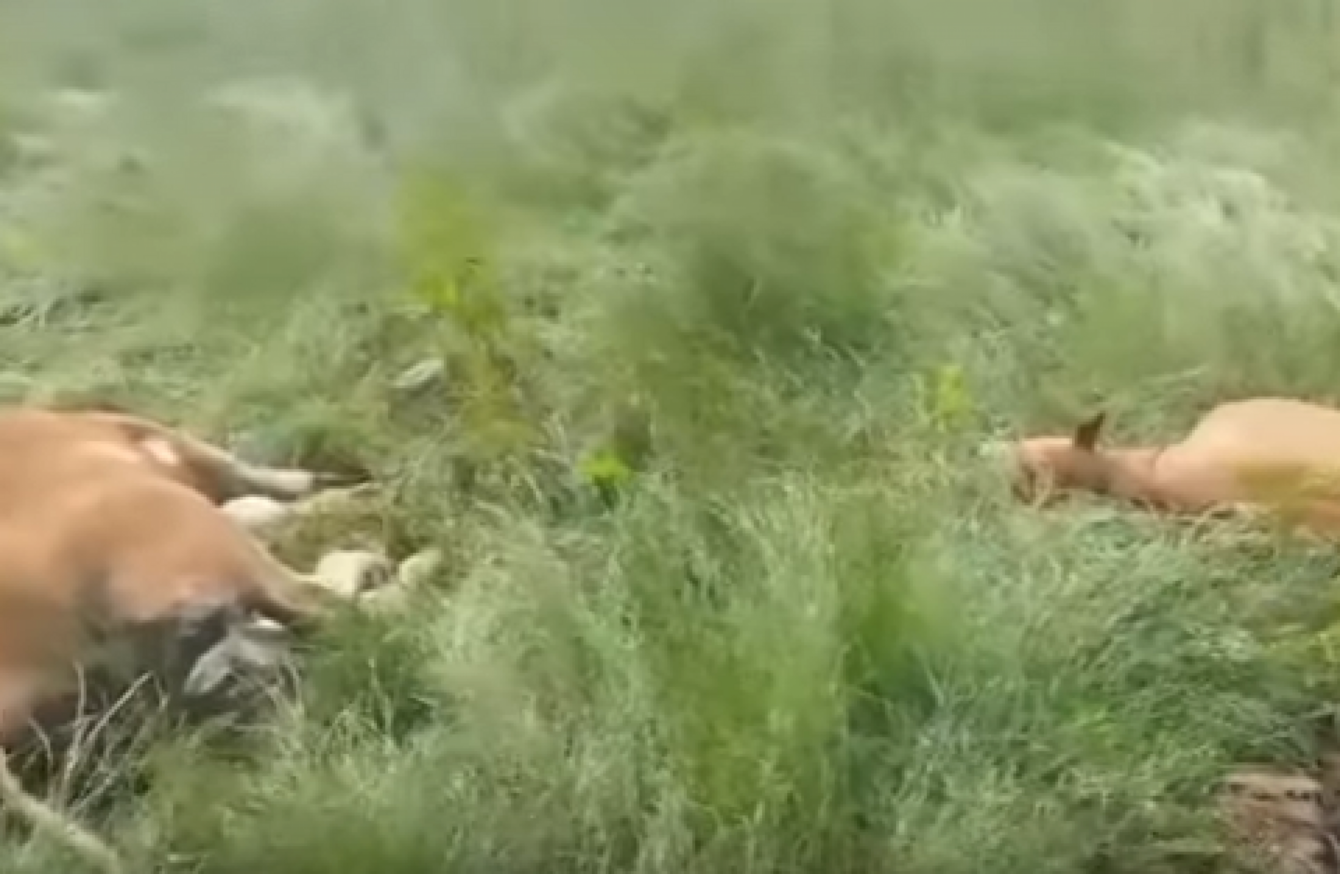 A still from footage released by the Farmers' Journal showing the culled animals
Image: Farmers' Journal
A still from footage released by the Farmers' Journal showing the culled animals
Image: Farmers' Journal
MEMBERS OF THE Defence Forces have shot dead five cows at a farm in Monaghan.
The incident happened yesterday when a security detail made up of the Army and gardaí were accompanying a debt collector onto the property.
The animals were shot as they were out of control and had access to a public roadway –  posing a potential hazard.
It is understood that the culled animals were suffering from TB.
Commenting on the culling, a spokesperson for the Defence Forces said that its role was to assist gardaí in carrying out their work.
Its statement read:
An official request was received from An Garda Siochána requesting the assistance of the Defence Forces concerning the emergency culling of animals in the Carrickmacross area.
Footage of the cows in the aftermath of the incident was later released to the Farmers' Journal by the animals' owner.
The incident had earlier drawn criticism from those concerned for the welfare of the animals, with animal right's group Aran saying it would have been happy to intervene in the situation.
Responding to a query from TheJournal.ie a spokesperson for the Department of Agriculture said:
"On Tuesday 5 July 2016 the Defence Forces carried out the humane destruction of five animals on a farm in Co Monaghan due to a significant concern for public safety.
"This operation was carried out at the request of the official assignee responsible for the herd, in conjunction with An Garda Síochána, the Department of Agriculture, Food & Marine and the Defence Forces, in keeping with official protocol.
The carcasses were removed and excluded from the food chain.