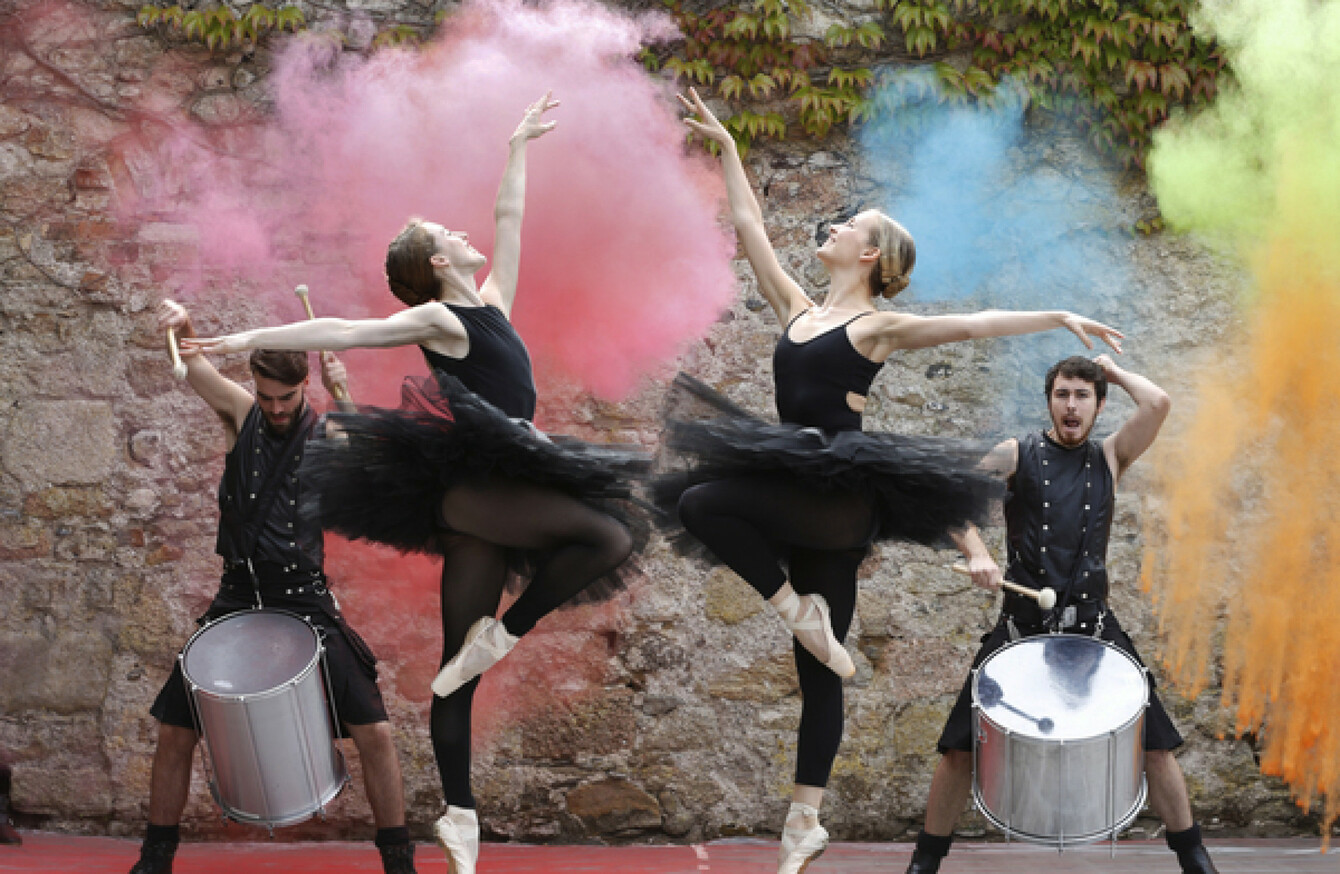 Ballerinas from Dance Ireland and The Hit Machine, at the Culture Night 2018 programme launch in Marlay Craft Courtyard at Marlay Park.
Image: Sasko Lazarov/Photocall Ireland
Ballerinas from Dance Ireland and The Hit Machine, at the Culture Night 2018 programme launch in Marlay Craft Courtyard at Marlay Park.
Image: Sasko Lazarov/Photocall Ireland
AUTUMN IS WELL and truly in the air and that can only mean one thing, Culture Night 2018 is just days away. The annual festival sees venues across the country open their doors this Friday night 21 September, for a host of free events. 
In Dublin and the east of Ireland this year's festivities include everything from musical prowess, to pop up theatre and even trying your hand at screen printing. 
To start our look at Culture Night 2018 here's a list of events to whet your appetite in Dublin and the eastern counties.  
Dublin City
Printmaking is once again back in vogue in artistic circles and Damn Fine Print is one of many workshops across the capital. Located in Unit 1, 32 North Brunswick St, Stoneybatter, Dublin 7, the team will open its doors to the public from 6pm–10.30pm this Friday night. Here you can try your hand at pulling your very own print.  

Also joining in the fun is Street 66, which will host a 'Drag + Draw' Culture Night Special. It's set to be a fun and informal life drawing session with Drag Queen models taking place between 5pm – 7pm in 33-34 Parliament St, Temple Bar, Dublin 2.  

If you've always had a hankering for improv, but never quite got around to trying it out this Culture Night is your chance. Act The Maggot is hosting 30-minute taster classes from 7.30pm –9pm, for guests 18 and over. Booking essential. Chapterhouse, 73 Middle Abbey St, Dublin 1.

€5,000 in funding has been provided to Poetry Ireland to facilitate the display of Coole and The Library, Coole by WB Yeats in Leinster House this Culture Night. The paintings will be on show in the Seanad chambers and visitors can book a tour of the House the Oireachtas to take a peek.
These are just a few of the free events happening across Dublin City this Culture Night for more see here.
Greater Dublin
 Author and Historian Turtle Bunbury will discuss his latest book  Corkagh – The Life and Times of a South Dublin Mansion at Clondalkin library. Proceedings get underway at 6pm with Bunbury's talk at 7pm, booking required.
Ardgillan Castle in Balbriggan will host a mix of  traditional acoustic Irish and Polish music in the company of performer Óisín Dillon and friends, from 4pm this Friday. 

Dun Laoghaire Rathdown County Council are opening 

Marlay Craft Courtyard Project

in time for this year's festivities. Located at Marlay Park, Grange Road, Rathfarnham, Dublin 16 visitors will have the chance to meet with artists and craftspeople who are based on site. This event runs from 4pm. 
 Carlow
Music Generation Carlow is showcasing its most talented musicians. Reelig a traditional ensemble and the county vocal ensemble MouthBox,  will present a varied programme of Irish Traditional and pop music. Cobden Hall, Carlow College, College Street, Carlow 7pm.
Kildare
Kildare Youth Theatre will present a version of Philip Ridley's Karamazoo. The production is described as a perfect piece of writing for a young actor, 7pm at Riverbank Arts Centre
Artist Monica de Bath invites children and adults to work with her on a large-scale drawing of the creatures, both real and imaginary, that live by the local canal and river. Cé Eile a Chónaíonn Anseo? Who Else Lives Here? From 6.30pm, Rathangan Library.
60 Years of Defence Forces Peacekeeping Operations. A lecture on the history of the Defence Forces. The lecture will be repeated on the hour. From 5 to 9pm, United Nations Training School Ireland, Curragh Camp. 
Kilkenny
The National Design and Craft Gallery in Kilkenny will host a festival of Creative Making.  Adults can enjoy a glass of wine and entertainment; while children and young people roll up their sleeves and explore their creativity through an inventive use of materials, technology and craft techniques.5.30pm-9.30pm. 
Wicklow
Wicklow's own Catherine Fulvio will talk you through some of her recipes, highlighting some quick, easy and tasty meals that will get you through the Autumn weeks ahead. 7.45 to 8.45, Blessington Library.
Karl Henry will help you lead a more sustainably-healthy life in a talk at Greystones Library from 6.30. He'll offer an encouraging, practical, affordable and sustainable plan that will help you achieve lasting changes in your well-being. 
Wexford
Audio Visual Installation at Light and Shadow studio. Tara McGinn will present an installation aimed at reminding visitors of the potential of unused space. 24 Selskar From 6pm at St, Ferrybank South, Wexford.
The Ros Tapestry is a unique project that has been ongoing in the South East of Ireland since 1998 and has involved over 150 stitchers working on 15 giant tapestries for a permanent exhibition. From 5pm to 7pm at The Quay, New Ross. 
Meath
Oldcastle's Masonic lodge opens its doors this Culture Night. Take a tour and learn about the History of Freemasonry in Meath and Oldcastle by Provincial Grand Archivist, Eugene Markey. From 7pm to 9pm at Masonic Hall, Church street, Oldcastle.
Tabharfar cuireadh duit bheith páirteach san oíche shóisialta as Gaeilge seo. Bheidh comhrá, craic agus eolas á roinnt faoi na himeachtaí Gaeilge a bhíonn ar siúl sa cheantar, an Club Siúlach Scéalach san áireamh agus rudaí is féidir le gach duine a dhéanamh leis an nGaeilge a chuir chun chinn go háitiúil. Be an ócáid ar siúil idir 8-9.30pm ar Rooske Road, Dunboyne.
Louth  
Millmount Cultural Quarter in Drogheda has a host of activities on for this year's edition of Culture Night. The group is hosting  an evening of craft demonstrations, children's tile making, an archery display, free access to Millmount Museum and music in the Tower. From 6pm to 9pm. 
Culture night 2018 gets underway this coming Friday 21 September. The events listed above are just some of the hundreds taking place right around Ireland. For more details on what's going on in your area have a look here.  Tomorrow we will look ahead to events in the Midlands and West.