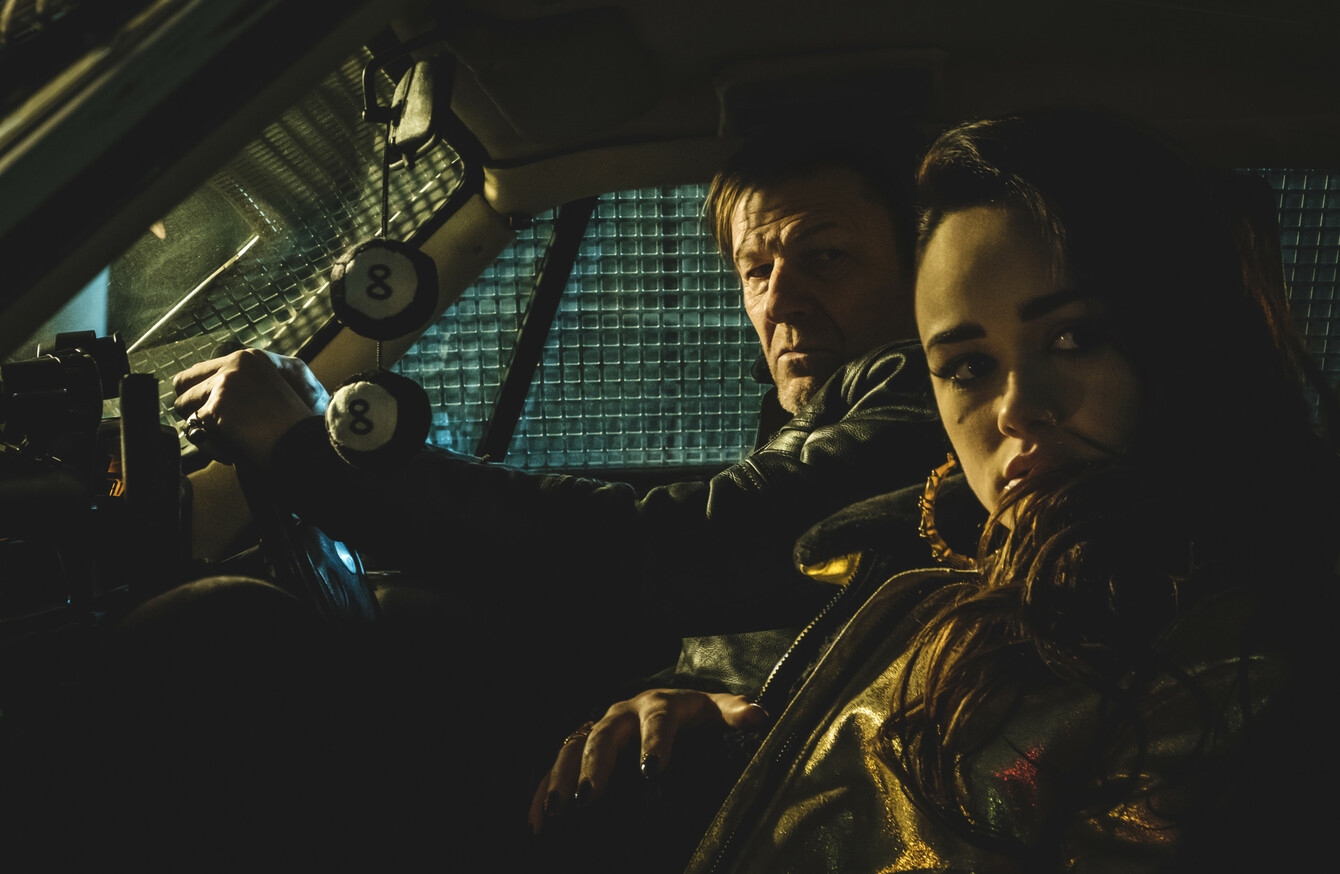 Sean Bean and Rose Williams in Curfew.
Image: Sky
Sean Bean and Rose Williams in Curfew.
Image: Sky
HOW FAR WOULD you go to be free?
Welcome to the near future. By night, the lights go out and the doors are locked, keeping the streets clear to prevent the spread of a killer virus. Break curfew, and you might not make it out alive.
There is one way to escape the curfew for good: by winning the world's deadliest car race. Charting a thrilling route through South London to the Scottish Highlands, 25 teams must go head-to-head in a life or death challenge.
Curfew is a blast of drama and diesel, a Sky Original production with a stellar cast including Sean Bean, Adrian Lester, Billy Zane, Adam Brody, Rose Williams and Miranda Richardson.
The show's first episode airs this Friday at 9pm on Sky One – and it's set to be the most exhilarating new show of the season.
Don't believe us? Here's what the cast are saying…
A dark, dystopian world
Source: Sky One/YouTube
Sean Bean plays The General, an unpredictable criminal who never forgets those who cross him. Curfew offered Bean the chance to play a role that matched up with the kinds of plots he's always been most drawn in by:
 I'm just fascinated by that darkness. I always find these dystopian tales and images quite fascinating – the comparisons to 1984 and stuff like that.
Each team is fighting to escape the terror of the world they're living in, but escaping means risking their lives. The show balances two warring desires: the desire to be free and the desire to be safe. The result, as Bean's co-star Adrian Lester says, is a thrilling ride:
There are some big surprises. Some characters just disappear and some die during the race, which also strengthens the horror and drama and the stakes that the characters find themselves under.
Ominous predictions
"I thought it [the show] is quite relevant to what's happening today," says Bean.
Things are getting quite militarised in America and you wouldn't like to think that will happen here, but that's what's happening in our story… it seems to be a very subterranean society that people are living in.
While the idea of an enforced curfew is – hopefully – one that's reserved for our TV screens, Malachi Kirby (who plays McLaren driver Michael) says those who know London well will find lots of familiar sights.
"The world of Curfew that we're creating is pretty much present day," he notes. "It may seem like the future, but it's not – hopefully! It pretty much looks how we know London to look."
In short, an absolute must-see
Recalling the moment he first read the script, Kirby says, "I remember thinking, this is ambitious." Since then, he's come around:
It's a mash-up of genres and a mash-up of different things we've seen, but never all together at the same time. I think it's going to be one of the most exciting things on TV.
Rose Williams, who plays The General's pregnant girlfriend, Faith, agrees. "It's original, daring adrenaline… a sensory overload," she says.
For Lester, it's the stellar cast and the compelling plot he reckons will hook viewers from episode one:
[A] major thing that made me join the cast was the other amazing actors and the fantastic story," he says. "It's got all the elements for some must-watch telly, because it is a mad, crazy and dangerous series.
Ready to compete in the world's deadliest and most exhilarating street race?
Curfew, a Sky Original production, starts this Friday at 9pm on Sky One.