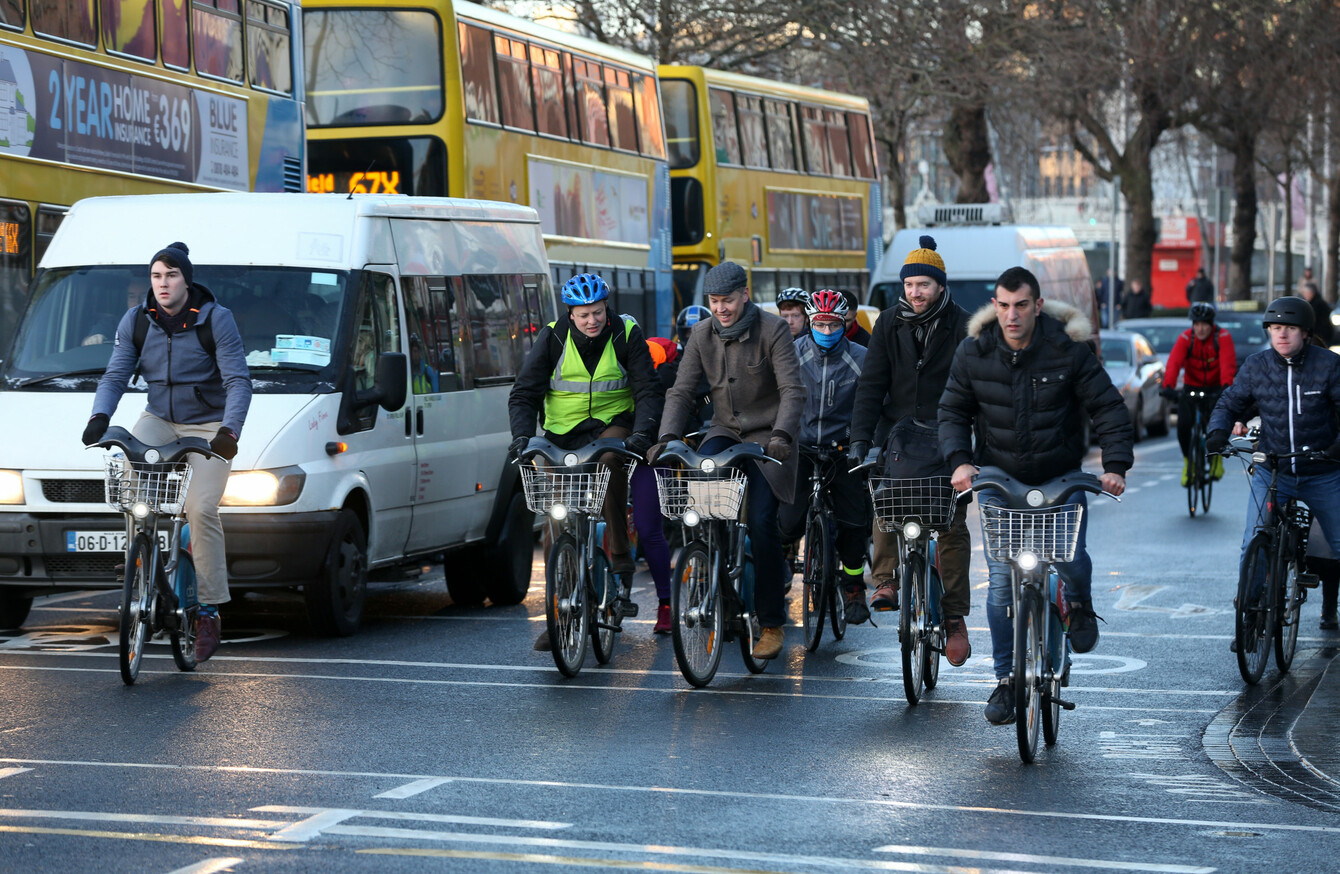 Image: Sam Boal
Image: Sam Boal
A STATUTORY INSTRUMENT, which would make it a law for drivers to give minimum clearance to cyclists, is currently with the Attorney General.
The law will require drivers to allow one metre when passing cyclists on roads with a speed limit under 50 km/h and 1.5 metre on roads with a limit of 50km/h or above. To date this year, there have been six cyclists killed on Irish roads.
But the plan has come in for criticism from some car drivers, who feel like the distances are unrealistic, particularly on smaller rural roads.
But Phil Skelton, who has led the Stay Alive At 1.5 campaign, says it's not only doable, it's the norm in over 40 countries.
However, Skelton is adamant that there is enough room on the roads for everyone.
"Of course it's possible – if drivers slow down and give due care and attention when overtaking.
"You would hope that this law would be a catalyst for helping (a change in motorists' behaviours). There will be a lot of work to do, but we have to start it.
"Giving cyclists the space means a safer interaction. There's six cyclists who haven't come home this year and nobody wants that. Just leave earlier if you're in that much of a rush."
Skelton says that the feeling of getting "buzzed" by a car or bus or lorry can be scary.
"The nearest I can get to describing it is to stepping inside the yellow line at a train station when a fast-moving train goes by. Not that anyone should do that, but the jolt would be similar."
Colm Ryder, the chairman of Cyclist.ie, says that the overall message to cyclists is one of patience.
"We're just asking drivers to slow down a bit, be patient if you get held up by a cyclist and give plenty of space."
#Open journalism No news is bad news Support The Journal

Your contributions will help us continue to deliver the stories that are important to you

Support us now
Ryder says that the perceived "us v them" argument between cyclists and drivers isn't helpful, when all sides have to share the roads.
"It's absolutely not helpful. The vast majority of cyclists are also drivers, so the us and them is a media construct.
"We don't see it that way. There's no doubt that many drivers do have a negative view of cyclists, but most don't."
Assistant Garda Commissioner David Sheahan of the Roads Policing unit said that the May bank holiday weekend leads to more people on the roads taking risks, but says his unit will work hard to keep people safe.
"The cyclist is a very vulnerable person – along with the pedestrian. Those people are over-represented in the numbers dying on the roads. We're asking both to make sure they're safe."
Sheahan said that motorists should particularly pay attention to their blind spots this weekend.