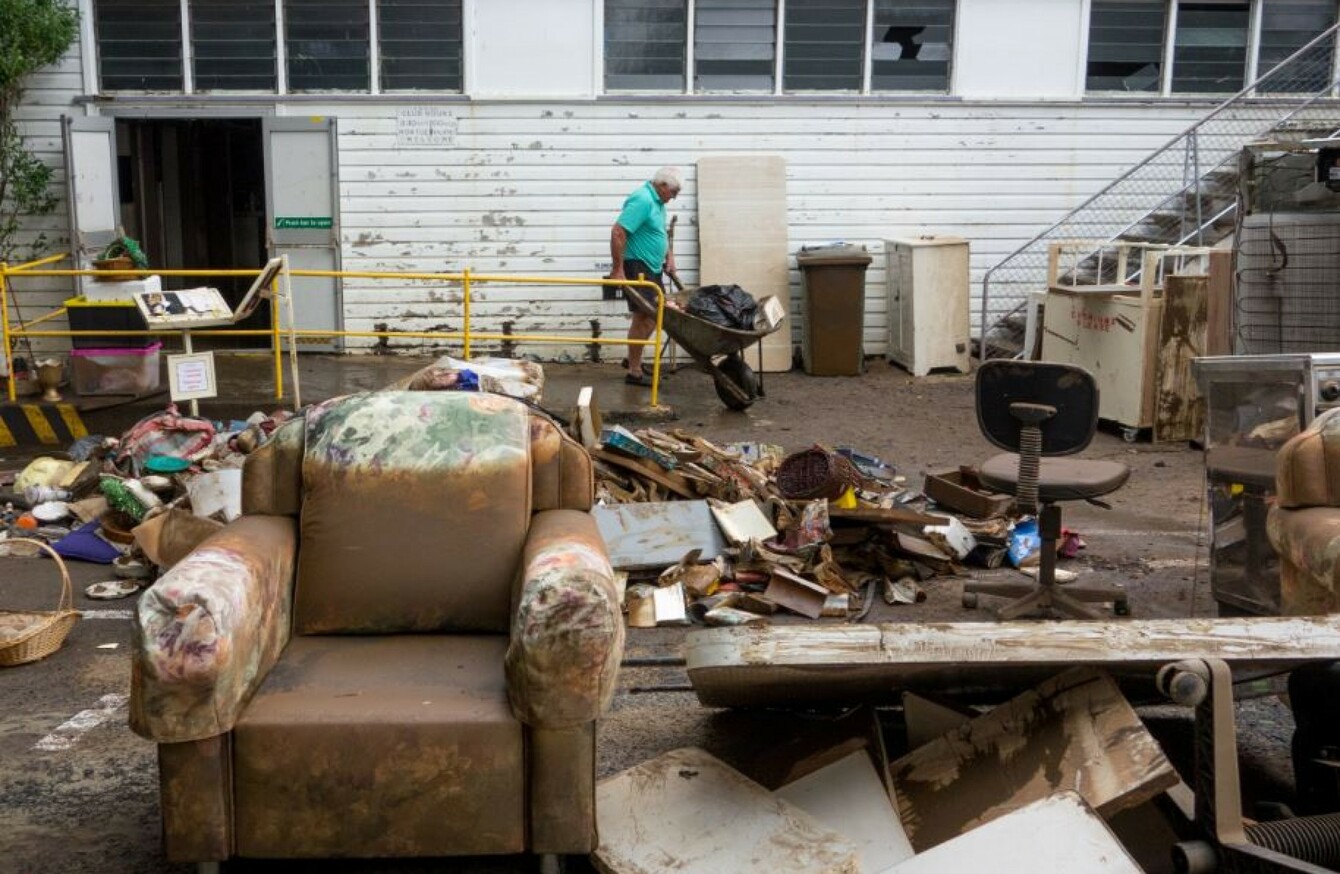 The cleanup begins in central Lismore
Image: NurPhoto SIPA USA/PA Images
The cleanup begins in central Lismore
Image: NurPhoto SIPA USA/PA Images
THE BODIES OF a mother and her two young children were pulled from a river in Australia today as the death toll rose from cyclone-fuelled floods that devastated parts of the country.
At least five people are now confirmed dead after lashing rain and powerful winds pummelled swathes of Queensland and New South Wales states over the past week, forcing the evacuation of tens of thousands of people. Three more remain missing.
In the most recent tragedy, the woman's car plunged into the swollen Tweed River in northern New South Wales after veering off a muddy road on Monday. An eight-year-old girl escaped and alerted passers-by.
"Police divers have recovered three bodies from a submerged vehicle in Tweed River, near Tumbulgum," police said, adding that the sunken car had yet to be brought to the surface.
Local media said the dead were a 43-year-old woman, her son (seven) and daughter (11), and that they were in the flood-ravaged area to help those affected.
Tweed Byron Local Area Commander Wayne Starling said he believed the young girl escaped with the help of her "remarkable" mother.
"That woman is a hero, she died trying to save her children," he told reporters.
"The mother was trying to get one of the children out of the car when she passed away. She was holding the child."
'Thoughts and prayers' 
The worst of the weather is now over with category four Cyclone Debbie moving out to sea on Saturday, with a massive clean-up underway.
Residents in hard-hit areas, including the New South Wales towns of Lismore, Murwillumbah and Tweed Heads, have been given the all-clear to return home after floodwaters washed through the region, leaving behind thick mud and mountains of debris.
Prime Minister Malcolm Turnbull said the "thoughts and prayers of all Australians" were with those affected, with hundreds of homes and businesses either uninhabitable or destroyed.
"This has been a natural disaster that has spread the length and breadth of the east coast of Australia. Nature has flung her worst at Australians, which brought out the best," he said.
The solidarity, the cooperation, Australians pulling together, Australian Defence Forces, emergency services, police and the community and all levels of government working together to clean up, repair the damage and get back on their feet.
The cyclone, which made landfall in Queensland a week ago, causing hundreds of millions of dollars of damage, dumped more than a metre of rain on parts of the state and the huge volume of water is still slowly spilling down river systems.
Emergency services chiefs said the Fitzroy River in Rockhampton is set to peak on Thursday morning, with hundreds of homes at risk of flooding as locals busily filled sandbags to shore up their defences.
The Insurance Council of Australia has declared the Queensland and northern New South Wales regions disaster zones, estimating the damage bill will top Aus$1 billion (about €710 million).