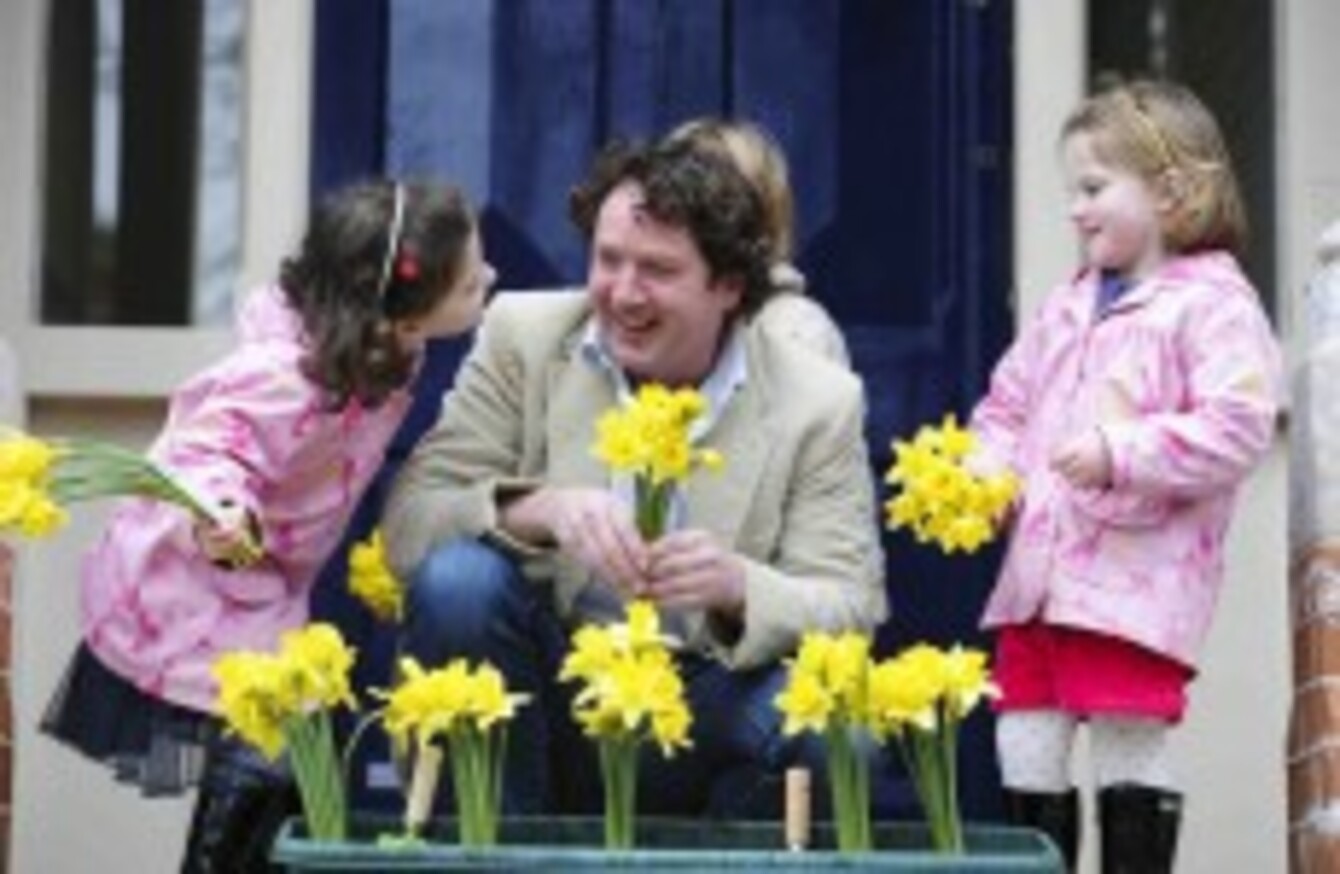 Hello flower! Diarmuid Gavin and two little helpers launch Daffodil Day.
Image: Andres Poveda
Hello flower! Diarmuid Gavin and two little helpers launch Daffodil Day.
Image: Andres Poveda
THE IRISH CANCER Society is setting itself an ambitious fundraising target in its 50th year in operation. The Society's CEO John McCormack said that they hoped to raise €3.4 million through this year's Daffodil Day campaign.
The funding will help expand the services provided by the ICS, especially their Cancer Information Service which reached 200,000 people in 2012. The service reaches patients in hospitals through the ICS's Daffodil Centres, providing free and confidential information to help them make informed decisions about their treatment. There are seven Daffodil Centres based in hospitals right now, with plans to open seven more in the next two years.
Speaking at the launch of the 26th Daffodil Day – the annual fundraising drive which will take place across Ireland this year on Friday, 22 March – McCormack said:
It is also important for me to thank our volunteers who are the heart of the Society and invest a huge amount of time into making Daffodil Day a success in their communities. For the last 26 years these people have been the lifeblood of our organisation and their continued support is a tribute to what we have achieved during the last 50 years. This continued support is essential to our future success.
The ICS appealed for volunteers to come forward to help out with this year's campaign – you can support it in a number of ways:
Volunteer on Daffodil Day
Organise a Daffodil Day event in your community or workplace
Buy a daffodil or Daffodil Day merchandise on Daffodil Day in our online shop
Dell is entering its third year partnering with ICS on Daffodil Day and its HR director Caroline Grant said that they hoped to help the Society to reach its ambitious fundraising target this year. Dell employees give volunteering time and expertise on harnessing social media, tech and other issues to aid the campaign, while the company also contributes financially. Grant said:
This has been a fantastic partnership for us and provides an opportunity for our teams in Dublin, Limerick and Cork to work together for a cause that is close to many people's hearts. We are delighted that we have also been able to tap into our team's technical capability and creativity to add a number of additional social media activities and consumer campaigns to enrich the campaign even further and hopefully, to help raise additional funds as a result.
Check out TheJournal.ie at lunchtime today for the personal story of one cancer survivor, a mum of two young children, and the questions she needed answered when she was undergoing treatment.
The callsave number if you want to get involved in Daffodil Day is 1850 60 60 60 or click here.