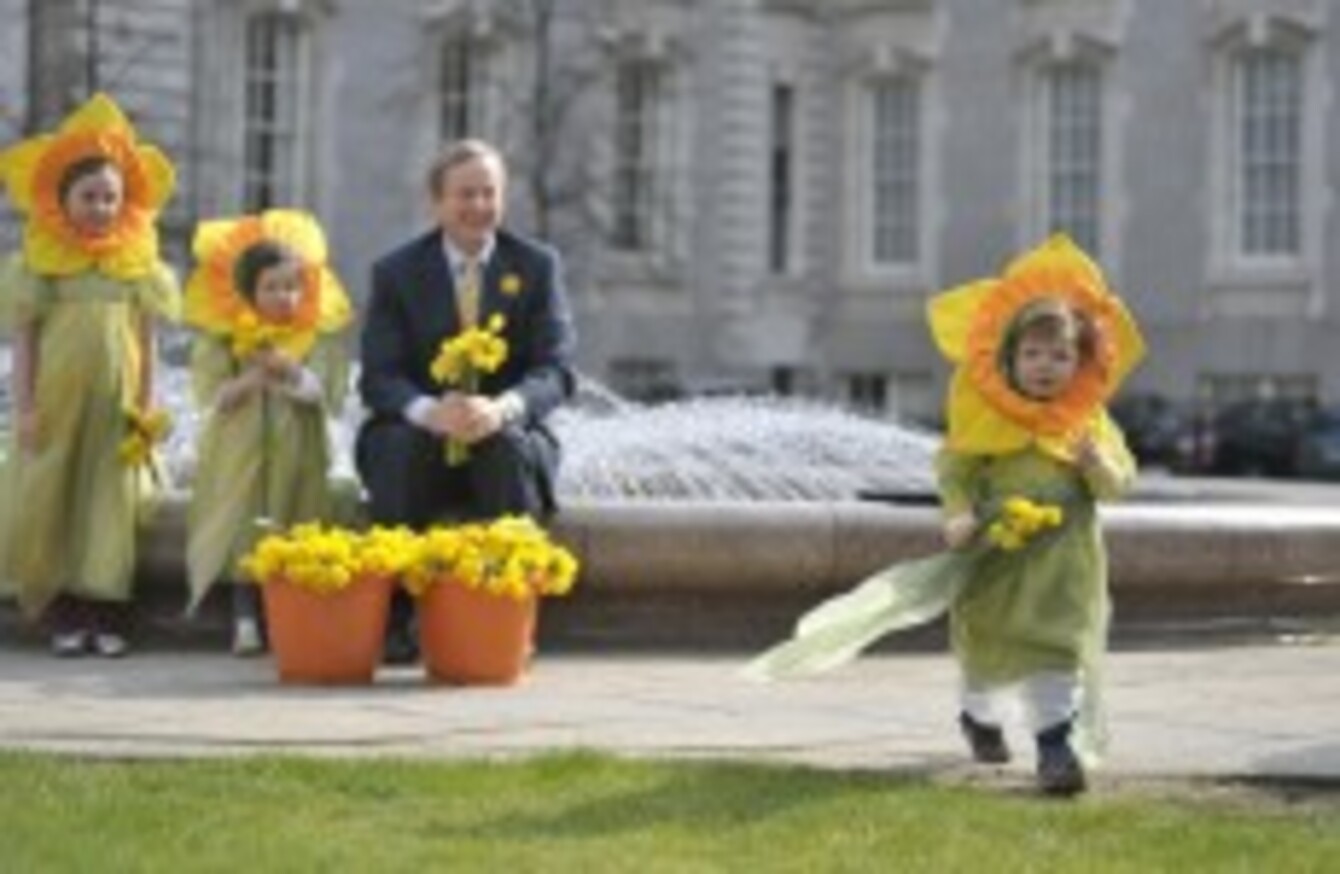 ONE IN THREE people in Ireland will experience cancer at some point in their lives.
Every year, the Irish Cancer Society holds its fundraising event Daffodil Day, which enables it to raise money to help those affected by cancer – whether they have the disease themselves or someone in their family does.
The day sees volunteers from around Ireland giving their time to get out on the streets and collect money, or organise events at their home or workplace.
Raising funds
This year marks the 50th anniversary of Irish Cancer Society, and the 26th of Daffodil Day, so we spoke to the society's Head of Fundraising Mark Mellett about where the funds go.
"We have a fantastic team of volunteers," said Mellett, adding 6000 people register with them on average each year. "We rely totally on voluntary funding – we get little to no Government support." Every year, 20 per cent of its funding comes from Daffodil Day.
"Daffodil day is our key event to help deliver the funds necessary to ensure we can meet the demand for services," said Mellett. "It's critical to the ability of the organisation to meet the growing demand and need."
Fifty five per cent of the overall funding is spent on programmes and campaigns; 19 per cent on research; 2 per cent on advocacy; 20 per cent on fundraising and 4 per cent on governance and communications.
"We are working in our overall vision towards a future without cancer. That is what drives what our services are and where money is directed to," said Mellett.
Their cancer information service is a key part of this.
We really want to make sure that no one has to go through a cancer journey alone and they have the best support they can get. A cancer diagnosis, it is devastating. You need support, not only medical support, which is there and is great, but you also need other types of support.
The freephone national cancer helpline(1800 200 700) is staffed by qualified nurses, and the level of support is really meeting demand, said Mellett.
The ICS has extended that information service to its Daffodil Centres in hospitals, and in its cancer centres through Ireland – and is looking to grow more of these.
Families are using it as way of going in and meeting someone who you know has had a cancer diagnosis. It's a very difficult thing to talk to someone about.
They received 30,000 inquiries on the national helpline, and Daffodil centres had almost 30,000 inquiries in the past year.
Up to 200,000 people would have been impacted by the Cancer Society services. Without the Daffodil Day we wouldn't be able to deliver that.
Night nursing
The night nursing service is a free service is for people who are very seriously ill with cancer, and may have come to the end of their cancer journey.
They want to spend time at home and not be in a hospital environment. A qualified nurse will come to your home, at night time. It is fantastic support for patients and family that they are going to get the level of care they need support, and emotional support. The letters we get back in from the people who have benefited from the night nursing [talk] about angels coming into the house.
One man loved Daniel O'Donnell. One night his family in the house were woken by the sound of nurse and patient singing Daniel O'Donnell tunes. Last year 7,250 nights of care were delivered to nearly 2000 patients.
They also have Care to Drive, which involves transporting cancer patients to and from their hospital treatment and involved 6,000 journeys last year.
The ICS also offers financial aid to help take the pressure off people. Last year, they gave €1 million in grants. They work with cancer support centres to deliver counselling, and delivered €200,000 in grants to cancer support centres.
Their Survivors Supporting Survivors initiative is a one-to-one programme funded through Daffodil Day, where someone who has gone through the cancer journey is there to help and support others. Mellett said feedback has shown them that this can be hugely powerful for people.
Cancer research
Then there is the area of cancer research. "By ensuring cancer research is carried out here in Ireland, the level of care is at the highest level," said Mellett. "We have a huge quantity of bright people coming out of Ireland. We want to make sure as many people are attracted to cancer reasearch as a career as possible." With this in mind, the ICS, offers a fellows and scholarships scheme.
"Over the 50 years we have been in existence, 650 discoveries have been made by projects funded by ICS," said Mellett. €2.5 million was invested last year in cancer research.
The enemy of cancer is cancer research. We have got a very good record here in Ireland in cancer research and we want to ensure we can increase that.
The amount of money that is given to each programme varies from year to year depending on its particular needs. "Our support service are very much demand-led," said Mellett.
The recession has impacted on people's finances – has this been noticed by the ICS?
"It has been tough and we recognise that it's difficult for people," said Mellet. "But what we're seeing is we are being hugely encouraged by people's real conviction to help the ICS."
There probably hasn't been a family in Ireland that hasn't been affected by it. We are definitely seeing an effect of the recession, but with Daffodil Day the generosity has been amazing.