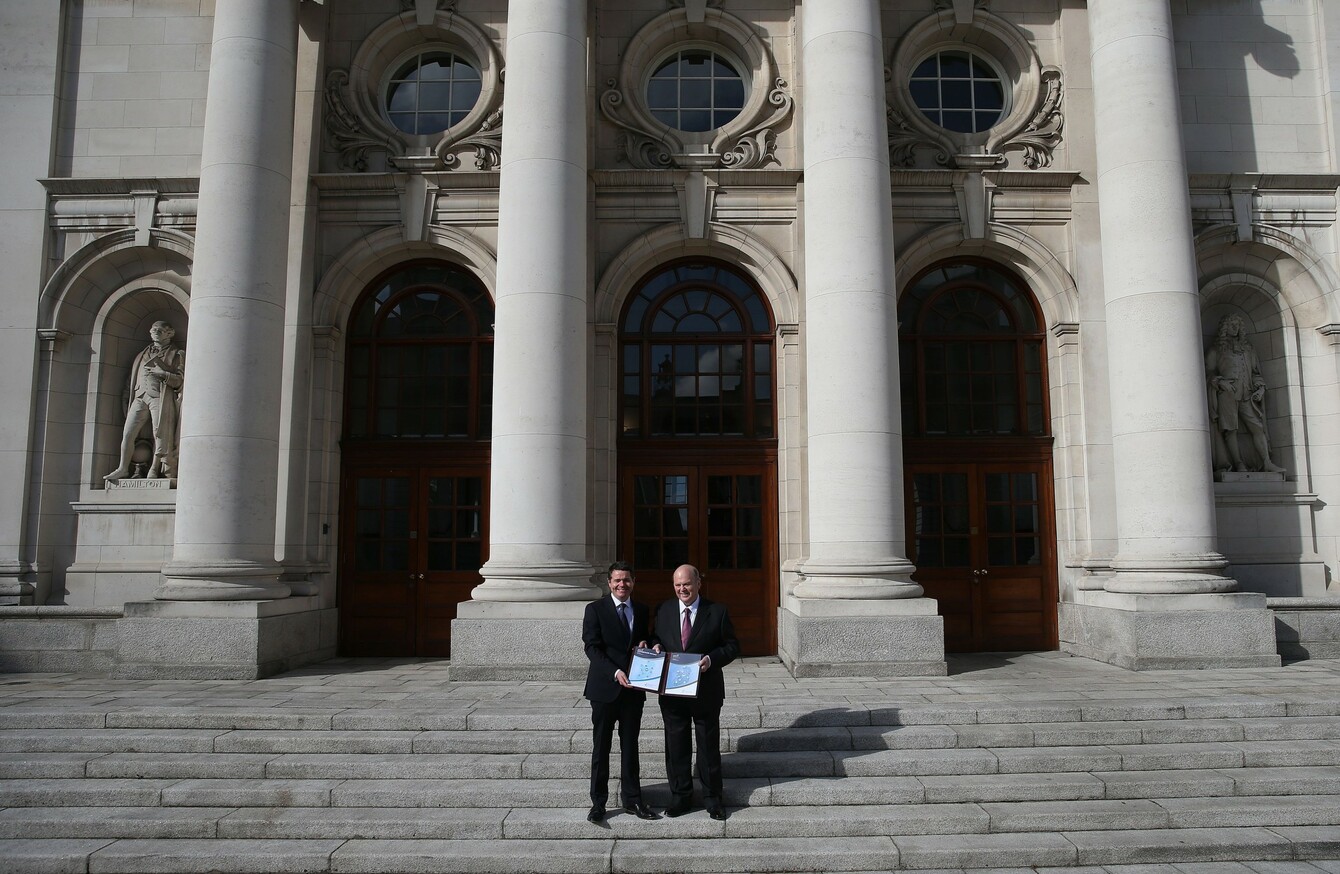 Image: PA Wire/Press Association Images
Image: PA Wire/Press Association Images
IN PREVIOUS YEARS, the public and politicians have looked to Budget Day with trepidation.
The air in Leinster House would be filled with dread as politicians knew they had to deliver yet another rake of austerity measures while citizens were screaming that they could take no more.
This year was a different ball game.
While yesterday's Budget was by no means a windfall, deputies who had a hand in it (of which there were many) strolled around the corridors with sneaky grins on their faces.
The €1.3 billion package was spread thinly over a wide range of areas decided upon by a number of parties – Fine Gael, Fianna Fáil and the Independent Alliance, as well as those independents.
The Budget has been described as giving a little to everybody, with one TD comparing it to Joe Duffy's "fiver Friday".
Big ticket items – USC cuts, the first-time buyer scheme, and the childcare package – were announced to the House by the Finance Minister Michael Noonan and the Minister for Public Expenditure and Reform Paschal Donohoe.
There were some interesting reactions in the chamber by a number of TDs.
The animal welfare initiative for sheep, oddly sparked some TDs to make 'baaaa' sounds.
The announcement of an increase in jobseekers' payments prompted AAA-PBP members to shout out, "except for young people", pointing out that some age categories would not be getting the €5 boost.
Meanwhile, TD Ruth Coppinger repeated a modified version of the chant – "except if you're in the ASTI" – at the government's promise to move towards pay restoration for public sector workers.
Another TD – with experience in government – was scathing in his response to the Budget, pointing out the issue of water charges was missing from the government's estimates.
In truth, a lot of what is in the Budget was already out in the public domain. In order to get it over the line in this era of 'new politics', it needed the tacit support of many.
Fianna Fáil was left in a tricky position come 4pm. It couldn't be overly critical of the measures – those announced or those missing – as the party claims it had a hand to play in it.
The centre must hold, finance spokesperson Michael McGrath told the Dáil.
"While we didn't write this Budget we influenced as best we could," he explained.
The party is nailing its flag to the €5 State pension increase from March next year. Negotiations on that came down to the wire between the party and Social Protection Minister Leo Varadkar.
The minister claimed it was as late as yesterday morning that the March date was agreed upon. (Fine Gael had wanted a six-month delay).
Members of the Independent Alliance were bouncing around, all smiles, at their press conference yesterday.
Kevin 'Boxer' Moran believes his party's footprints were all over this Budget – in nearly every department.
His fellow members are claiming a win on social welfare boosts to those with disabilities, as well as packages for those in rural areas.
However, a sign that maybe this minority government might be starting to gel was seen during Varadkar's social protection briefing when he praised his Independent Alliance government partners, stating he was surprised by their support.
"They [the Independent Alliance] were batting for me in there," he said, adding that he hadn't expected it.
"Life is strange," added Minister of State for Disabilities Finian McGrath.
McGrath, who came in for criticism in the past for saying smokers should get more sympathy, was asked for his reaction to the 50cent hike on cigarettes.
Laughing, he said he would take "a big hit" with that, but added: "I'll take the hit." He said he had raised the issue of criminal gangs selling stolen and counterfeit cigarettes, which he said he was still concerned about.
One person who is being put forward as a big winner of the day is independent TD, Children's Minister Katherine Zappone, who managed to get a sizeable portion of yesterday's Budget with her childcare package.
The minister seemed pleased as punch, stating that the new subsidy for parents will be a "radical new improvement"and said she hopes to increase it in the future. Time will tell if it manages to be effective for parents.
In the late hours of the evening, politicians with a stake in government had a pep in their step. Meanwhile, those in opposition looked on flabbergasted as to why this year's Budget is being described as a success.
In disbelief, one opposition TD summed up the feeling:
They've thrown a few crumbs to a lot of people, and making out like they've baked them all a massive cake.