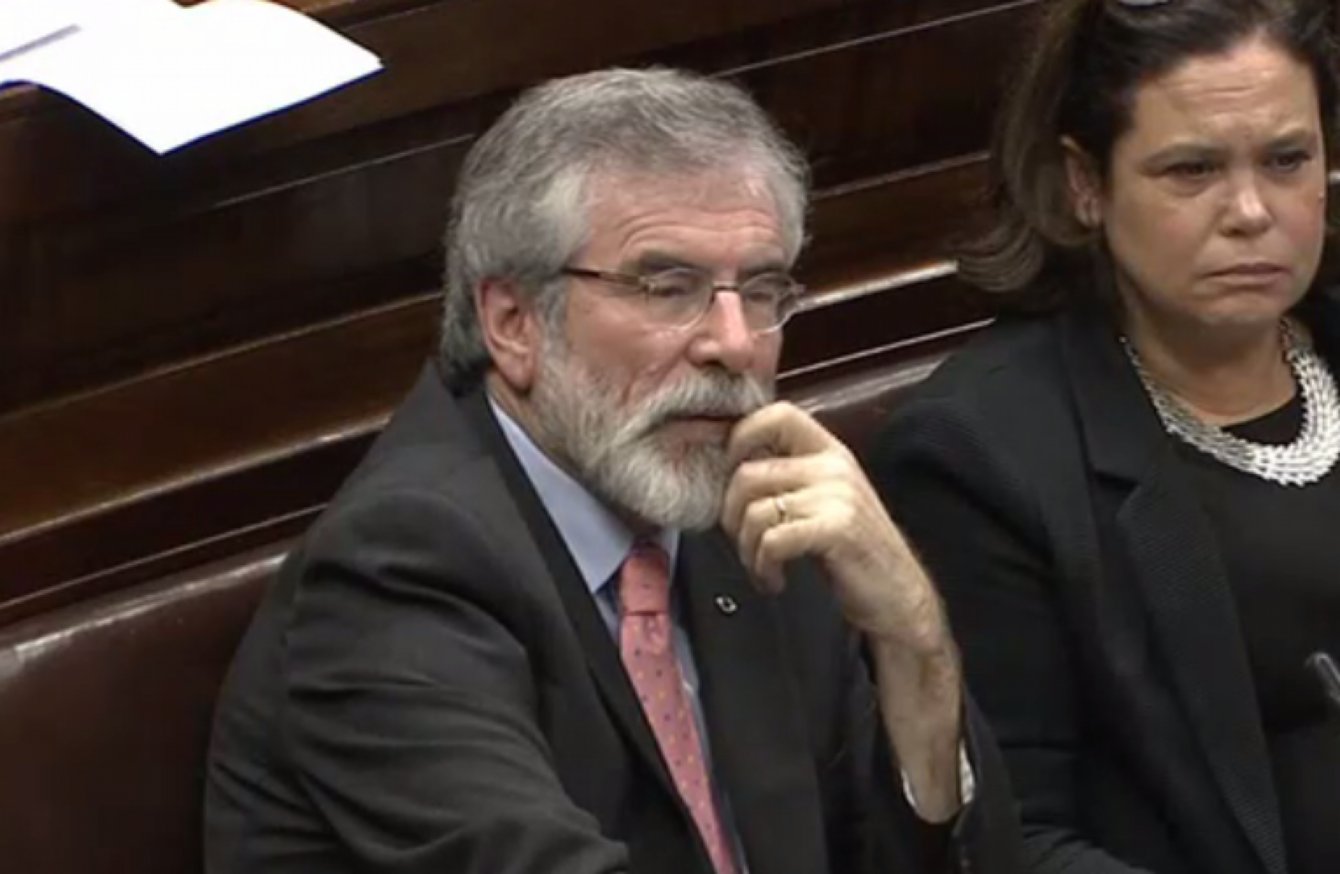 Gerry Adams wrote to the Taoiseach asking him to correct the Dáil record.
Image: Oireachtas.ie
Gerry Adams wrote to the Taoiseach asking him to correct the Dáil record.
Image: Oireachtas.ie
TAOISEACH ENDA KENNY has corrected the Dáil record on a statement he made about Gerry Adams' involvement in a meeting between the Stack brothers and a former IRA leader.
Adams facilitated a 2013 meeting between Austin and Oliver Stack and a man who gave the brothers information about the 1983 murder of their father, prison officer Brian Stack.
The brothers were taken to the meeting with the former IRA leader in a blacked-out van.
In a Dáil speech last week, the Taoiseach said that Adams drove the van but he has now corrected that remark:
On 6 December, in response to a question from Micheál Martin, I said that in dealing with the case that you raised of the murder of Brian Stack, in my contribution to one of your replies, I said it's beyond comprehension that a member of the house can drive someone in a van with blacked-out windows to meet another person to talk about who shot his father. That the names were given to the Garda Commissioner and that the son of the murdered man said that he did not supply the names.
I received a letter from Gerry Adams saying that I should correct the Dáil record, I now do so Ceann Comhairle. And I understand that from the statements made by Gerry Adams that he drove the Stack brothers in his own car to a point where they then travelled in a blacked-out van in which I assume he was the passenger.
"So I wish the record of the Dáil to the effect that Deputy Adams did not drive the blacked-out van, that he did travel in it," Kenny said.
Kenny's correction comes following the letter from Adams and also after a direct Dáil request from the Sinn Féin leader.
"He says I took Austin and Oliver Stack to that meeting in a blacked-out van. The Taoiseach even went so far on Tuesday to say I drove the van, " Adams said in a speech to the Dáil the day after the Taoiseach's 6 December statement.
Not true. I travelled with the Stack brothers in my car to a prearranged place on the border and then we were all taken in a van to the meeting in the north.
Adams has also called on Fianna Fail leader Micheál Martin to correct the Dáil record after he said that Adams took notes on the meeting between the Stacks and the former IRA leader.