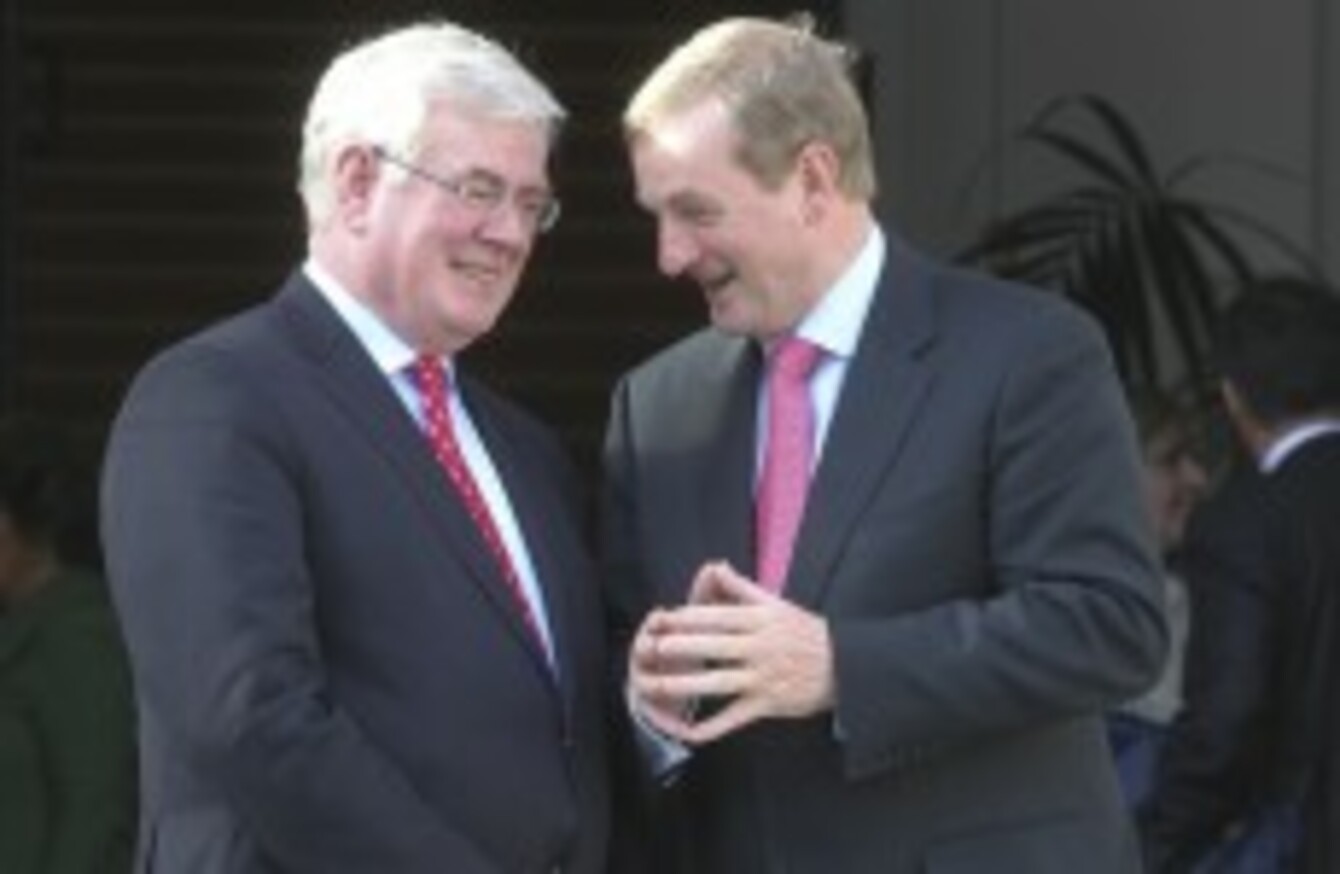 Tánaiste Eamon Gilmore and Taoiseach Enda Kenny (File photo)
Image: Sam Boal/Photocall Ireland
Tánaiste Eamon Gilmore and Taoiseach Enda Kenny (File photo)
Image: Sam Boal/Photocall Ireland
THE GOVERNMENT'S decision to devote more Dáil time to statements on its priorities for 2014 this week has been criticised, with Fianna Fáil describing it as "over the top" and "quite unprecedented".
There was much criticism of the coalition's decision to spent some 11 hours last week allowing ministers and TDs to discuss 'Statements on the Government's Priorities for the Year Ahead'.
One opposition deputy described it as "three-day festival and orgy organised by the government", while another said statements from the Taoiseach and the Tánaiste were "a load of bulls**t".
The Dáil is due to spend around seven hours this week debating the government's priorities for the year ahead with dozens of backbenchers set to make statements, much to the annoyance of Fianna Fáil whip Seán Ó Fearghaíl.
The Kildare South TD claimed the lack of Bills before the house this week is because the legislative pipeline "is literally log-jammed and legislation is not available to be discussed".
Government chief whip Paul Kehoe admitted that there was legislation that is "not quite ready" to come before the house, including the vast Companies Bill and the Consumer Protection and Competition Bill, which he said were two "complex bills" that are still being worked on.
"This is part of the Dáil reform package we announced in October," he insisted. "The opposition have been giving out for the last number of years about being able to hold government to account.
"I believe the opposition have failed themselves in using the debate on the priorities for the year ahead in the way they have used them. They're too interested in pot shots and cheap headlines."
'Brings Dáil into disrepute'
But Ó Fearghaíl said: "They have about 25 apparently backbenchers who haven't yet had the opportunity to speak and congratulate their bosses on what a wonderful job they're doing in government.
"That brings the Dáil, in my view, into a degree of disrepute and is somewhat cynical."
Several government backbenchers contacted by TheJournal.ie last week said privately that they agreed with the coalition's decision to "take stock" of its achievements over the past three years and said it gave them a rare opportunity to speak in the Dáil.
However, one senior Fine Gael source questioned whether it was necessary to devote so much time to statements in the house.
Ó Fearghaíl pointed out that an evaluation of the government's progress "goes on in committees on a day-by-day basis where the actual proposals are explored in depth".
He added: "Two weeks of backslapping is really over the top and its quite unprecedented in terms of the business of these houses."