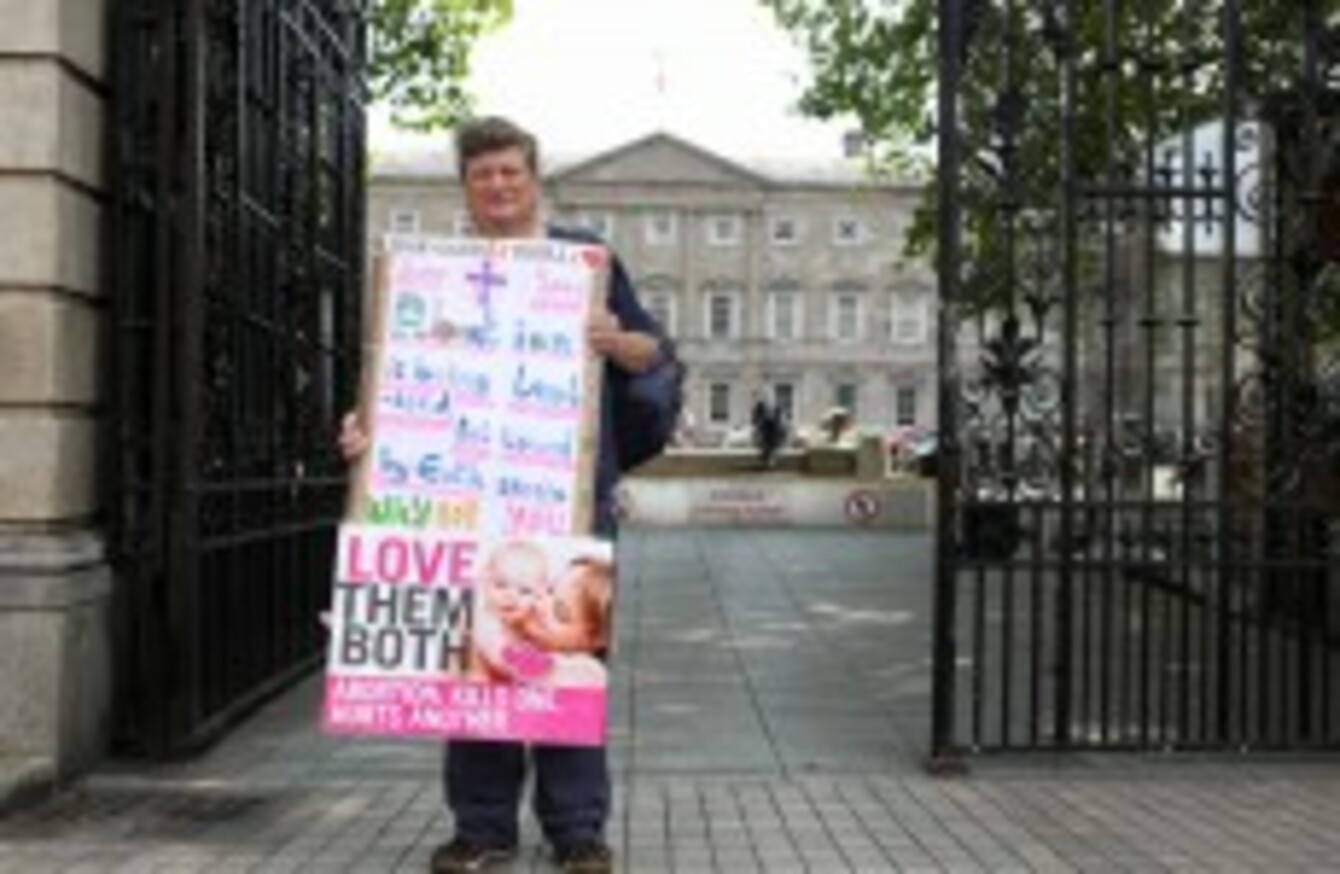 Pro-Life protester outside Leinster House
Image: Photocall Ireland!
Pro-Life protester outside Leinster House
Image: Photocall Ireland!
TDS ARE IN for an exhausting schedule at Leinster House today with eight hours set aside for a debate on the proposed laws which would allow for legal abortions in Ireland in specific circumstances.
The Dáil sits from 11am to 7pm and there is just one item on the agenda, the Protection of Life During Pregnancy Bill 2013.
Each deputy will be afforded speaking time on the proposed legislation throughout the day. It is expected that all members will have spoken by 7pm which paves the way for a first vote to be held late on Tuesday (after 5pm).
What do we know so far?
At least 14 TDs have indicated that they will oppose the bill in the first vote, which will be held tomorrow as long as all TDs have been afforded speaking time.
Earlier this year, three independents – Michael Healy-Rae, Noel Grealish, and Mattie McGrath – confirmed they would not be supporting the legislation.
They were soon followed by Sinn Féin TD Peadar Tóibín, former Labour deputy Colm Keaveney and four Fine Gael members Brian Walsh, Peter Mathews, Billy Timmins and Terence Flanagan.
Six Fianna Fáil TDs have also signalled their intention to vote against the Bill. Finance spokesperson Michael McGrath, the chair of the Public Accounts Committee John McGuinness, former Ceann Comhairle Seamus Kirk, Mayo TD Dara Calleary, Wexford deputy John Browne and former deputy leader Éamon Ó Cuiv are also opposing the legislation.
The figures mean there is sufficient opposition to force a vote (at least 10 deputies are required to ensure ballots are cast on an issue in the chamber).