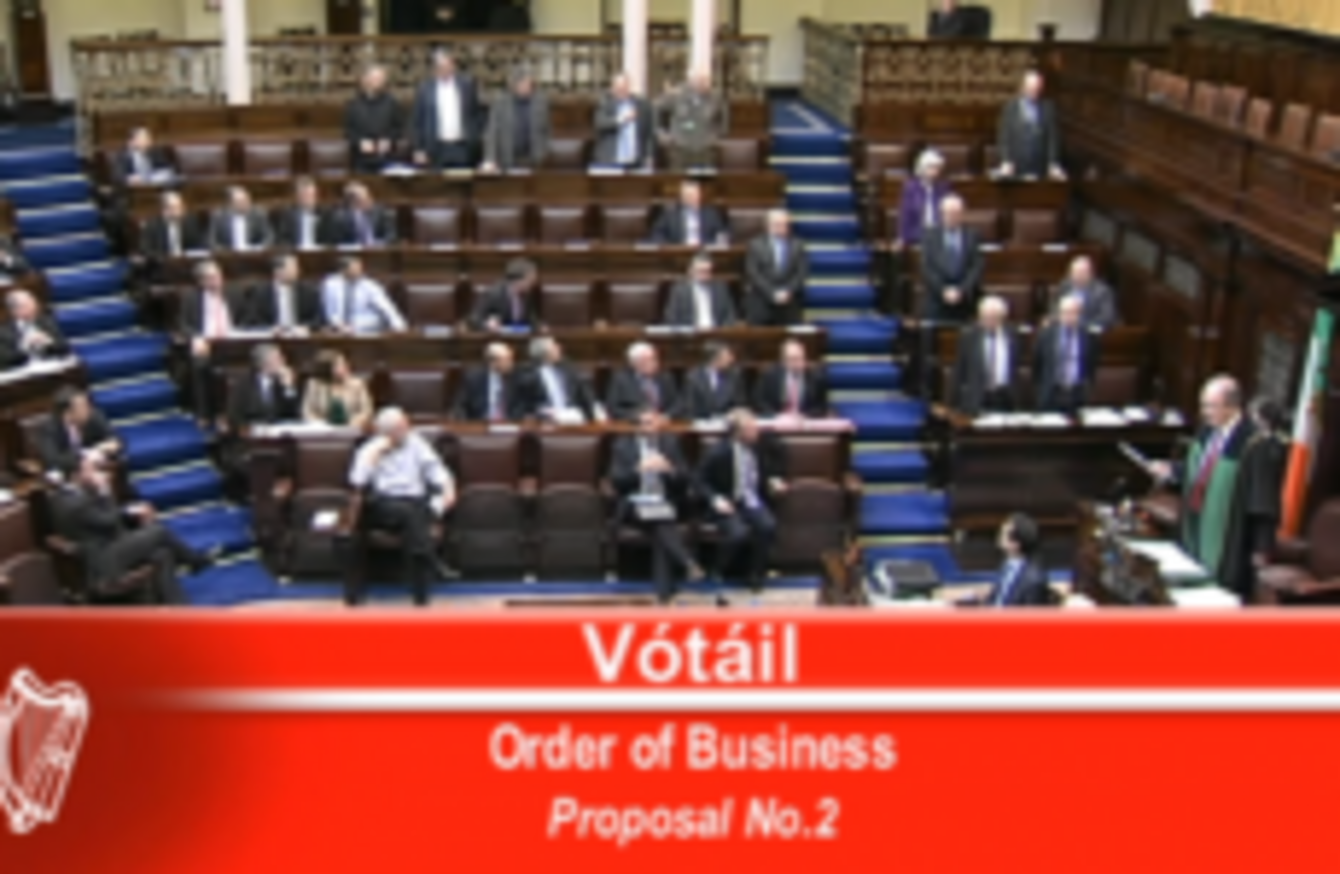 The Dáil chamber (File photo)
Image: Screengrab
The Dáil chamber (File photo)
Image: Screengrab
THIS WEEK THE Fine Gael TD Eoghan Murphy outlined a series of radical reforms to how the Dáil conducts its business including a major overhaul of the current party whip system.
Murphy is not the first and is unlikely to be the last TD to discuss the possibility of members being allowed a free vote on certain issues particularly when the government has a huge majority and with legislation on the thorny issue of abortion due to be debated and voted on in the coming weeks.
"I don't know if the whip system is fit for purpose to be honest," one expelled TD, Labour's Patrick Nulty, said this week. "It's a very rigid system in Ireland and individual TDs have got to reflect on whether our democracy is working and whether we have system that is robust."
The whip system – which dates back to the 19th century – is not a creature of any Dáil procedures but is adopted by individual parties, most of whom observe the tradition that if a TD votes against the party position they are expelled from the parliamentary party.
Some, like Sinn Féin, will discipline members by stripping them of certain committee memberships as in the case of Peadar Tóibín who is at odds with the party over its position on abortion.
"If an elected member votes against the party policy there must be consequences," a Sinn Féin spokesperson said. "If this were not the case, instead of a party we would have a collection of independents voting as they wish."
Party discipline
With the threat of expulsion hanging over TDs it ensures strict party discipline and allows a government to get its agenda through without any damaging divisiveness. Some expelled TDs quietly return to the parliamentary party months later but others remain out in the cold.
Denis Naughten said he has not been approached by Fine Gael about rejoining the parliamentary party: "If they want to come back and discuss it, my door is open."
Both government parties have lost TDs over the past two years with Fine Gael's Denis Naughten expelled over voting against cuts at Roscommon Hospital and Labour losing a number of TDs, including Nulty, mainly over budgetary matters.
With the government having such a large proportion of the Dáil's overall membership the whip system is particularly scrutinised when it comes to the coalition partners but they are clear that there is no scope for reforming the whip system as it currently stands.
Government backbenchers will vote with the government's position or else be expelled from their parties.
"Just loosening the whip system will not make it work better than what it is at the moment," government chief whip Paul Kehoe told TheJournal.ie this week saying that no consideration is being given to the issue at present.
Calls for reform of the whip system and free votes have come from all quarters, ambitious backbenchers like Murphy, a junior minister in Brian Hayes and those who have incurred the wrath of expulsion like Naughten:
"The whip system in Ireland is probably completely different to anywhere else in the world," Naughten said. "It's far more rigid than any other democracy where they have a whip system in place. It does weaken democracy when you have such a rigid whip system.

"It would make the Dáil far more effective as a tool in passing legislation if you hadn't a strong whip system in that it would force ministers to listen and engage with all members of the house."
In Britain, the application of the whip is a lot less rigid than it is in Ireland with the provision for single-line whips where attendance and voting is not binding on an MP.
Recently over 100 Conservative MPs voted against the party leadership following a Commons debate on gay marriage. None of these MPs were expelled from the parliamentary party or ostracised by the leadership.
Smooth running of government
A one, two and three-line whip system actually exists in our own parliament but its application is non-existent among the political parties.
Not that this is the problem according to DCU political scientist Eoin O'Malley who argues that any issues with the functioning of the Dáil are not solely because of the whip system:
"The problem of the absence of separation of powers is because the government controls the Dáil agenda, controls election to chairs of committees, Ceann Comhairle and the the party leaders control the careers of TDs. Address these issues, and stop obsessing about the whip system."
The whip system, O'Malley argues, "enables a reasonably smooth running of government" and he believes the issue is not the whip system but rather individual TDs who seem to vote against a measure they say they would like.
"This probably relates to re-election," he said. "So it is obvious that voters don't punish TDs who vote against their own conscience, indeed many seem to feel sorry for the TDs.
"The parties obviously have some power over people's careers and party labels are important for re-election, so TDs make calculated decisions about whether to incur the wrath of the party or not.
But he also noted that some Labour TDs have made the calculation that their election chances are probably improved by being outside the parliamentary party.
"The first interest of TDs is to the people they represent, not their political party," argued Nulty
One of those could be Dublin-West TD Nulty, expelled over his vote against the 2012 Budget, who said that the onus is on individual TDs to make the "rigid" and "not fit for purpose" whip system redundant:
"The best way is for TDs to stand up and take responsibility, cast their vote on legislation on its merits and if people have courage the whip system will become redundant."
Nulty said the current government is not interested in reform. This argument is strongly refuted by Kehoe who pointed to the Dáil having sat more in the past year than at any time since the 1920s in addition to the introduction of Friday sittings, Topical Issues and other measures.
"When you're implementing changes you're not going to do it all in two years in government, There are more pressing issues to see the Dáil working in a a more efficient way [than loosening the whip]," Kehoe said.
'Opening the floodgates'
"Just be opening the floodgates to free votes doesn't mean it's going to strengthen legislation," he added, insisting that ordinary backbenchers' participation in bills has already been increased by the reforms he has introduced.
This view is clearly at odds with that of his former parliamentary colleague Naughten:
"Government TDs don't put forward amendments to legislation because they could propose an amendment, argue for it, but end up voting against. This is just crazy. For the government to look at reform it would take an awful lot more work within the Whips' office and the Whips' office isn't going to bring more work on itself."
Naughten said that TDs should be entitled to a free vote on abortion, a view shared by many on the Fine Gael backbenches who have talked about it being a "matter of conscience". But Kehoe argues it's difficult to distinguish what constitutes a matter of conscience and what doesn't.
"Cutting disability is a matter of conscience for me but we are in a space where we have to do it," Kehoe said. "Cutbacks in specific areas are a matter of conscious, [so] where do you draw the line?"
"Loosening the party whip for legislation doesn't improve legislation in any way," Kehoe said.
Eoghan Murphy's ideas for reform centre on removing the whip to allow TDs a free vote at committee stage of legislation, or during the Order of Business or on certain private members bills. There is no specific reference to the upcoming abortion vote in his document.
But this is where debate about the whip system is likely to focus in the coming weeks and months. The government and the Taoiseach have been clear that there will be no free vote but that might not be the end of the matter according to O'Malley.
He said: "The problem for the government on the impending abortion legislation is that it needs to get a majority, so it can't lose half the parliamentary party to the other side.
"So what might happen is that Fine Gael allows a free vote but waits until the day of the vote to announce this."
But Kehoe was crystal clear this week that there is no scope for reform of the whip system now or in the near future: "There will be no free vote on Protection of Maternal Life Bill and no free vote on any bills for the foreseeable future."
Note: Fianna Fáil did not respond to a request to contribute to this article.
Pics: Photocall Ireland