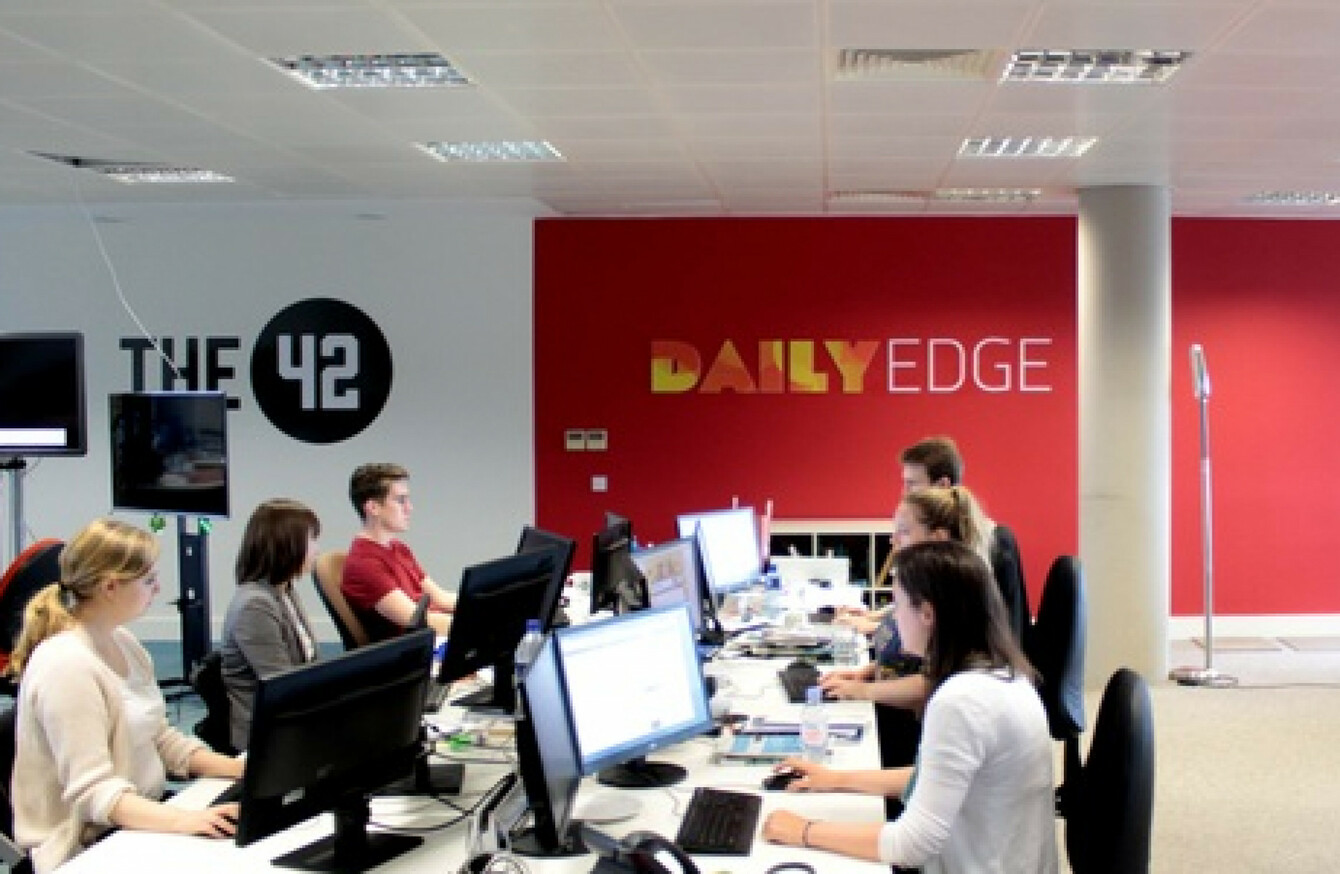 IN SIX SHORT years, Journal Media has disrupted the Irish digital publishing world. Our flagship brand, TheJournal.ie, is now the main online source of news for Ireland. Sports fan favourite The42, entertainment and internet culture giant DailyEdge with its core audience of smart, internet-devoted women, and business hub Fora.ie have extended our reach across a broad swathe of the Irish mobile audience.
Our phenomenal growth to this prime market position is not by accident. It has been driven by some of the most talented, innovative and creative people in Irish digital media today.
This is your chance to become one of those people. More than that, this is your chance to be a leader in our team.
THE JOB
The position of Editor of DailyEdge is available and it is a role that can only be filled by an outstanding candidate who is:
- Frustrated by standing still
- Ambitious for the growth of the publication in reach, audience and reputation
- Dedicated to the development of the skills of their team
- Passionate about creating brilliant content that they would want their own friends to share
- Sharply focused on the issues that are consuming online communities and committed to finding fresh ways to add to that conversation
- In possession of excellent and witty writing skills and editing nous
- An organisational powerhouse
- Lion-hearted in the face of challenges and cool-headed in evaluation of solutions
DailyEdge has developed a distinctive voice which is offbeat, smart, humorous and irreverent. It currently focuses on entertainment and internet culture and is unafraid to present a wry take on the issues dominating online conversation at a given moment. It has a clear voice: smart content targeted at Irish women which they can trust, which makes them laugh and which makes them think. 
The DailyEdge Editor will be responsible for:
Creating initiatives, themes and strands of content that excite and engage new audiences while staying true to the distinctive voice of the publication
Communicating expectations and setting measurable goals for their team
Developing capabilities in the team to reach those goals
Contributing content, including assigning, editing and writing daily posts and multimedia features
Designing, implementing and monitoring editorial policy, style and effectiveness
Working with Journal Media managers on identifying and delivering on strategies that drive forward our value to the company, our audience and brands who wish to support our work
Evaluating and measuring effectiveness of overall content strategy and specific content, using Key Performance Indicators, and monitoring stats and feedback (Google Analytics and others)
THE CHECKLIST
- Bachelor's degree and/or equivalent combination of experience and education required
- Proven experience as an editorial manager
- An understanding of how stories are shared and consumed differently across digital, social and mobile platforms
- Strong and fast writing and editing; clever and engaging headlining; solid multimedia skills (resizing images, creating social videos)
- A demonstrable interest in how women are portrayed on the internet
- A gut instinct for a good story and quick decisiveness on angles and assignments
- Mastery of web publishing tools and common office computer software programs.
- Interest in learning new technology tools for online news and measurement
- Strong experience/accomplishment in developing and implementing content plans and editorial calendars
- Ability to plan and manage projects in a collaborative, fast-paced environment, while maintaining the normal daily cycle
- A mentoring spirit and experience managing writers and editors
- Excellent organisational, planning and leadership abilities
HOW TO APPLY
This is a job that requires someone who has vision, creativity, amazing communication skills, buckets of common sense and a serious dose of humour. Feel free to make us aware of what you are about in your application letter to us, when you attach it to your CV.
We also want you to complete a task in a separate document: Write 5 headlines which you would expect to see in the DailyEdge following a year under your stewardship
Applications received which are missing any of the three elements mentioned here – full CV, application letter, completed task as outlined above – will not be processed.
Please email applications to jobs@thejournal.ie marked DailyEdge Editor and include all attachments in one email.
Closing date for applications is Friday, 18 August 2017.