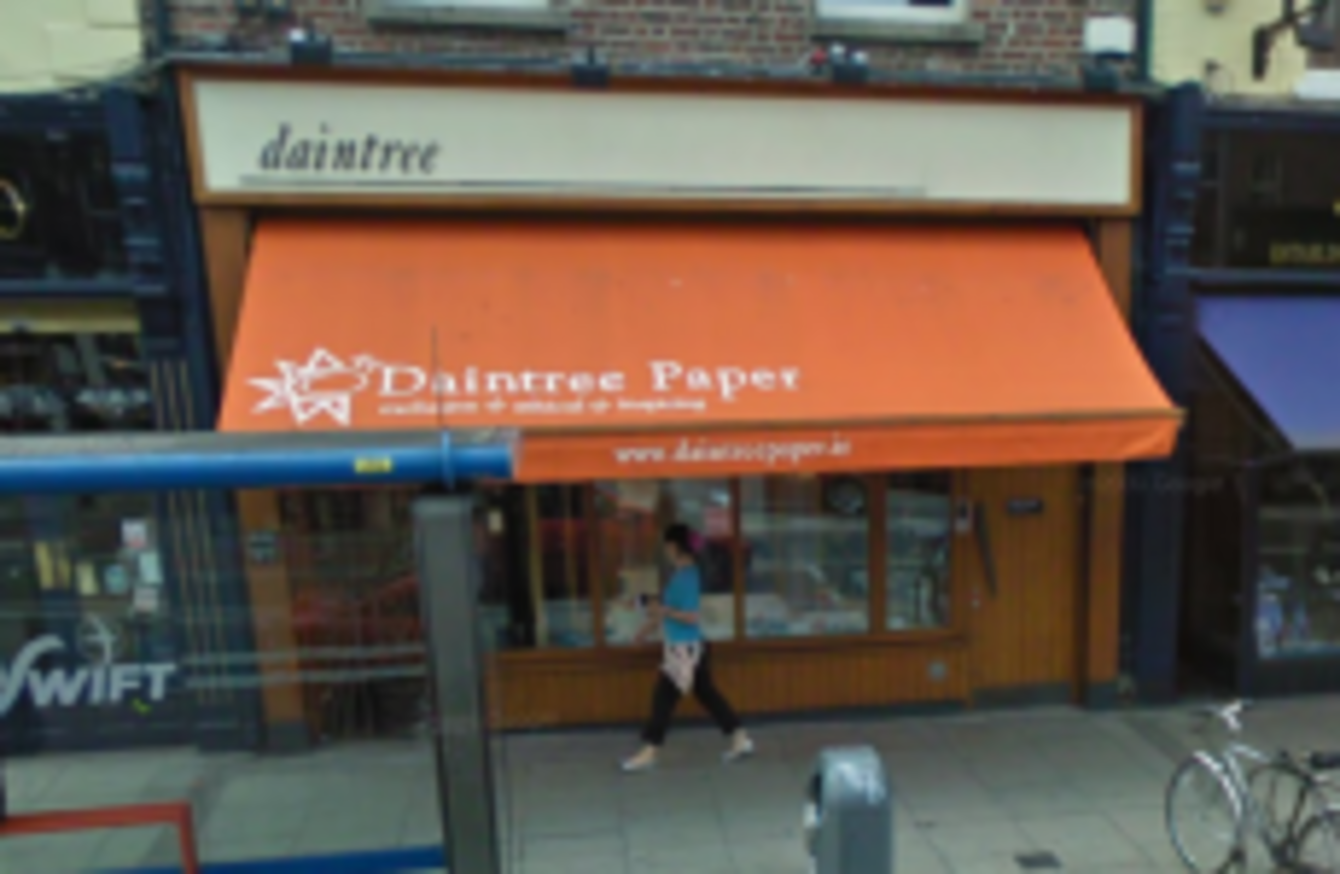 Image: Google Street View
Image: Google Street View
THE NEW MANAGER of Dublin stationery shop Daintree Paper has said the first thing she did when she officially took over at the end of last week was to stock the shelves with same sex wedding invitations.
The store met with a storm of criticism last year after it emerged that the owner removed a wedding cake-topper of two grooms holding hands from display in his store. At the time, Paul Barnes said it was not his intention to cause offence but said the cake-topper because it did not "reflect the values I aspire to".
New manager Nichola Doyle, who has worked at Daintree for eight years, said it was "just the most horrible time and it took a while to get over that". Barnes stepped away from the business at the end of January and the new owners, Gerard and Laurence Barron, officially took over last Friday.
Doyle was the worker who sent the rogue tweet from the store's official account, telling followers that "the staff do not share the opinion of the owner". She admitted this to the new owners and she said their reaction was "yeah, you're the person we want to lead on through the changes".
All of the staff who remain have worked in the store for years but Doyle said it has downsized and a number of staff left of their own accord because of abuse they received over the cake-topper controversy.
"People were getting stuff on their personal Facebook accounts, everyone had to take down from their accounts where they worked and some people left because they couldn't handle the abuse," she explained.
However Doyle said the store policy has been changed now and she has already been in touch with the woman who made the cake-topper to tell her that her products are "more than welcome back".
"The first thing I did on Friday was put all the same sex invitations out on display – we have a full selection of same sex merchandise and there's no special section, it's just in with everything else as it should be," she said.
We want this to be a place where people can come in and wander and have a browse and get excited about their weddings. We want this to be a little giddy paper mecca where people can ooh and aah over the stuff.
"It's going to be a hard flog to get the word out there and I'd just hate to anyone to think that they weren't welcome here so now we just have to get that word out to everyone," Doyle added.