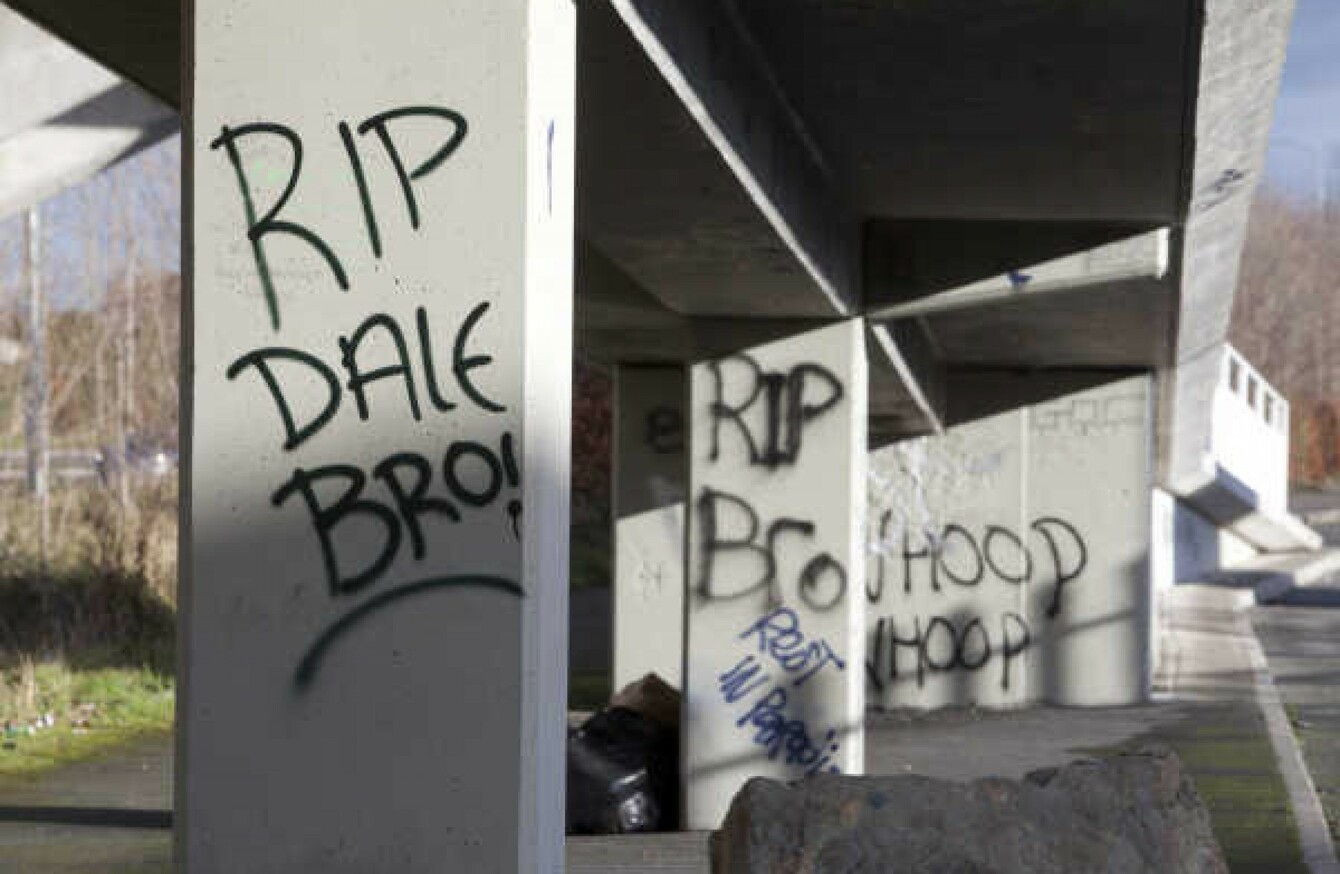 Graffiti commemorating Dale Creighton at the footbridge where he was assaulted in Tallaght
Graffiti commemorating Dale Creighton at the footbridge where he was assaulted in Tallaght
THE JURY IN the trial of seven Dubliners charged with murdering a man who was beaten to death has seen footage of five of the accused running from the scene as gardaí arrived.
The footage was shown this morning on the 14th day of the Central Criminal Court trial.
Dale Creighton was assaulted on New Year's morning in January 2014 at the footbridge over the Tallaght bypass between Saint Dominic's Road and Greenhills Road. The 20-year-old Tallaght man died in hospital the following day.
A woman and six men, who are in their 20s and from Tallaght, have all pleaded not guilty to murder.
They are:
Aisling Burke (23) and David Burke (28), both with a current address at Beechpark, Collinstown, Co Westmeath;
Graham Palmer (26), with a current address at Park Avenue, Portarlington, Co Laois;
Ross Callery (23), currently of Gortlum Cottages, Brittas, Co Dublin;
James Reid (26), currently of Glen Aoibhinn, Gorey, Co Wexford;
Jason Beresford (23), with an address at Coill Diarmuida, Ard a' Laoi, Castledermot, Co Kildare;
Gerard Stevens (27), currently of Grosvenor Square, Rathmines in Dublin.
Each accused also initially pleaded not guilty to violent disorder at the footbridge. However Jason Beresford later changed his plea to the violent disorder charge to guilty.
Sergeant Brian Cagney talked the jury through CCTV footage of part of the assault this morning.
He described kicking actions on the deceased by Ross Callery and Jason Beresford, and striking actions by Gerard Stevens, Graham Palmer and Jason Beresford.
"At 4.06.20, Dale Creighton is dragged by Jason Beresford and others," he said, before pointing out another strike on the deceased.
Dragged down steps 
Creighton had been dragged down steps from the top of the bridge by this stage and was 'lying prone' (on his front) on the steps. The sergeant described Burke lifting Creighton from the steps and Ross Callery and Jason Beresford dragging or lifting him towards the top of the steps.
He was asked to describe what was happening at 4.07am.
They all seem to look collectively to the right-hand side, as if distracted, and then they all run to the left-hand side.
He explained that five of the accused had run: Jason Beresford, Ross Callery, Graham Palmer and Aisling Burke, followed by David Burke.
"They're very close together so it's almost simultaneous," he explained.
"You can see blue lights in the distance, flashing lights," he added. The jury had already heard that the gardaí arrived at this time.
He then pointed out those five accused running into the shot of another camera.
"Reid and Stevens go before," he explained.
He pointed out Graham Palmer stopping for Aisling Burke on the main street in Tallaght.
"He puts on his hood, walks back," he said. "They hold hands and continue walking on Main Street."
The gardaí, who arrested them, were seen approaching.
Ms Justice Deirdre Murphy sent the jury of six men and six women home early so a legal issue could be resolved.
"I'm told the prosecution case will likely conclude on Tuesday," she said.
Comments are closed as the case is before the courts.