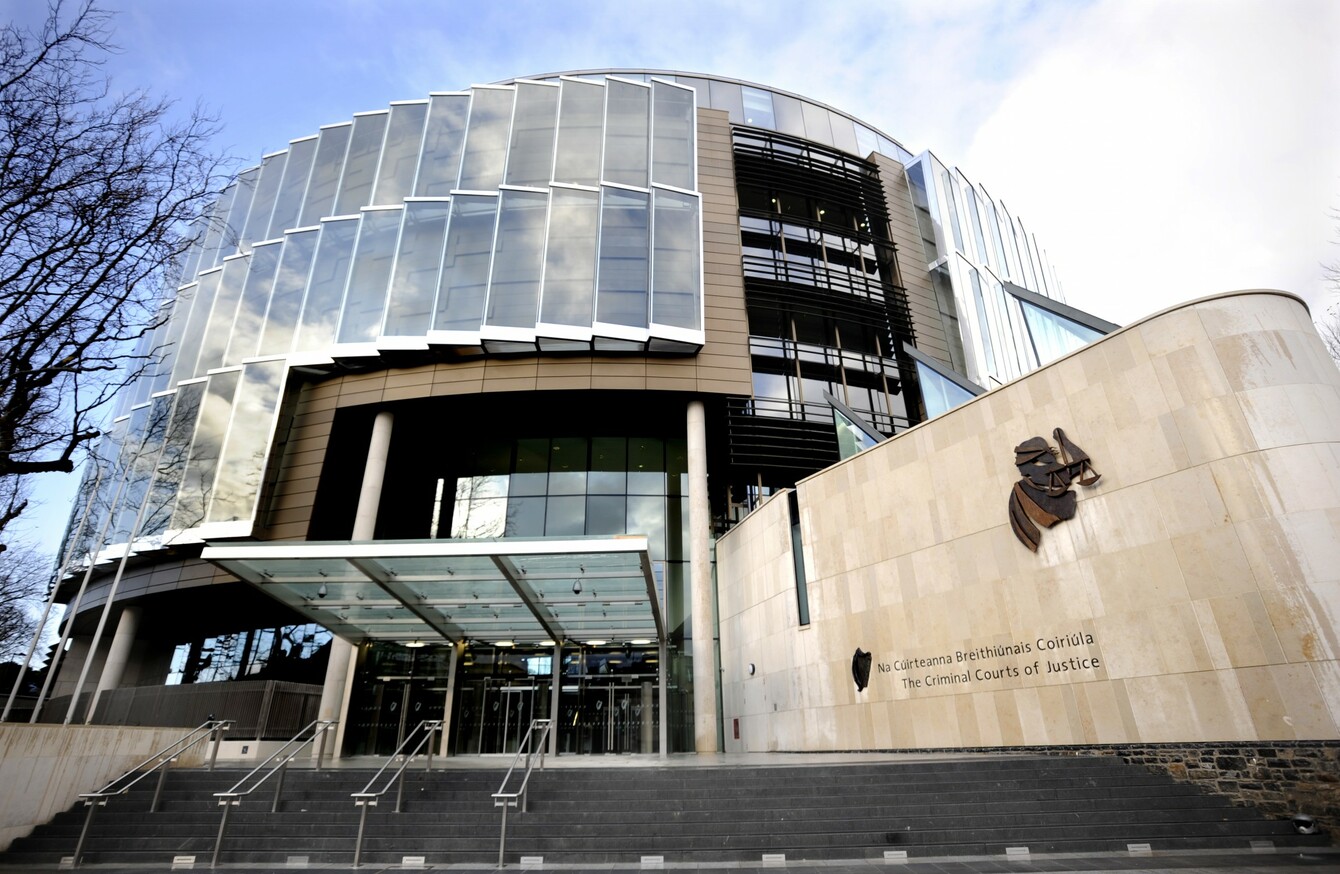 Image: Sasko Lazarov/RollingNews.ie
Image: Sasko Lazarov/RollingNews.ie
Updated 5.55pm 
THE MOTHER OF a man whose death was caused by his best friend's dangerous driving has said she is disgusted with the sentence handed down to him.
Kevin McCarthy (23) was driving at around twice the speed limit when he entered a bend in the road near Brittas, Co. Dublin. He lost control of the car and hit trees and a pole before the car flipped over and travelled 115 metres on its roof.
Thomas Carroll was a back seat passenger in the car. Family and friends, who were present during the hearing today, walked out en masse when Judge Pauline Codd imposed a sentence of four years with two and a half years suspended.
McCarthy of Rossfield Park, Tallaght, Dublin pleaded guilty on a previous date at Dublin Circuit Criminal Court to one count of dangerous driving causing the death of 21-year-old Carroll on the N81 near Brittas, Co Dublin on 29 May, 2014.
McCarthy has 73 previous convictions. They include one for careless driving and offences of driving a car with no NCT, driving without insurance. The majority of his other convictions are for documentary road traffic offences.
McCarthy took the stand to make a tearful apology to the victim's family, telling them:
I'm very very sorry for all that happened.
Negligent
Judge Codd said that Carroll's death was caused by a negligent act as opposed to an intentional act and that the court must assess the degree of criminal recklessness involved. She said that sentencing was not an exercise in vengeance or an act of retaliation.
She said that any sentence must contain a sufficient element of general deterrence to the public and McCarthy not to drive at excessive speed. She said McCarthy's previous record indicated a lack of respect on his part for road traffic law.
She said that McCarthy had acknowledged fully his responsibility and his remorse was great. She said the sense of loss had deeply affected him and noted that he had said he would never forgive himself.
"He now has to live with that guilt and he'll carry that burden for the rest of his life," she said.
Disgusted
Speaking outside the courthouse the victim's mother Nicola Carroll said:
We are absolutely disgusted by the justice system in Ireland. A year and a half is simply not enough for our beloved son, brother and daddy to our granddaughter Kayla who will grow up without her daddy.
"Kevin McCarthy will walk free in 18 months and live his life as normal while we will suffer a life sentence."
McCarthy's sister Sinead McCarthy told the court that she didn't intend to take away from grief of the victim's family but said her brother's life had been ripped apart.
She said her brother "absolutely loved" the victim. Since the crash he had withdrawn from contact with friends and family and locks himself in his room.
She said he disappeared for days and the family found out recently that he was going to the crash scene to talk to the victim.
Judge Codd said she was taking into consideration the impact of McCarthy's action on the victim's family. She said the harrowing and extremely distressing head injuries sustained meant they had to consider having a closed coffin at his funeral.
In victim impact statements read out in court, Carroll's mother, brother and two sisters described the pain of losing their son and brother in such horrific circumstances that they were advised to hold his funeral in a closed casket.
The funeral directors worked for 12 hours to ensure they could see his body and hold his hand one last time, the court heard.
His mother, Nicola Carroll, said she was "distraught" at how he died and often thinks of how terrified he must have been in his final moments in the car. She said her son Glen, who was called to the scene by Carroll's friends, was still traumatised by what he saw that night.
'I miss him terribly'
McCarthy told gardaí he had been hanging out with his group of friends that evening like they usually did. He said he was driving the group back to Tallaght and Carroll was sitting in the back passenger seat when the car spun out of control into some trees.
It flipped over twice and spun around about 10 times before coming to rest on the wrong side of the road.
The court heard McCarthy had not been drinking on the night of the crash.
McCarthy told gardaí he was travelling at around 100-120 km/h at the time, which he said was the speed limit on the road. However, the court heard the speed limit was 60km/h and this was signposted on the road about 300 metres before the crash site.
"I never went out that night planning on hurting anyone," McCarthy told gardaí.
Tom was one of my best friends. I miss him terribly.
McCarthy sat with his head bowed and wiped his eyes several times during the sentence hearing.
He wore a necklace with a picture of his friend "to remind him every day", Garda Maria Dolan said.