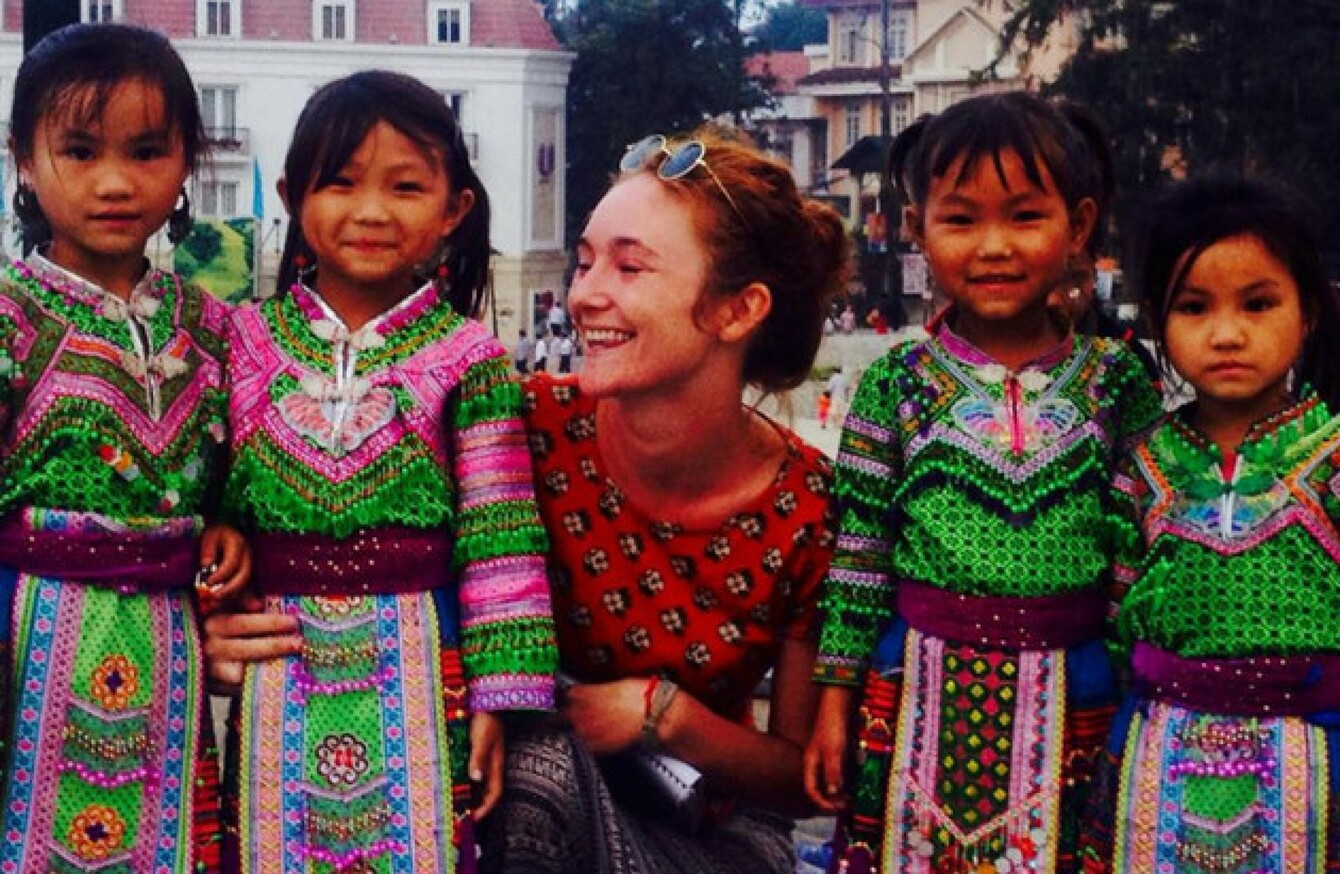 Danielle McLaughlin
Image: GoFundMe
Danielle McLaughlin
Image: GoFundMe
Updated at 1.10pm
CROWDS HAVE GATHERED in Donegal today for the funeral of Danielle McLaughlin, with friends travelling from Scotland, England, Australia and New Zealand to St Mary's Church in Buncrana.
The 28-year-old, who was travelling in Goa, was found murdered in India earlier this month.
In his homily, Father Francis Bradley said that people were "heartbroken" over the sudden and callous nature of the death of Danielle, who he described as "a beautiful daughter, a cherished grand-daughter, a thoughtful sister, a loyal friend, a free-spirit, a remarkable classmate, a gentle neighbour".
For her, life was a journey, many journeys in fact.  Travel for her was genetic.
And just as Danielle's mother and sisters and friends accompanied her every step on social media no matter where she went.
In the same way as her friends, Nicole Farren and Sherridan Smith made their way to Goa to accompany her on her journey home, so too, we now accompany Danielle with our love and our prayers as we bid her 'safe home'.
Before the mass, family and friends presented four symbols of Danielle's life, including a guitar, a holy medallion from one of Mother Teresa's care homes in India, a family photo and the text of a poem written about Danielle.
"She has been mourned by people of all ages who have been touched by her life and challenged by her death," Father Bradley said.
"She was disarmingly kind and forgiving; her warm nature and open heart drew people into her ever-widening, extensive and international circle of friends.
A brief glance at the vast array of tender messages for Danielle's mother Andrea, her family and friends, shows the immense esteem in which she was held.
She had a gentle but powerful way with her – for it seems that just one encounter with her was enough to change someone's life.
Bright, vibrant colours
In a statement before her funeral, her friends said they were calling on mourners to wear bright colours and not the traditional black dress code at the funeral.
They said:
Friends of Danielle have asked those attending her funeral not to abide by the usual dress code of black and that in order to celebrate the life of such a bright and vibrant young girl, that an effort should be made instead to match this brightness by wearing vibrant colours.
In his homily, Father Bradley said that Danielle was "a colourful character, like a gem which caught the light and reflected it in all its beauty around her".
Even the Indian Festival of Holi which she liked to attend and celebrate, is all about colour and celebration, for it marks the end of winter, the arrival of spring and gives thanks for the blessings of the harvest.
Highland Radio reports that her coffin will be decorated with flowers to match the dress code at the ceremony. Heavy traffic is expected around Buncrana, where the funeral takes place at Cockhill Chapel at 11am this morning.
Danielle's remains were returned home to Donegal earlier this week.
Charges
A 23-year-old man was charged with her murder two weeks ago.
Danielle was born in Glasgow and grew up in Buncrana, Co Donegal before going to university in Liverpool. She had left Ireland in February to go travelling.
Sinn Féin Senator Pádraig Mac Lochlainn requested that the media respect the privacy of the family in the wake of Danielle's death.
"The McLaughlin family must be given room and come to terms with their loss and they will come forward when they feel it is time," he said.
Comments are closed as legal proceedings are under way.