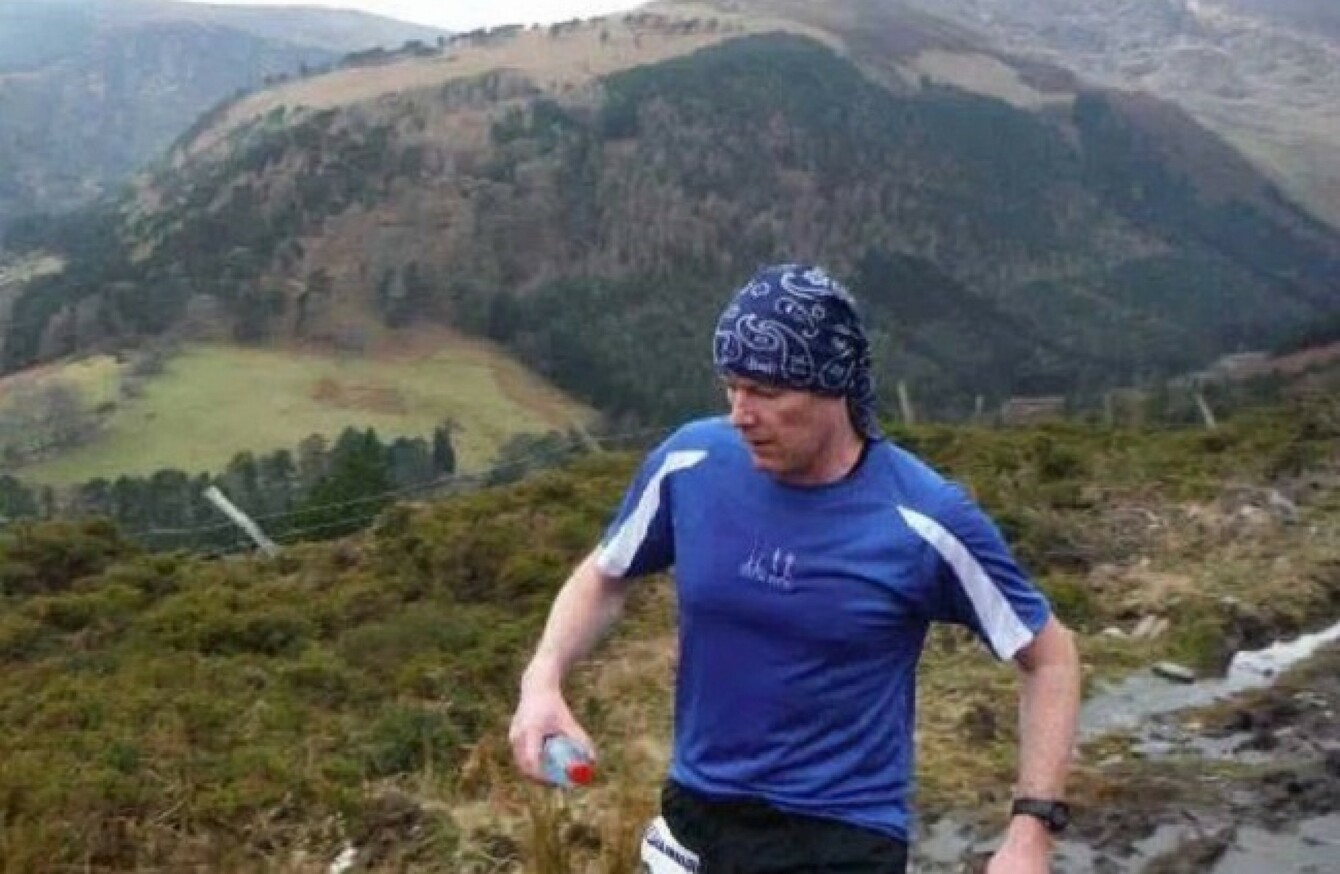 Image: Gary Seery
Image: Gary Seery
Source: TheJournal.ie/YouTube
THIS YEAR'S DARKNESS Into Light walk takes place on Saturday May 6th in aid of Pieta House, supported by Electric Ireland. Participants in more than 150 locations, on four continents, will walk the 5km route to raise funds and awareness.
All throughout this week, people around Ireland are sharing their own Darkness Into Light journeys. Here, Gary Seery, a software executive and 58-time marathon runner, tells his story.
If you'd asked me ten years ago about my mental well-being, I wouldn't have had an answer for you. I was never really aware of my mental health as something that could change, or that could affect me. It wasn't a priority.
I first started feeling really bad in April or May 2009. At that time, I was working a hell of a lot, and pushing out 16 or 17-hour days. I was under severe pressure at work, in a very negative environment, and there was absolutely no support there. I felt trapped.
No way out
As many people will tell you, it wasn't one single incident that caused my depression. It was a culmination of things. The counter-productive way I dealt with how I was feeling eventually became part of the problem too.
All through the summer of 2009, I wasn't sleeping. I started drinking in the evenings because of the reprieve it gave me. I had lost interest in everything, and I was getting up every day as normal and trying to convince myself that this was all just a blip.
When things started to get really bad at work, I kept thinking that there was no way of getting out of what was going on without impacting my family. I'm very much a hunter-gatherer personality, and I get excited when I see a full fridge at home, because to me it means I'm providing for my family. My job had become impossible, but I saw no escape.
Breaking point
From the outside, I looked totally normal, because I was putting on the facade of being absolutely fine. Inside though, I was imploding. By September 2009, things had reached a breaking point. I was going to end my life or I was going to get better. That was the choice I had.
Visiting my GP, Tony, was probably the best move I've ever made. He made me realise that what I was going through was common, and put me on a course of antidepressants to help me get myself out of the weeds. From there I was able to start looking at ways to get myself back on track.
My recovery wasn't a quick process by any means, and those first nine or ten days after starting medication were extremely tough. I didn't even have the energy to wash myself. But slowly I started to feel somewhat normal again. I was finally able to start thinking clearly, and looking ahead rather than just trying to get through the day.
Marathon training
I set myself the challenge of running the Dublin Marathon in October 2010, and over the next year I started training, just bit by bit at first, and then more intensely. Endorphins are powerful things, and exercise became another form of medication for me, so much so that in April 2010 I was able to come off the antidepressants entirely.
#Open journalism No news is bad news Support The Journal

Your contributions will help us continue to deliver the stories that are important to you

Support us now
I've done 58 marathons in total over the last number of years, including one on the North Pole. But the biggest achievement for me has been learning to manage my mental health.
No shame
I know now that there's no shame in feeling like you're not coping. That's something I've tried to pass on to my kids. It's great for them to see that minding your mental health is the same as looking after yourself if you have a cold or the flu.
That's why events like Darkness Into Light are so important, because when kids see thousands of people out at four in the morning supporting positive mental health, it breaks down that stigma, it becomes something normal for them.
Life is hard, it's tough. We're all under pressure. It's not realistic to think that we can be happy and content all of the time. For me, what's important is knowing how to tackle mental health issues when they do arise, rather than letting them dictate my life.
Join the thousands walking from Darkness Into Light on May 6th to raise funds and awareness for Pieta House. You'll find more information online here and here.
Helplines:
Pieta House 1800 247 247 or email mary@pieta.ie – (suicide, self-harm)
Samaritans 116 123 or email jo@samaritans.org
Aware 1800 80 48 48 (depression, anxiety)
Teen-Line Ireland 1800 833 634 (for ages 13 to 19)
Childline 1800 66 66 66 (for under 18s)