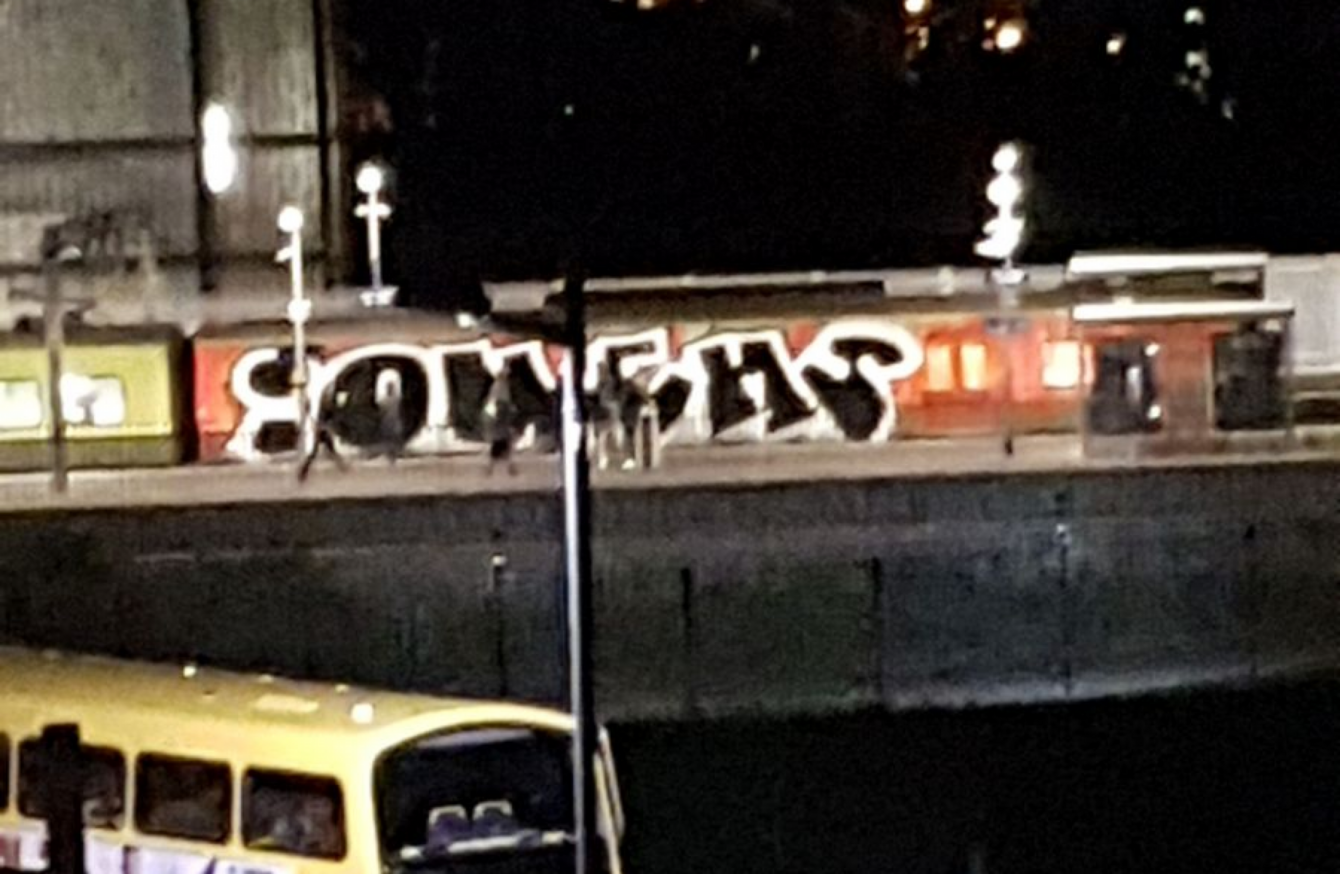 An image of the train.
Image: Stephen Curtis
An image of the train.
Image: Stephen Curtis
Updated 9.35pm
GARDAÍ ARE INVESTIGATING an incident which left trains delayed last night.
The incident saw a group of young people damage a train at Clongriffin Dart Station last night around 9.30pm.
An Irish Rail spokesperson said that a group of up to 11 youths blocked doors on the train and carried out a "planned and organised graffiti attack" on the train.
He said: "A group of approximately a dozen vandals completely spray painted a Dart carriage at 10.40pm and blocked doors individually preventing the Dart from departing.
While thankfully no customers were hurt, some were threatened by the vandals with pieces of wood, which we believe they had with them as part of the effort to vandalise the Dart.
While graffiti is an ongoing issue for Irish Rail, the scale of this while a Dart was in service was described as "unprecedented".
Following on from this, additional security has been placed at Clongriffin and elsewhere on the Dart from this evening.
The spokesperson added: "We urge anyone with information on this mindless attack to contact the Gardai. This incident clearly exposes the lie that graffiti vandals are anything other than criminals, and in this instance aggressive and threatening criminals also."
Witnesses suggested that at least some of the youths were armed with weapons.
At least one carriage was taken out of service after its outside was completely covered in paint.
The group left the scene in a number or directions, delaying the other trains for up to an hour.
Gardaí were called to the station. A spokesperson said:
"Youths allegedly sprayed paint on a carriage but were gone on arrival of gardaí.
"Investigations are ongoing."
With reporting from Sean Murray