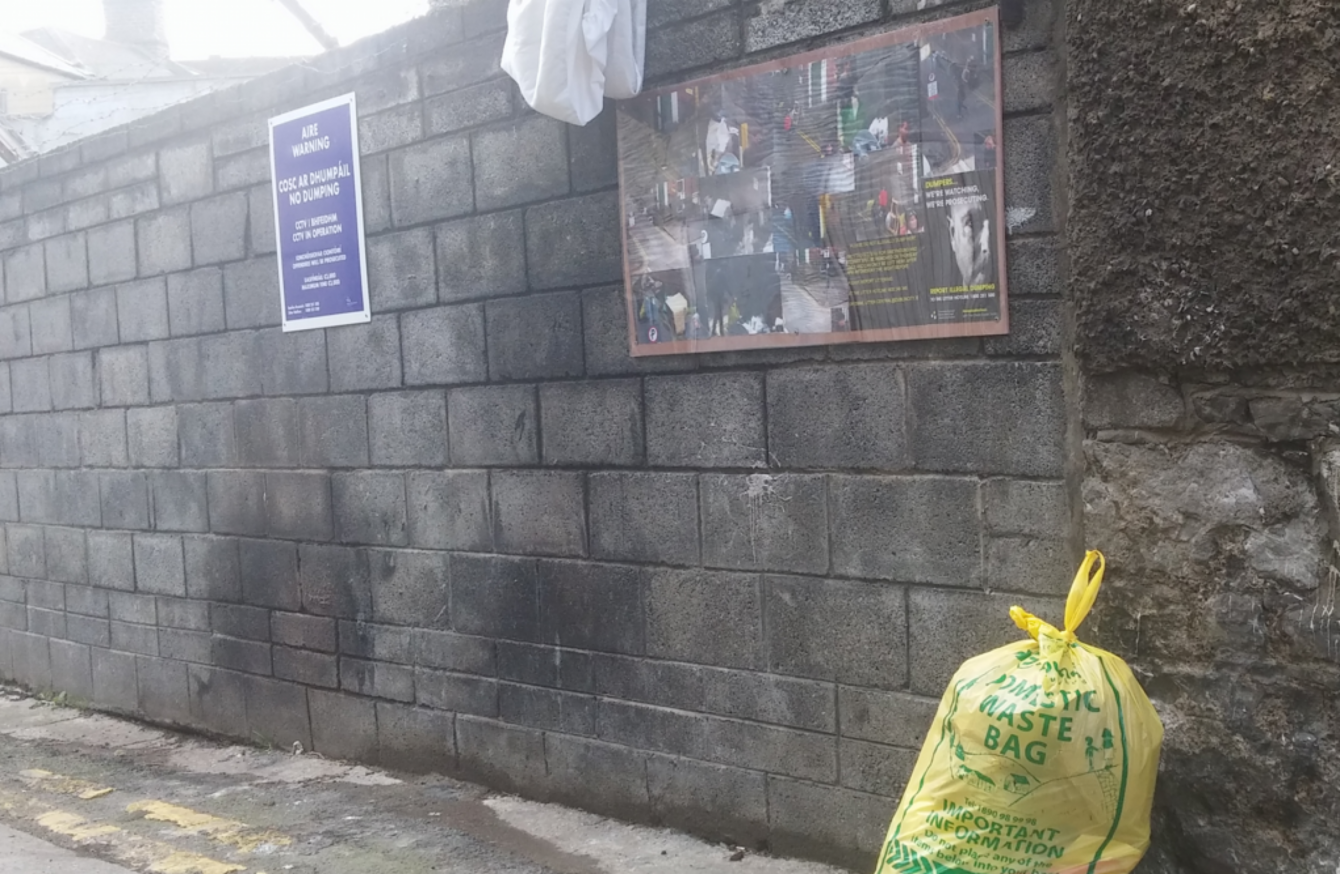 The poster in question.
Image: Cormac Fitzgerald
The poster in question.
Image: Cormac Fitzgerald
Updated at 4.30pm 
DUBLIN CITY COUNCIL has defended itself against questions that it breached data protection laws after making public CCTV images purporting to show people illegally dumping.
Dublin City Council recently erected a poster on a wall at Frankfort Cottages near the Five Lamps in Dublin's north inner city.
The poster is made up of 12 stills showing people in the act of illegally dumping at a nearby lane in the area.
The poster also contains the words: "Dumpers… We're watching. We're prosecuting."
John McPartlan, public domain officer with Dublin City Council, told Newstalk Breakfast yesterday that the poster had been effective in deterring people from using the lane as a dumping ground.
"Within a couple of hours we had someone in at the counter in the local area office… asking for the image to be taken down," he said.
However, the Office of the Data Protection Commissioner – which oversees  data protection laws - has contacted the council over the images.
"Officials from this office have contacted the DCC in relation to the publication of CCTV stills," a spokesperson for the commissioner said in a statement.
It should be pointed out that the processing of personal data must be done fairly, demonstrate proportionality and not be overly prejudicial to the fundamental right of the individual to data privacy.
Legal expert
Speaking to RTÉ News last night, legal expert Simon McGarr said that Dublin City Council wasn't "pursuing any particular statutory duty" by using the images and therefore their use might be in breach of data protection laws.
Putting up the posters is not solving the crimes that the posters are depicting and therefore doesn't have the same protection that the crime call usage of CCTV footage would have.
However, in a statement to TheJournal.ie Dublin City Council said that it was "confident" it was operating within the the confines of the law.
"Dublin City Council is confident that it is acting within the data protection legislation and that our actions are proportionate to the issue," the council said.
The council also said that it hoped to "extend the scheme across the city" in order to tackle illegal dumping in other areas also.
Despite the images in the poster being made public, the council also said that it didn't give any permission for their re-use or reproduction.