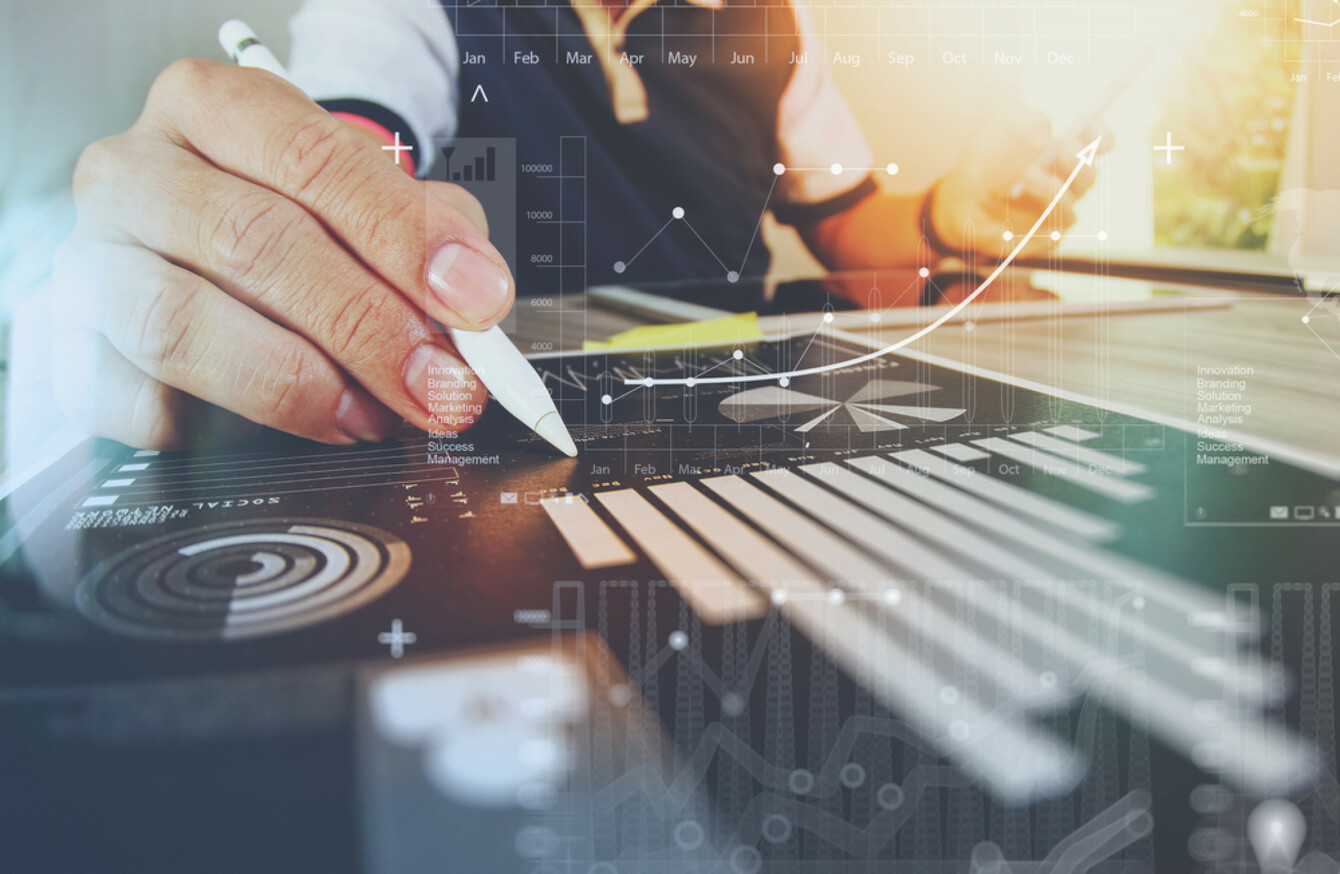 Image: Shutterstock/everything possible
Image: Shutterstock/everything possible
AS TECHNOLOGY CONTINUES to evolve at a rapid rate and we move towards a workplace dominated by data analysis, automation and hyperconnectivity, there are certain skill sets that become increasingly important.
Coding, digital design and general digital literacy are already in high demand with the number of people required to fill tech roles, far outweighing the number of trained professionals seeking them.
This has led to a renewed focus on reskilling and development within existing roles, as well as an accelerated focus on future ones.
One role that has really grown in prominence in the last five years is that of the data scientist.
A data scientist analyses and interprets data and patterns to solve complex problems. Recently, Glassdoor named data scientist as the best job in America for the third consecutive year, with a median base salary of $110,000 (€88,400). The average salary in Ireland is about €50,000.
Data scientists are highly skilled, can work in a number of different industries, have high earning potential and report high levels of job satisfaction in their roles. By 2020 demand for data scientists will have increased by 28%, according to a report by IBM.
Fancy a future-proof career? Here's what you need to become a data scientist.
1. Soft skills
It's not all about technological ability, to be successful in this role there are a number of personality traits and soft skills that are necessary too.
2. Communication
A data scientist needs to be an extremely accomplished communicator, able to listen to problems and effectively talk through the potential solutions with a number of different stakeholders.
3. Empathy
In what's soon to be a robot world, the skills that are uniquely human will become more important. The ability to look at an issue outside a narrow lens and take unpredictable factors into account is a core skill of the data scientist.
4. Curiosity
To excel in this career you need to be of an analytical mindset, constantly questioning why things work the way they do and how you can improve them. This role requires a flair for investigation and innovation.
5. Adaptability
With new technologies emerging at such a rapid rate, the systems and skill sets required to work with them have an increasingly shorter shelf life. This means that data scientists need to be flexible, adaptable and always looking to learn and develop in their positions. Self education is an important part of their role.
6. Technology skills
There is no set educational formula for becoming a data scientist but a background in statistics, computer science or engineering is key, usually at a masters or PhD level.
7. Mathematics
While a degree in maths isn't necessarily a prerequisite to a career in data science, a strong grasp of the fundamentals certainly is. For example, an aptitude for probability will be helpful in determining the likelihood of something occurring or recurring. Statistics will be necessary for analysing rich data and testing hypotheses.
8. Programming
Data scientists will need excellent knowledge of programming for sourcing and processing data. Python, JavaScript and Ruby are some of the most popular programming languages for 2018 with database querying language, SQL, also necessary.
9. Data visualisation
Presenting data is a key element of the role of a data scientist. You need to be able to explain to business leaders, technical and non-technical, the insights gathered from the data as well as creating buy in from them. Familiarise yourself with the tools that will help with visualisation and dashboarding such as Tableau.
Once you've built up these skills, getting involved in open-source projects is a great way to get experience. Sites like GitHub and Kaggle are really valuable resources for finding projects to work on. Immerse yourself in the community by attending meetups, conferences and events in order to network and learn from people in your industry.