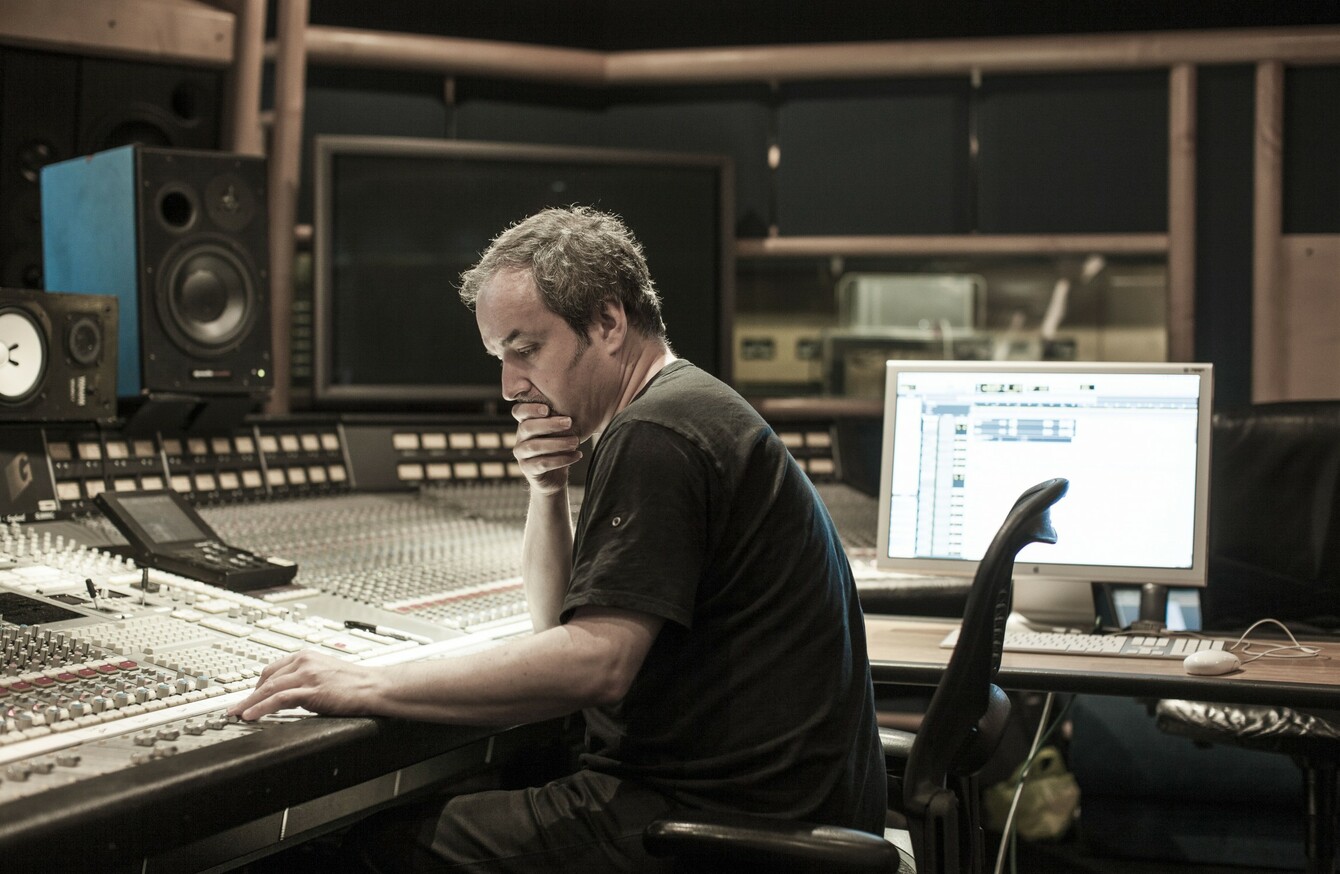 David Arnold
Image: RTE
David Arnold
Image: RTE
A LOT OF people will recognise the name David Arnold straight away, but even those who don't know the name will have heard the music.
The Grammy and Emmy winning Englishman (whose father is from Thomas Street in Dublin) is one of the biggest names in film and TV composing today. He has scored four Bond films, Stargate, Sherlock and Independence Day. He's also responsible in a way for Damien Rice's explosion onto the world stage.
Arnold plays two shows in Dublin's Bord Gáis Energy Theatre next month with the RTÉ Concert Orchestra. On 19 May, the orchestra plays a programme of his music, and on 20 May there is a screening of Independence Day with live performance of the score.
Speaking to TheJournal.ie from his home in London, Arnold says that he's excited about both shows but knows the blockbuster screening is a challenge.
"The bigger challenge is the Independence Day screening. It might not sound like that much of a challenge, but it's two hours and 20 minutes long, so it's a bit of a marathon.
"We've done the first show before. For me that's just a case of showing up with a crate load of music and letting your brilliant musicians play it.
The musicians are so passionate and the audience in Ireland are so respectful – they understand the process. I've been at enough parties and lock-ins in Ireland to know you don't interrupt the music.
Arnold says that performing with the film playing is a unique experience because while scores start out with an entire orchestra, they can be put behind other sounds when the film's final edit is made.
It's ludicrous and it's daft, but it's great to be able to turn the music up. It shifts so much air and the sound comes from over 80 immensely talented people.
"This show is like the difference between theatre and cinema or being at a match and watching it on TV."
Getting started
Source: allmusicdotcom/YouTube
Growing up in Luton, Arnold became friends with Danny Cannon. Cannon would go on to become the executive producer of CSI and director of the blockbuster Judge Dredd film starring Sylvester Stallone, but made his feature debut with 1993′s The Young Americans.
Cannon tapped up Arnold to produce the music for the Harvey Keitel film and from there, Arnold's career took off. His score was used as the basis of the Bjork song Play Dead and landed at number 12 in the UK charts.
But it was the film's cinema scene that really caught the attention of Hollywood.
"The big funeral scene has a big cinematic score which was played to some people who were making Stargate. Turns out that they were (co-writer and director) Roland Emmerich and (co-writer and producer) Dean Devlin.
I went to meet them and pitched the music as Laurence of Arabia meets Star Wars. Two weeks later they rang me and offered me the job.
Stargate would go on to make nearly $200 million at the US box office and led to Emmerich to begin work on another film: Independence Day. Because the pair had got on so well, Arnold was asked to score the Will Smith/Jeff Goldblum film.
His music backs one of the most iconic scenes of 90s cinema and won him a Grammy:
Source: TheMaul3r_Real/YouTube
Of course, the film went on to make $800 million, which wasn't something Arnold had planned for.
People didn't expect these films to be so successful. People love Independence Day's endearing innocence and it's a bit of a guilty pleasure that's great fun to watch.
"I know that it's a rare thing to have a success and even rarer to have a number of successes."
The man with the golden pen
Those successes didn't stop there, as Arnold went on to score five Bond films – Tomorrow Never Dies, The World is Not Enough, Die Another Day, Casino Royale and Quantum of Solace – and TV smash hit Sherlock.
Bond came about after Arnold recorded an album of Bond songs performed by the likes of Pulp and the Propellerheads.
When John Barry was finishing up as composer on the spy series, he recommended Arnold to producers amid a "perfect storm".
Bond HQ knew I was hugely interested. It was the perfect storm of someone who loved James Bond and there being an opening. I never took it for granted, but was asked to do five films.
That relationship ended when Sam Mendes came on board as director for Skyfall. Mendes uses Thomas Newman for all of his features, but Arnold was actually unable to do the film anyway, as he had been asked to do a major event in his home town.
2012 was the third time that Olympics were in London – so it was probably the last one for a long time. So the chance to be the choice to do the music for Danny Boyle's opening ceremony and be available probably wasn't going to happen again.
"You felt like it was an enormous, mysterious thing. There were 1.5 billion people watching the opening and I got to be in there with the likes of The Who, Take That, Jessie J, George Michael and Kaiser Chiefs."
Arnold was asked to reprise his role for Rio, but "didn't want to be that Olympics guy".

O My
Source: Damien Rice/YouTube
Aside from his film work, Arnold also played a major role in the release of Damien Rice's O, one of Ireland's most popular albums.
In true Irish fashion, the two's relationship started with family. Arnold's father is Rice's grandmother's brother and when he was struggling to get the album picked up by a record label, Rice was dispatched to Arnold's house by his granny.
"I didn't know that Damien played or wrote. I've got a large family over there so I didn't really know what they all did. His grandmother rang me and said you know a bit about music and asked if I could talk to him and listen to some of his songs. I said yes and he came to see me in London.
"You just knew whatever you needed to be that kind of performer, he had that."
However, that wasn't the end of the struggle.
"I said I know loads of people I could bring it to.
"I took it to every publisher and record company in London and they all said no. I think it was because David Gray's second album hadn't done as well they thought, the trend was away from that kind of music."
Arnold is proud of his input in the album, but is modest about how much he contributed.
I did some arrangements and bits and pieces, but it was his call. I sort of paid for it, which wasn't a lot I'll be honest. So we did that and released Blower's Daughter three times. It eventually picked up steam and in Ireland was selling really well. He'd come over here and stay with me and my friends and play gigs at these tiny places in London.
"Then the people who didn't want to know started saying now we do want to know and it got taken to the next level.
"It was an amazing thing to see. It restored my faith in my own ears and it was nice to see a record spreading by word of mouth.
This will sound like a name drop, but Ed Sheeran was talking about that record at the Olympics, so I'm incredibly proud to have been involved in it.
As for now, Arnold is working on various projects including a live show based on the music of Sherlock, but mostly he's happy living his life.
"I'm happy enough doing nothing, I'm happy to have earned an afternoon off. I was talking to Peter Gabriel about a project for a while and he decided against doing it. He said 'I've decided to put life first'.
"You don't have to always be producing something or doing something. What I think is being important is putting life first.
"It's nice to be able to do that."
Tickets for both events, starting at €20, can be bought here