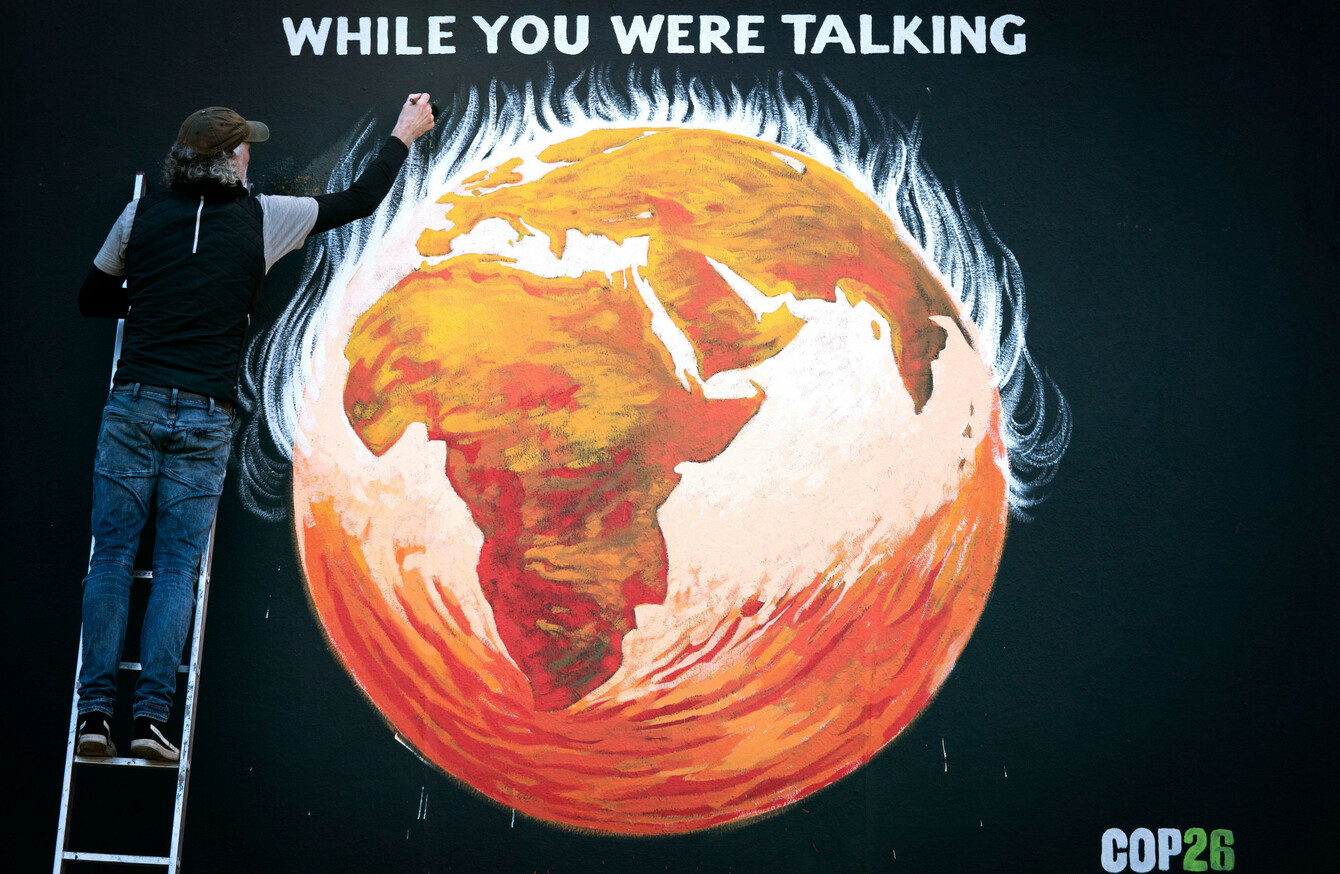 Justice and Peace artist Greg Mitchell completes his climate-crisis themed mural that depicts the Earth on fire and reads ' While you were talking', on the side of St John's Church on Princes Street, Edinburgh, to coincide with the Cop26 in Glasgow.
Image: Alamy Stock Photo
Justice and Peace artist Greg Mitchell completes his climate-crisis themed mural that depicts the Earth on fire and reads ' While you were talking', on the side of St John's Church on Princes Street, Edinburgh, to coincide with the Cop26 in Glasgow.
Image: Alamy Stock Photo
Updated Oct 26th 2021, 4:22 PM
COUNTRIES' LASTEST CLIMATE plans will deliver just a tiny percentage of the emissions cuts needed to limit global heating to 1.5C, the United Nations has said in a damning assessment ahead of the COP26 climate summit.
Just days before the Glasgow meeting, which is being billed as crucial for the long-term viability of the Paris climate deal, the UN's Environment Programme said that national plans to reduce carbon pollution amounted to "weak promises, not yet delivered".
In its annual Emissions Gap assessment, UNEP calculates the gulf between the emissions set to be released by countries and the level needed to limit temperature rises to 1.5C – the most ambitious Paris Agreement goal.
The summit's organisers say they want countries to commit to keeping Earth on course for the 1.5C goal through redoubled pledges to decarbonise their economies.
But according to UNEP, even the most up-to-date and ambitious plans from around 120 countries puts the world on track to warm 2.7C.
UN chief Antonio Guterres said Tuesday's report showed that the world was "still on track for climate catastrophe".
"As world leaders prepare for COP26, this report is another thundering wake-up call. How many do we need?"
Under the 2015 Paris deal, signatories are required to submit new emissions-cutting plans- known as Nationally Determined Contributions, or NDCs – every five years, each more ambitious than the last.
UNEP said that most recent commitments would shave 7.5% off previously predicted 2030 emissions levels.
To keep on a 1.5C trajectory, a 55% reduction is needed, it said.
A 30% cut is needed for 2C of warming, a threshold the Paris deal commits nations to keep temperatures "well below".
"To stand a chance of limiting global warming to 1.5C, we have eight years to almost halve greenhouse gas emissions," said UNEP Executive Director Inger Andersen.
Act on climate now or it will be too late
David Attenborough issued a warning ahead of the UN climate summit in Glasgow that leaders must act now or "it'll be too late" for the planet.
Cop26 has been billed as the last best chance to keep global temperature rises to no more than 1.5C, with Attenborough critical of those who deny the climate crisis.
In conversation with BBC science editor David Shukman, the naturalist and broadcaster said: "Every month that passes, it becomes more and more incontrovertible, the changes to the planet that we are responsible for that are having these devastating effects."
He added: "If we don't act now, it will be too late. We have to do it now."

Wealthier western countries like the UK have a "moral responsibility" to help refugees displaced by climate change, the 95-year-old said.
"We caused it – our kind of industrialisation is one of the major factors in producing this change in climate. So we have a moral responsibility," he told the BBC.
"Even if we didn't cause it, we would have a moral responsibility to do something about thousands of men, women and children who've lost everything, everything. Can we just say goodbye and say this is no business of ours?"
Earlier in October, Attenborough, who will be present at the summit, said the possibilities of Cop26 gave him "some hope".
"For the first time people around the world will hear the arguments as to what we should do, the analyses as to what the problems are and what the solutions are," he said.
"Those two things bring me some hope."
Boris Johnson will welcome world leaders to Glasgow for the summit which begins on Sunday after saying it was "touch and go" whether key goals would be met as the heads of some major polluting nations are set to skip the event.
Carbon budgets
Attenborough's comments come after Minister for the Environment, Climate and Communications Eamon Ryan welcomed the publication of the proposed carbon budgets from the Climate Change Advisory Council.
The first proposed carbon budget was sent to Eamon Ryan yesterday after long deliberations over its recommendations on how Ireland should chart its path to reducing emissions.
#Open journalism No news is bad news Support The Journal

Your contributions will help us continue to deliver the stories that are important to you

Support us now
For the first time, the Irish government is due to implement three carbon budgets, each covering five years, that set out limits on emissions from specific sectors.
The budget is part of a roadmap for Ireland to follow to meet the government's target of cutting emissions in more than half by 2030, a stepping stone on the way to its second key target of net-zero emissions by 2050.
Commenting on the proposed budgets, Ryan said: "When we passed the Climate Act in July we embedded the process of carbon budgeting into law. The Act also strengthened the role of the Climate Change Advisory Council, to empower this independent body to do this important work, based on the most up-to-date climate science."
"These first carbon budgets are a significant milestone in our efforts to tackle climate change," he said.
The budget, which will last until 2025, allows for a total of 295 million tonnes (Mt) of CO2 emissions between now and then.
Between 2026 and 2030, the limit is 200 Mt, and the provisional carbon budget for 2031 to 2035 allocates 151 Mt.
- With reporting from AFP