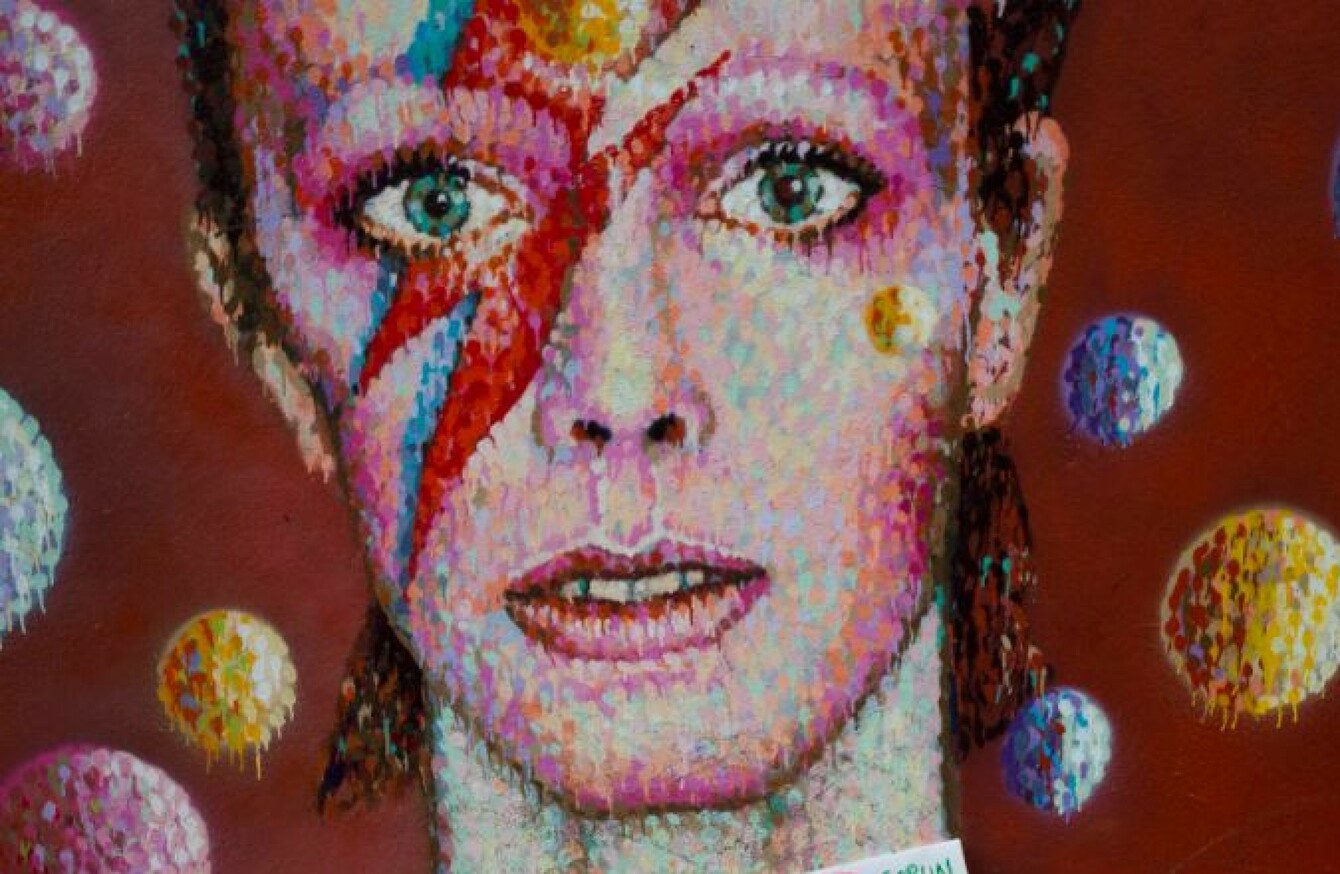 A mural of David Bowie by artist Jimmy C in Brixton, London.
Image: Matt Dunham AP/Press Association Images
A mural of David Bowie by artist Jimmy C in Brixton, London.
Image: Matt Dunham AP/Press Association Images
FANS AROUND THE world are paying tribute to rock icon David Bowie today, the first anniversary of his death.
Bouquets of flowers appeared once again outside the New York apartment where Bowie spent his final years, recreating the communal scene that emerged after he passed away on 10 January 2016.
Sabrina Rosneck, a student from Detroit who came to New York for a Bowie anniversary concert, slipped a letter into the makeshift memorial outside The Starman's Soho home.
"I leave him a card whenever I come to New York. I feel like he sort of understands people and he kind of understood me even though he didn't know me, so I just want to update him on my life and how it's going," she said.
Like many fans, Rosneck credited Bowie — who constantly reinvented himself in a half-century career that spanned from glam rock to electronica to disco — with helping people accept themselves.
Can't watch the video? Click here. 
Aurelio Ayala III, who flew to New York from Seattle, said that discovering Bowie transformed his youth in Texas, where he dyed his hair orange in the rocker's honour and didn't look back.
"He allowed me to express myself the way I wanted," the 56-year-old said outside Bowie's apartment today.
Tribute concerts around world 
Bowie died from an undisclosed battle with cancer two days after releasing his last album, Blackstar, a work that won glowing reviews.
Columbia Records on Sunday released three additional tracks from the Blackstar sessions in a digital EP to celebrate what would have been Bowie's 70th birthday.
Bowie's veteran producer Tony Visconti, one of the few people to whom the rocker had confided his illness, said he has "been through every stage of grief in the past 365 days".
Visconti, writing on Facebook, recalled that Bowie had been "so much stronger, more positive and bursting with creativity" when making Blackstar.
https://www.facebook.com/tony.visconti1/posts/10211952829358733
"Our team, the band, the technicians and everyone who visited us in the studio kept shooting glances at each other — is this really happening?" he recalled of the final recording sessions.
He was a legend in his lifetime and he will be a legend until the end of time. But he was my friend, too. I miss him dearly.
Bowie fans organised concerts around the world to mark the anniversary, with proceeds to go to charities.
A New York show this evening will feature Kate Pierson of The B-52s and rockers Living Colour with veterans of Bowie's band.
'Eternal' Bowie 
A similar show on Sunday at London's Brixton Academy brought out actor Gary Oldman, who was a close friend of Bowie, and artists such as Def Leppard frontman Joe Elliot and Duran Duran's Simon Le Bon.
Can't watch the video? Click here. 
Bowie was born in the south London district, where thousands had gathered after his death to sing, dance and cry for their hero.
"Gone but never forgotten," "All the days of my life I owe you" and "RIP David, my hero, my idol," read some of the inscriptions scrawled on the wall.
"He changed the face of music," Roger Rowley, an actor and musician who travelled from Leeds to attend a vigil by the mural along with dozens of other fans, said.
"I've learnt more from Bowie as an artist as from anyone else. He's eternal," he said.