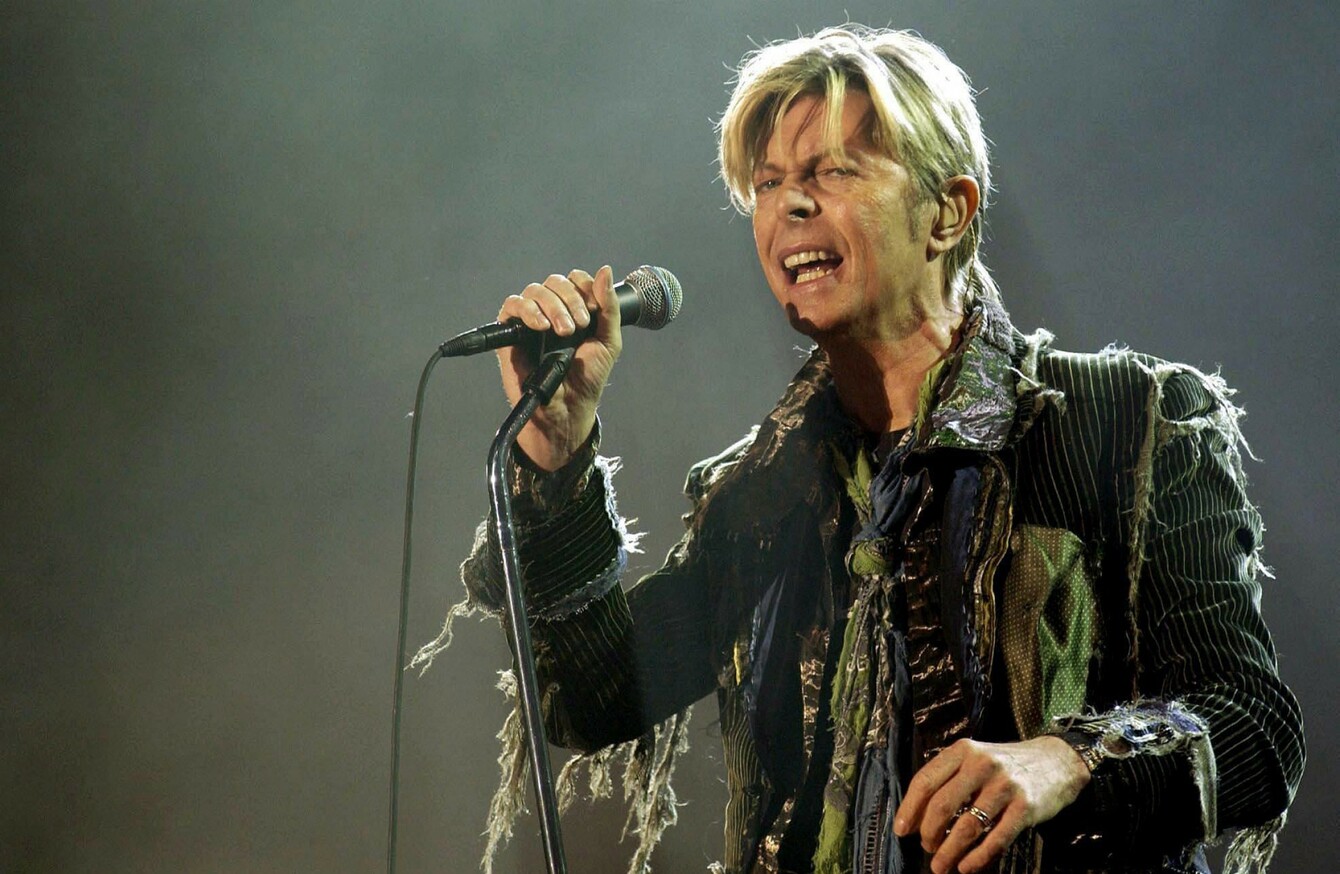 Image: Yui Mok
Image: Yui Mok
IF YOU'RE ON the streets of Dublin this weekend and see people dress as Ziggy Stardust or Aladdin Sane, don't panic.
The likelihood is that they are just big David Bowie fans on their way to one of the many events that form part of Dublin Bowie Fest, which kicked off on Thursday and runs until Tuesday. The second annual festival, it is the first to take place since the singer's sad death last January.
One of the highlights of the festival is a gig in Whelan's on Monday by Gerry Leonard, the Dubliner who was Bowie's guitarist on the Heathen, Reality and The Next Day albums.
Leonard, who performs under the name Spooky Ghost, played with Bowie from 2002 until his death and told TheJournal.ie that he is looking forward to coming back to Dublin from his adopted home in New York. However, there is an air of poignancy about the trip, given that Leonard had just finished the inaugural festival here last year when he heard Bowie had passed.
We had a festival last year in The Grand Social and it was a great night. We pulled down the shutters down on that place at 2am and I got a call at 7am asking had I heard the news that David was gone. I was totally shocked.
With that in mind, Leonard does say that the year passing has allowed those involved digest the news.
"Because it's the first anniversary, we've all had time to digest it. We were asked to do the Brit awards performance with Lorde and other things. So we've been doing events where we can talk about him. I was supposed to do the show in New York, but said I'd rather be in Dublin – it will be powerful."
Leonard's journey to Bowie came through an attraction to process. His band Hinterland -whose co-founder Donal Coughlan also passed last year – had signed a record deal and visited the US. When that came to an end, he moved to New York to play guitar.
"America is good for process, Ireland is good for dreaming. You really get work done here. And the way the industry works here you work with one person and then work with another. I'd played with some people and was asked to play for David.
"I played on a track and David really liked it, so I asked if I could meet him. He came to a Spooky Ghost show at a coffee house with around 50 people and he really liked it. We hit it off and started making music together."
That led to Leonard being the musical director on the Reality tour, which included a DVD filmed at what was then The Point Depot. But the idea of Bowie in a small coffee house doesn't seem right, does it? According to Leonard, the musical legend was very engaged with what went on around him.
#Open journalism No news is bad news Support The Journal

Your contributions will help us continue to deliver the stories that are important to you

Support us now
"David was a consummate artist and one of the best. But there is a practical side to it – he loved going to shows, loved knowing what was going on and was so well versed in all media and artforms. He went to see new bands and had a razor eye for what was good and not good.
But when it came to making records he was focused and worked very quickly. There was no fanfare, he'd just show up with his bag and go to work. He definitely wasn't a regular guy and wasn't a normal guy. He was extremely talented and very creative. He was a very generous person and was very easy to work with once the work was being done.
"David was somebody who made you feel like you were an equal, no matter what. He knew people – knew what made them tick. He knew his audience, too. He was very passionate about what he did – he was always working on his craft, always working to get better. He listened to music, but could cross it with a sense of design and fashion and theatre and literature."
"It was no accident he became as big as he did – he was extremely talented, driven and an incredible singer."
For more information on BowieFest, click here.