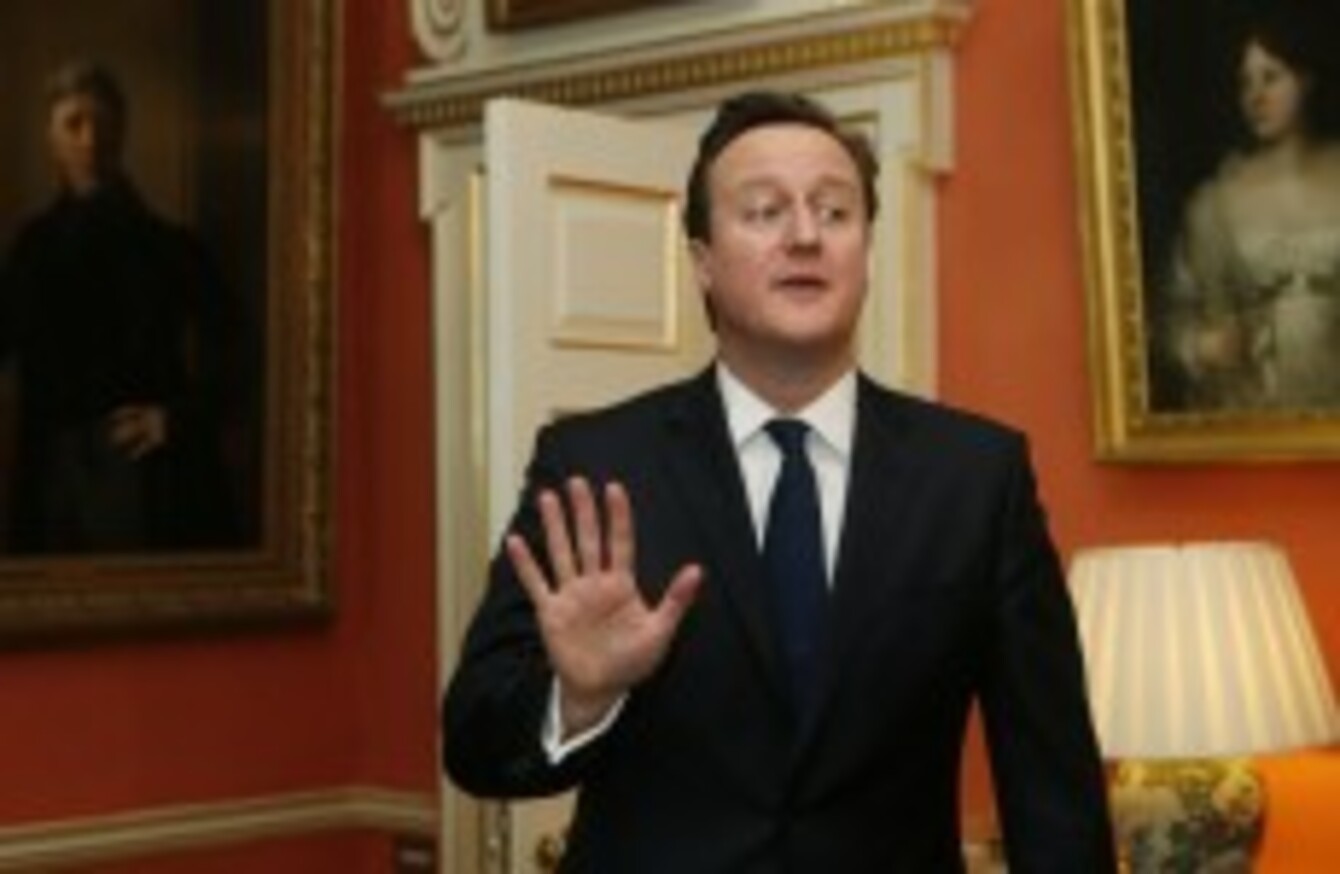 British Prime Minister David Cameron (File)
Image: Suzanne Plunkett/WPA-Rota/Press Association Images
British Prime Minister David Cameron (File)
Image: Suzanne Plunkett/WPA-Rota/Press Association Images
BRITISH PRIME MINISTER David Cameron has promised to hold a referendum in 2017 giving British people the choice to stay in or leave the European Union if his party wins the next general election in 2015.
In a long-awaited speech Cameron said that he wanted to renegotiate Britain's EU membership and "when we have negotiated that new settlement, we will give the British people a referendum with a very simple in-or-out choice".
"If we left the EU, it would be a one-way ticket, not a return," he said in a speech in London and said that any new relationship with the EU must be one "with the single market at its heart".
Citing the problems of the eurozone and "a crisis of European competitiveness", Cameron said: "If we don't address these challenges, the danger is that Europe will fail and the British people will drift towards the exit."
The Prime Minister has come under intense pressure from members of his own party, particularly on the backbenches, and from the rising popularity of the UK Independent Party (UKIP) to hold a referendum as soon as possible.
However he said this morning: "I don't believe that to make a decision at this moment is the right way forward, either for Britain or for Europe as a whole."
'Mandate from the British people'
He said that if the Conservative Party – which he has led since 2005- was re-elected at the next general election in 2015 he will hold a referendum in the first half of the next parliament – by the end of 2017.
"The next Conservative manifesto in 2015 will ask for a mandate from the British people for a Conservative government to negotiate a new settlement with our European partners in the next parliament," he said.
"And when we have negotiated that new settlement, we will give the British people a referendum with a very simple in-or-out choice to stay in the EU on these new terms; or come out altogether. It will be an in/out referendum."
Immediate reaction to the speech was critical on both sides with the main opposition leader, Labour's Ed Miliband describing Cameron's announcement as "weak" and driven by "party interest", according to BBC News.
On Twitter, the leader of UKIP, which as been agitating for a referendum for some years, Nigel Farage said: "If it was a simple In/Out referendum we could hold it before the next general election. If he promised that I'd have cheered."
However reaction from within Cameron's own party was more positive with the Conservative backbench MP Tim Loughton telling RTÉ's Morning Ireland: "This is a brave but really necessary move this morning," saying the announcement means "we now know where we're going."
On the continent, the French government has warned that Britain's move for an EU referendum is "dangerous" according to AFP.