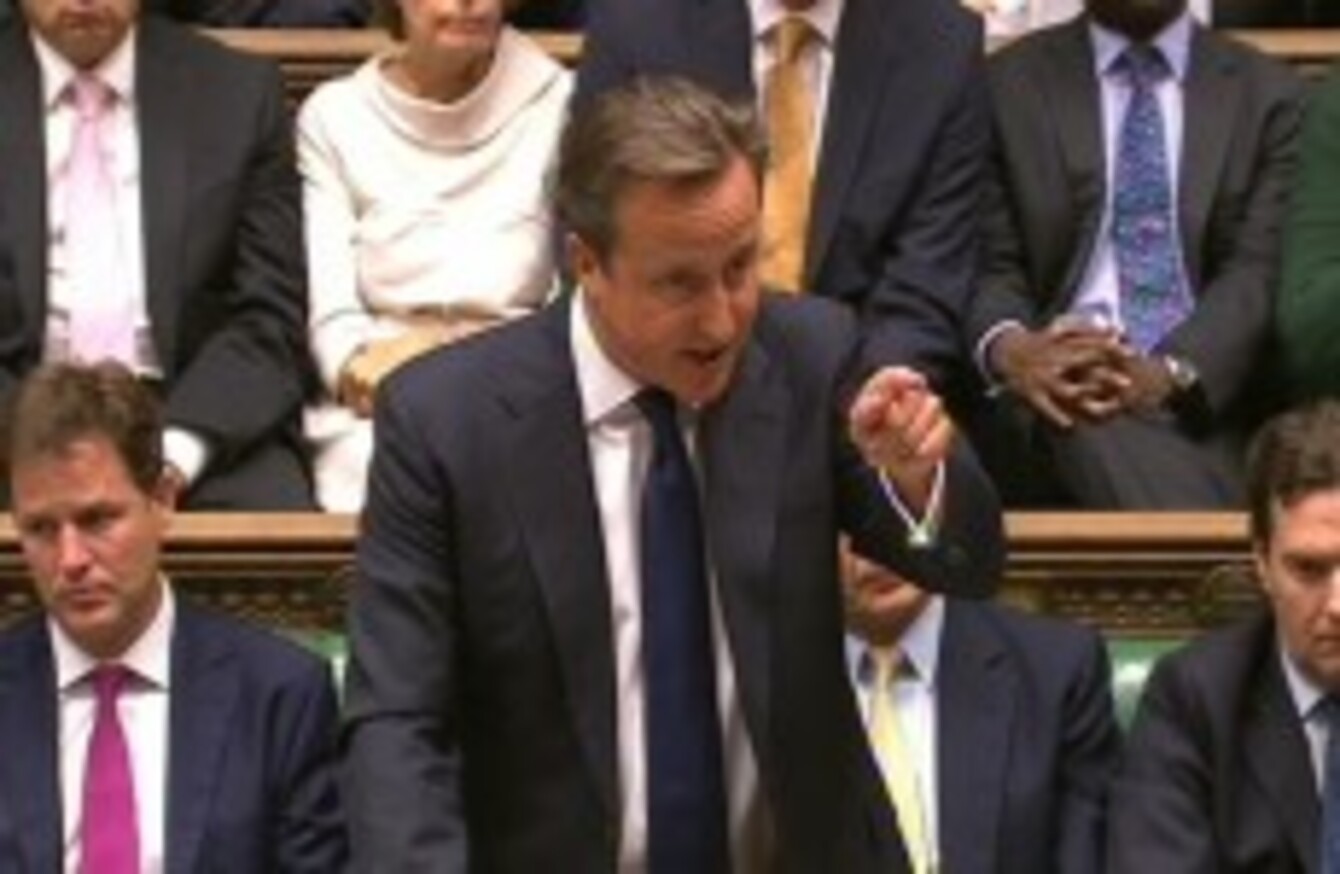 David Cameron in the House of Commons today.
Image: PA/PA Wire
David Cameron in the House of Commons today.
Image: PA/PA Wire
Updated 23.06
DAVID CAMERON'S BID to launch military action in Syria has suffered a huge and unexpected setback tonight after his government lost a crucial vote in the House of Commons.
MPs voted by 285 to 272 to reject a government motion which supported military intervention in principle. The defeat means it is now extremely unlikely that Britain will join the US in attacking the Syrian regime.
Immediately after the vote – which the government had expected to win –  David Cameron said he would respect the decision of parliamentarians and would not order an attack on Syria.
Labour leader Ed Miliband had asked Cameron to reassure parliament that he would not overrule parliament's vote and act unilaterally. Cameron responded:
I can give that assurance.
I strongly believe in the need for a tough response to the use of chemical weapons, but I also believe in respecting the will of this House of Commons.
It is very clear tonight that, while the House has not passed a motion, it is clear to me that the British parliament, reflecting the views of the British people, does not want to see British military action.
I get that, and that government will act accordingly.
Speaking afterwards, the British Defence Secretary said he believes the vote will not be a deterrent to other countries.
"I expect that the US and other countries will continue to look at responses to the chemical attack," Philip Hammond told BBC's Newsnight programme.
"They will be disappointed that Britain will not be involved. I don't expect that the lack of British participation will stop any action."
Britain today appeared to be on the verge of intervening militarily in Syria, but many MPs spoke of their unease, comparing the situation with the disastrous intervention in Iraq ten years ago.
David Cameron has recalled parliament from its summer recess to vote on the issue after the use of chemical weapons in Syria increased international pressure for intervention.
Earlier today, Cameron told the House of Commons that Britain could not stand idle in the face of "one of the most abhorrent uses of chemical weapons in a century."
Originally published 22.44