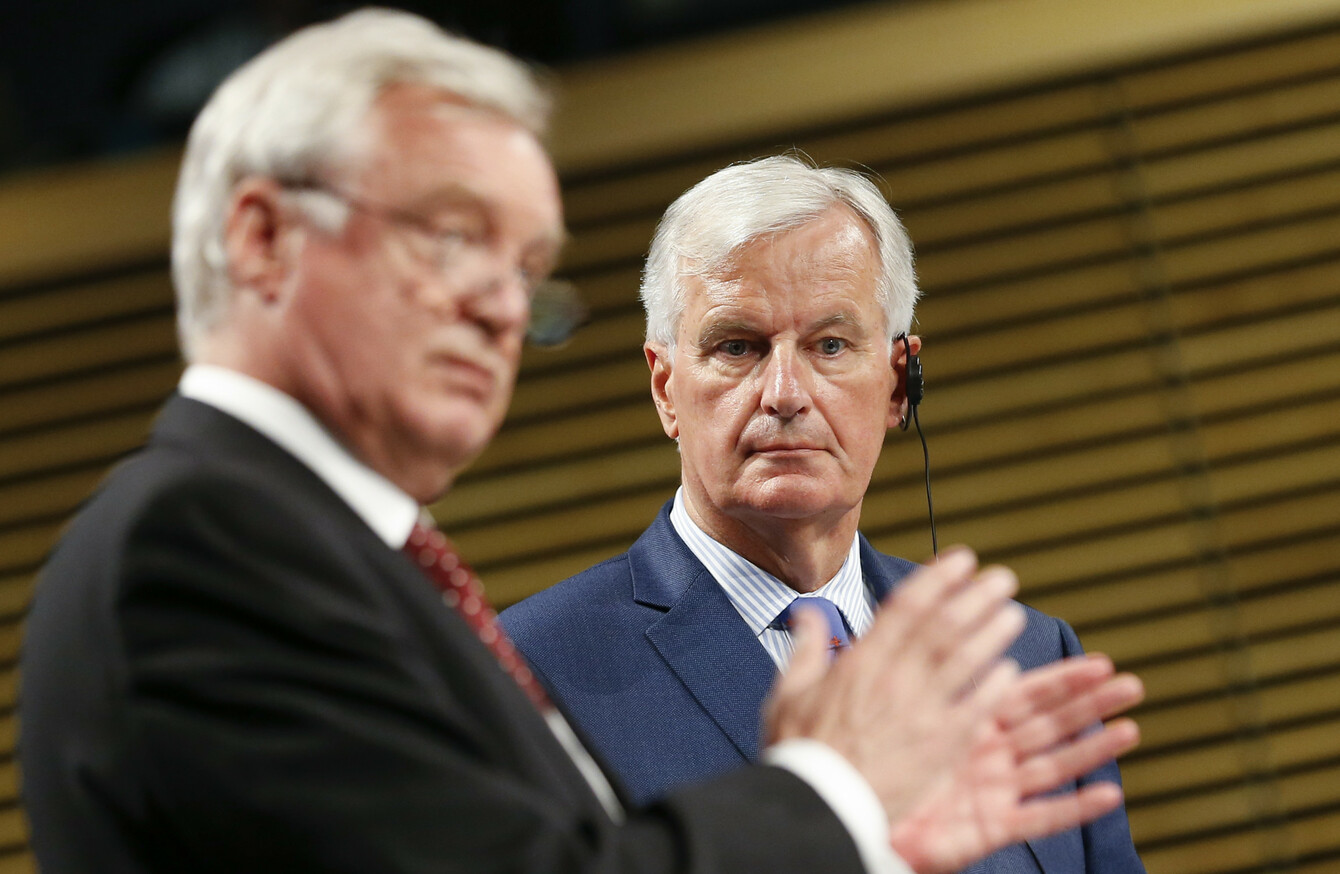 Image: Ye Pingfan via PA Images
Image: Ye Pingfan via PA Images
THE UK'S BREXIT negotiator David Davis has said that the bill the UK must pay upon leaving the European Union is what 'frightens them the most'.
"Money is incredibly important, it is the thing that frightens them most," he said on the BBC's Andrew Marr show. "[The Europeans] won't talk about the future, they'll only talk about so-called divorce proceedings."
On the same programme, he denied reports that British Prime Minister Theresa May would accept a €5o billion Brexit fee, adding that the UK were under no legal obligation to pay the fee – whatever the amount is.
Previously, the UK's trade secretary Liam Fox compared the EU's negotiating position to "blackmail", a word that Davis brushed off during the interview today.
"What's going on is we're saying 'Ok you've given us an enormous bill', a bit like leaving a hotel, you've got an enormous bill. You go through line by line, which is what we're doing!"
But you don't walk off before paying, the host Marr suggested.
"I know, I know, but you go through line-by-line. They say 'Oh, well give us a count up'. It's like the hotel saying, 'Oh well make an offer'. No, we're not doing that, we're going through line-by-line and they're finding it difficult.
So we're basically going through it very systematically, very British way, very pragmatic way of doing it and of course [the EU are] finding it difficult.
He said that the EU's negotiator Michel Barnier and his team want to put pressure on the UK, which was the motive behind the press conference on Friday when Barnier said there had been no real progress made and that it needed clearer instructions on what the UK negotiators want.
(The one area where there was agreement between the EU and UK according to Barnier, was in relation to issues concerning the island of Ireland.)
Davis said that if he was blunt, Barnier "looked a bit silly because there were plainly things we achieved…
The commission puts itself in a silly position when it says nothing has been done when really important things have. We put people before process. They are in danger of putting process first.
Back home, Theresa May is under pressure after her Conservative Party was forced into an informal coalition government due to June's disastrous election result, and faces a parliamentary battle to push through a crucial domestic bill, which would automatically put the EU's laws onto Britain's books when it leaves.
Pro-EU MPs in her party hit out after her de facto deputy Damian Green wrote in the Sunday Telegraph that the party had to support the legislation or risk handing power to Labour and their hard-left leader Jeremy Corbyn.
MP Anna Soubry told the Observer that "any suggestion" that challenging the legislation was "treacherous or supporting Jeremy Corbyn is outrageous.
"It amounts to a trouncing of democracy and people will not accept it," she added.
- With reporting from AFP.