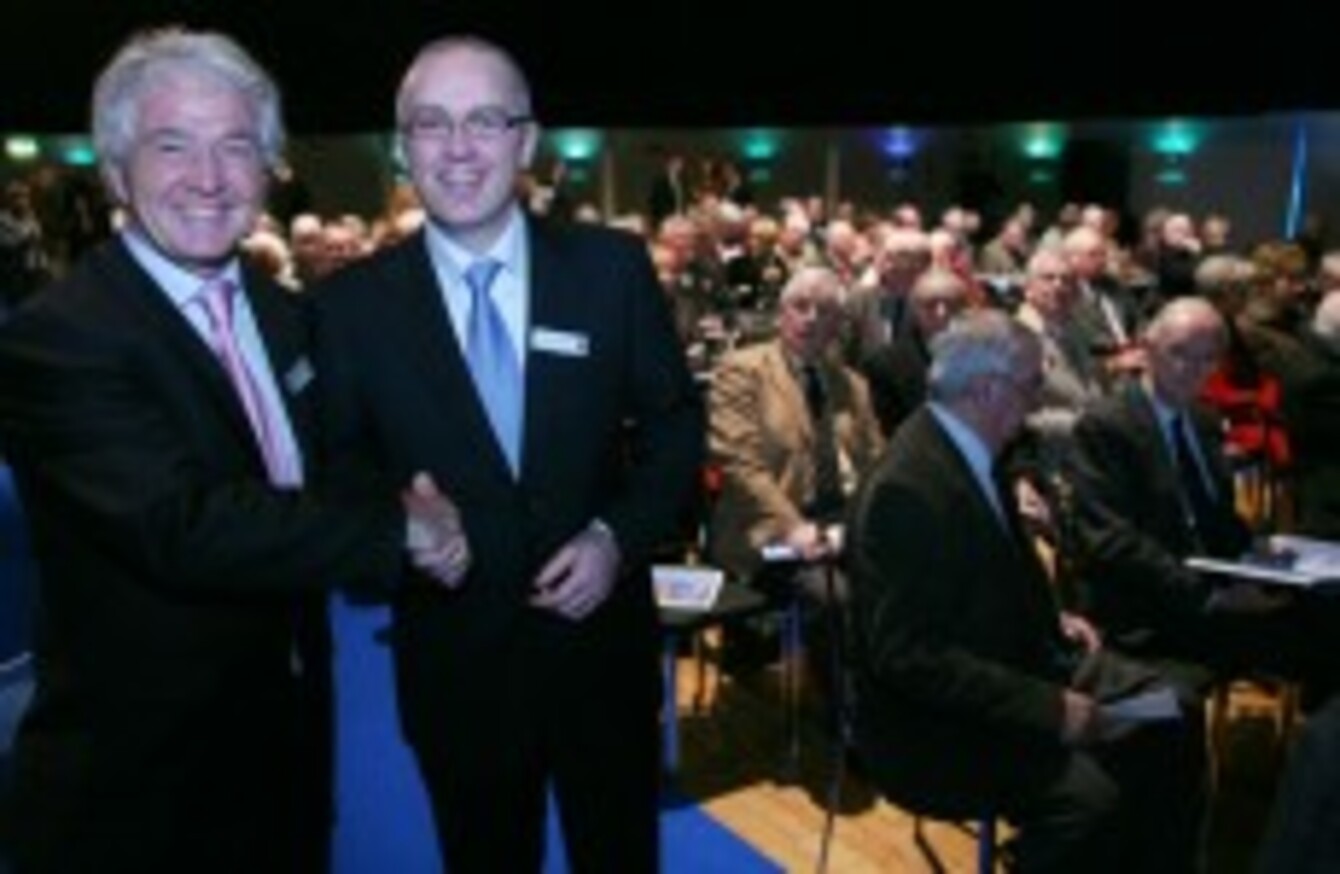 David Drumm (right) with Anglo Irish Bank chairman Sean FitzPatrick at the bank's AGM in Dublin in 2007
Image: Albert Gonzalez/Photocall Ireland
David Drumm (right) with Anglo Irish Bank chairman Sean FitzPatrick at the bank's AGM in Dublin in 2007
Image: Albert Gonzalez/Photocall Ireland
Updated 20.18
FORMER CHIEF EXECUTIVE of Anglo Irish Bank David Drumm has apologised for the language and 'frivolous tone' of the Anglo tapes, saying that he was under a lot of pressure at the time.
Drumm said that he understood why the excerpts published so far have offended many people and said the recordings were made during a 'highly stressful and volatile uncertain time.'
"I cannot change this now but I can apologise to those who had to listen to it and who were understandably so offended by it," he told IrishCentral.com in an interview published last night.
However Drumm also criticised the media for suggesting that senior Anglo executives misrepresented what was happening at the bank in order to make sure it was bailed out by the State. He said Anglo never sought a blanket guarantee, which was "most certainly not in the best interests of the State.
He said no-one from Anglo Irish Bank was present at the meeting on the night of 29 September 2008 when the bank guarantee was arranged, and said the bank only found out about it the following morning. "The bank was elated with the news because it was believed that the bank had been saved," he said.
Many in the bank were stunned that the government would take what some described at the time as the 'nuclear option' of guaranteeing all of the banks' liabilities instead of just protecting depositors.
In the interview, Drumm says he knew that conversations within the bank were recorded but that he did not know about the existence of the leaked tapes until he read about them on the Irish Independent website last Monday morning. He said the recordings were an "embarrassing and shocking reminder" of the pressure that he and his colleagues were under at the time as the bank began to flounder. "I knew they were bad, bad bad," he said.
Extracts
In more extracts from the tapes published today by the Sunday Independent, Drumm is heard describing a meeting with Kevin Cardiff, the then-head of the Department of Finance, as 'f**king horrendous' as the government and Anglo bosses wrestled over liquidity issues.
Drumm also says on the tapes that he wanted to punch then-Minister for Finance Brian Lenihan.
"I'll probably punch him [Lenihan]," Drumm says on the tape. "And I mean punch him, as if to say [to him], 'What are you actually doing?'
Because you are creating an awful lot of uncertainty and can you just, can we move the game where you give us a little bit more clarity than you have given in relation to the availability of capital.
Drumm, who succeeded Sean Fitzpatrick as CEO of the doomed bank in 2005, resigned from the top position in December 2008, three months after the Irish government guaranteed deposits in the bank. He moved to Boston, where he had worked previously, and is fighting to be declared bankrupt by the US courts.
In tapes published by the Irish Independent, Drumm can be heard telling a colleague in the run up to the bank guarantee in 2008, "We need the f**king loans because we're running out of money."
Originally published 12.39