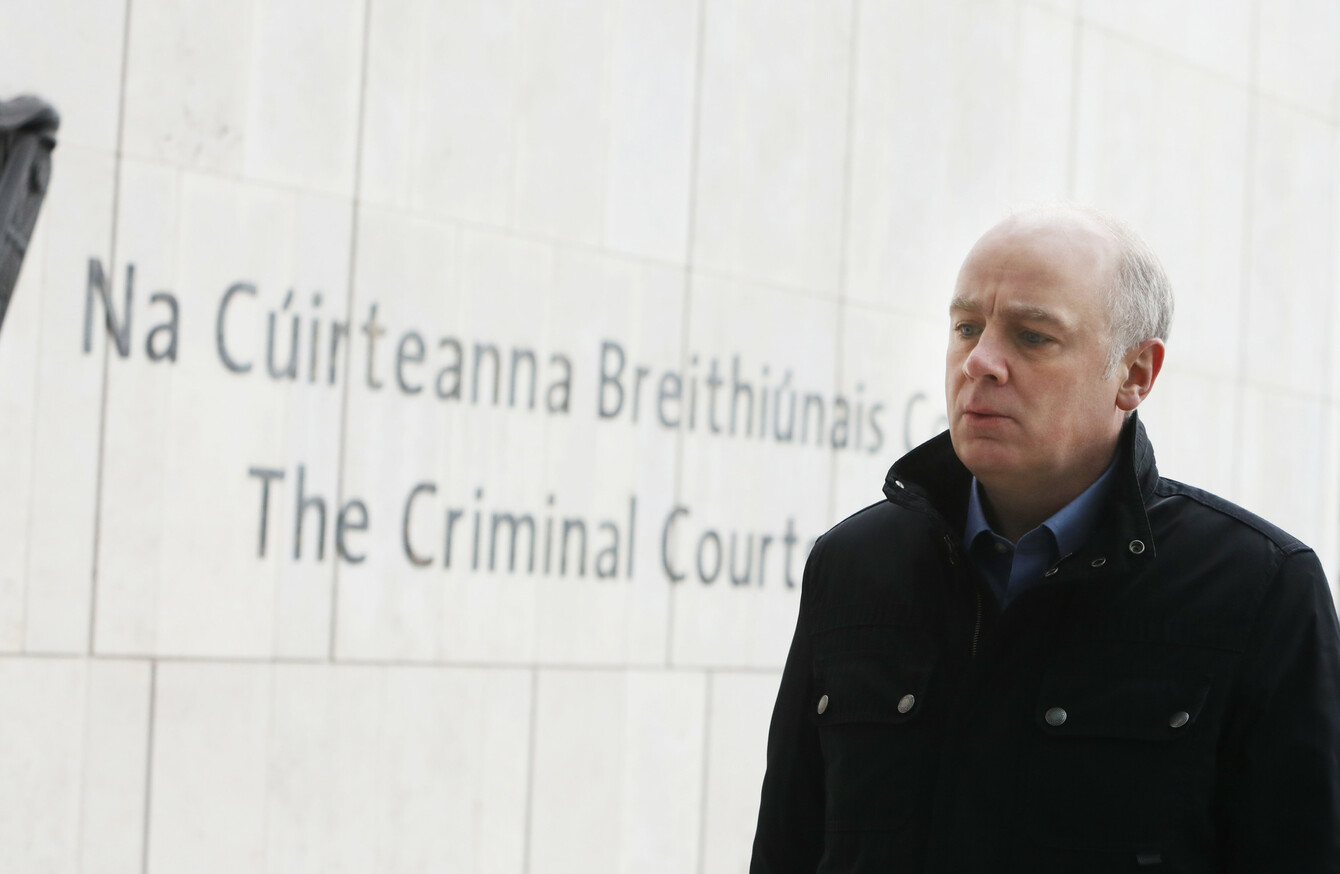 Former chief executive of Anglo Irish Bank David Drumm arriving at the Dublin Circuit Criminal Court this week.
Image: Leah Farrell via RollingNews.ie
Former chief executive of Anglo Irish Bank David Drumm arriving at the Dublin Circuit Criminal Court this week.
Image: Leah Farrell via RollingNews.ie
Updated 6.45 pm 
FORMER ANGLO IRISH Bank CEO David Drumm referred to the financial regulator as "Freddie fucking Fly" and said he intended to go to "that fucking shower of clowns down in Dame Street", to look for emergency funding for the bank, his trial has heard.
On day 30 of Drumm's trial at the Dublin Circuit Criminal Court, the jury listened to recordings of phone calls between employees of Anglo, the Central Bank and McCann Fitzgerald Solicitors, all of which took place on dates in late September 2008.
Six of the eight call played were conversations between Drumm and former Director of Treasury at Anglo, John Bowe.
Prosecution barrister, Paul O'Higgins SC, told the jury that the calls were deliberately recorded by the bank for business purposes, to preserve the details of transactions and deals. The recordings were recovered during the Garda investigation at the bank.
Two phone calls between Drumm and Bowe from 18 September 2008 were played.
In one call, Drumm told Bowe what he planned to do when he met "those fucking clowns down on Dame Street" the following day when asking for emergency funding for Anglo.
He told Bowe: "I'm going to keep asking thick questions. When is the cheque coming?" and said they needed to "get into the fucking simple speak."
Drumm is heard saying that if the Anglo bankers showed up with horrible numbers at least they looked like they had put up a fight.
"We were badly fucking damaged like everyone else but we have rebuilt and here's a fucking balance sheet," he tells to Bowe he plans to say to the Financial Regulator.
He referred to "other fucking non-normal things" such as the collapse of Lehmans Bank in recent times.
Drumm said that he planned to ask the Financial Regulator: "How are you getting on with that loan, lads?"
In the second call on 18 September, Drumm asked Bowe what would happen should the bank receive a ratings downgrade. Bowe replied that Anglo's entire book would be affected by such an event.
"We're not a morsel, we're half an element in their terms," Drumm said.
Bowe then read a draft letter from Anglo to the Central Bank, regarding the Anglo's liquidity ratio, and told Drumm that there was "no point whinging about it as we're effectively beholden to them".
He said to Bowe that if the Central Bank didn't give funding in the coming days they would cause a bank collapse.
The phone call ends with the men agreeing to meet for "a coffee and a pep talk" the following morning in advance of their meeting with the Financial Regulator.
Bowe signed off by telling Drumm "You the man".
Ladybird
In a phone call on 22 September Drumm and Bowe discussed the fact that "€500m went out the doors today."
Drumm suggested Bowe do "a Ladybird type thing" when he made a presentation at an upcoming meeting and said a simplified version of Anglo's cash flow would be needed.
Drumm said "Mr fucking Dennis" had confirmed that morning that Anglo will be "well looked after."
Bowe commented that Anglo was still in a hole, to which Drumm responded that they were "fucked", needed to fix the balance sheet by year end and said their liquidity had depleted by €14 billion.
"And who was in charge when that was going on," Drumm asked, to the sound of laughter from the two men.
Drumm asked Bowe if they could bloat the balance sheet, and remarked that "the family photo", Anglo's end of year financial snapshot, "should it be published on fucking Bebo" was not going to look good.
The two bankers then discussed the September transactions with ILP, which Bowe said were booked as a "repo" and had "a small amount of haircut."
#Open journalism No news is bad news Support The Journal

Your contributions will help us continue to deliver the stories that are important to you

Support us now
"We're going to have to tell board members that we have lit a fuse here that's not going to go away, we'll have a difficult story to tell on 3 December," Drumm said.
The jury then listened to three phone calls that took place on 29 September 2008 between Drumm, Bowe and other Anglo executives.
Bowe explained the transactions with ILP to Drumm:
What happens is the money goes around in a circle. The dance here is that we actually get it back in time. It has to go through a lot of different hands.
Bowe told Drumm that "Permo" wanted collateral for future deals and said that recovering the money lent to ILP within time limits was becoming "very very tough".
Drumm said "a fuckiing journal entry would do it an awful lot quicker."
Laughter is heard when Drumm said Anglo Finance director Willie McAteer "might be auditing the books. Debit the giver, credit the receiver," he joked.
Drumm (51), with an address in Skerries, Co Dublin, has pleaded not guilty to conspiring with former bank officials Denis Casey, William McAteer, John Bowe and others to defraud depositors and investors at Anglo by "dishonestly" creating the impression that deposits in 2008 were €7.2 billion larger than they were.
He has also pleaded not guilty to false accounting on 3 December 2008, by furnishing information to the market that Anglo's 2008 deposits were €7.2 billion larger than they were.
The jury has been told that Drumm accepts the facts of the 2008 transactions between Anglo and ILP but he disputes they were fraudulent or dishonest.
The trial, now in its fourth week, continues before Judge Karen O'Connor and a jury of ten men and four women after losing a juror on day 26.
Comments are closed as legal proceedings are ongoing.