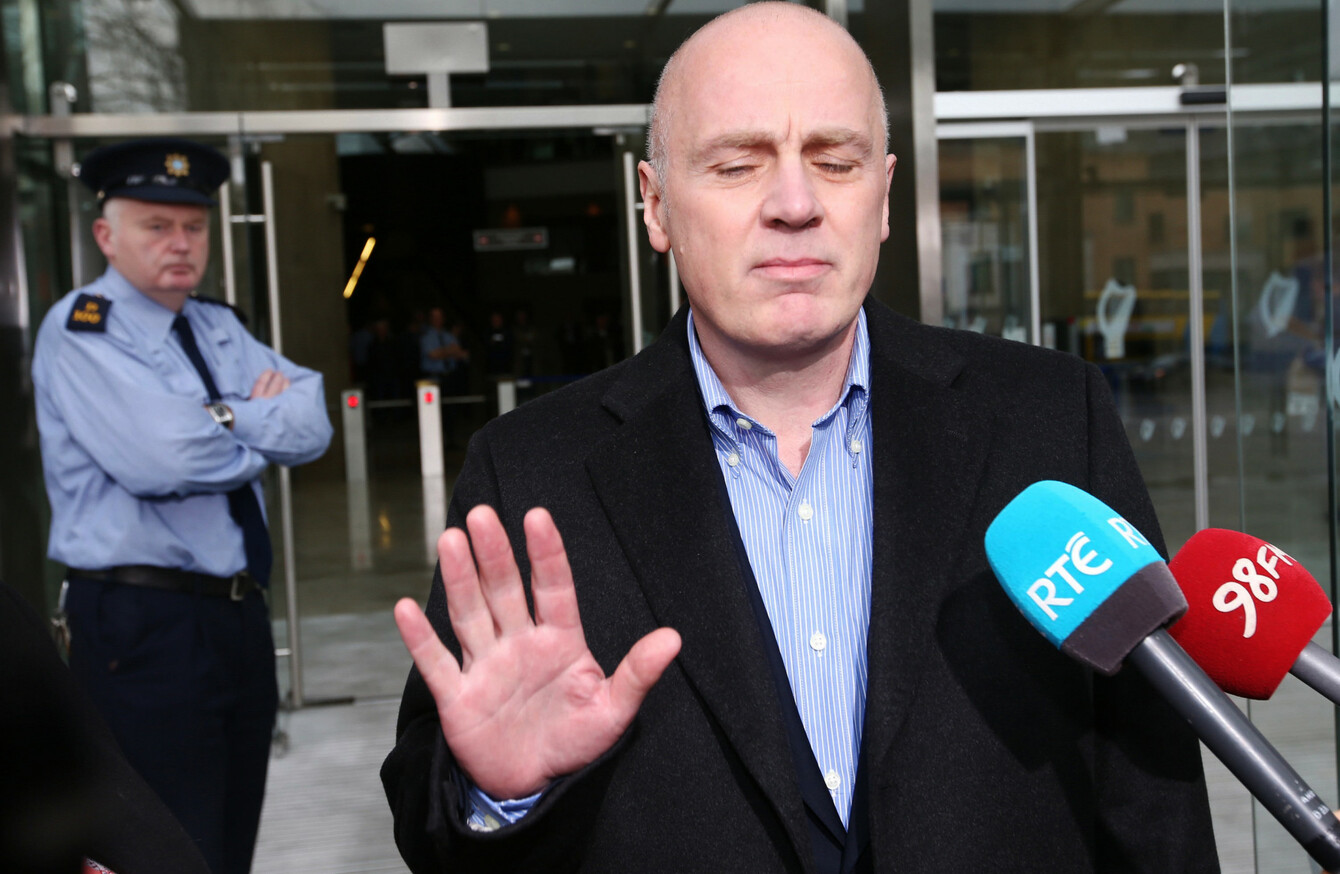 Former CEO of Anglo Irish Bank, David Drumm, leaves court after being found guilty today.
Image: Sam Boal via RollingNews.ie
Former CEO of Anglo Irish Bank, David Drumm, leaves court after being found guilty today.
Image: Sam Boal via RollingNews.ie
DAVID DRUMM WAS "the man who called the shots", and authorised deals at Anglo Irish Bank in September 2008 that led to the falsification of the bank's balance sheet, making it appear that customer deposits were over €7 billion greater than they were in reality.
That was how Paul O'Higgins SC, prosecuting, opened the case against the former CEO of the bank, whom prosecutors alleged was involved in a conspiracy to dress up and falsify Anglo's accounts during the global financial crisis of 2008.
After one of the longest criminal trials in the history of State at Dublin Circuit Criminal Court, a jury of nine men and three women returned the unanimous guilty verdicts.
The State's case was that Drumm conspired with Irish Life & Permanent's former CEO, Denis Casey, Anglo's former financial director Willie McAteer and former Head of Treasury at Anglo, John Bowe, among others, to engage in €7.2 billion of fraudulent transactions in order to bolster the customer deposits figure on the bank's balance sheet.
The prosecution said Drumm then falsely reported this information to the market by way of publication of Anglo's preliminary end-of-year accounts in December 2008, which [he knew] were fraudulent and misleading to potential investors who read them.
Drumm pleaded not guilty to both charges, but made admissions on the opening day of the trial, accepting the transactions as alleged took place, but disputing they were fraudulent or dishonest. He called no witnesses to testify on his behalf.
In the opening week of the trial, Matt Cullen, a former Anglo treasury manager, told the jury that the collapse of Northern Rock in 2007 and of Bear Sterns and Lehman Brothers in 2008 had left banks worldwide scrambling to source funding.
Anglo's share price fell substantially in mid-March 2008, Cullen said, in an episode which became known as the St Patrick's Day massacre.
Drumm told Cullen to approach Irish Life & Permanent (ILP), and a "back to back" transaction was set up for Anglo's half-year end on 31 March 2008.
Cullen told the jury that Anglo placed funds with ILP, which then gave back a corporate deposit from Irish Life Assurance Corporate, the non-banking entity owned and managed by ILP.
This circular route was replicated in the €7.2 billion September transactions. The scheme, which the prosecution described as "a massive con", was accounted for so that deposits came from the assurance company and were treated as customer deposits, which are a better measure of a bank's strength than interbank loans.
The prosecution argued that the objective of the conspiracy, in which the money moved "at lightning speed", was to mislead anybody reading Anglo's accounts by artificially inflating the customer deposits number from €44 billion to €51 billion.
Various witnesses told the trial that over the summer of 2008, a list of "funding initiatives" was drawn up during Friday afternoon meetings in Drumm's office. The sole objective of these was to attract corporate funding into the bank, the jury heard.
Former Anglo employee Peter Geisel testified that Credit Suisse rejected a back-to-back deal with Anglo, while former AIB CEO John O'Donnell said that they declined a similar deal with the bank following an approach.
'Look under every rock'
By the end of September, all options had evaporated, and the ILP/Anglo deal was one of three left on the table, the trial heard. Witnesses described the growing levels of panic at Anglo as the bank's year-end on 30 September loomed large.
Matt Moran, former CFO at Anglo, said as liquidity levels continued to plummet, Drumm emailed executives, ordering them to "look under every rock".
The jury listened to a phone-call between Drumm and colleagues, recorded on 18 September.
Referring to the Financial Regulator as "Freddie fucking Fly" he said he would go down to "that fucking shower of clowns" in the Central Bank to demand emergency funding.
During the call, Drumm remarked, "I'm going to keep asking thick questions. When is the cheque coming?"
The prosecution said calls on 29 September laid bare how the ILP transaction was structured and constituted evidence of men discussing a criminal conspiracy.
"What happens is the money goes around in a circle. The dance here is that we actually get it back in time. It has to go through a lot of different hands," John Bowe was heard saying on tape.
'Idle chit-chat'
The eventual €7.2 billion deal was €6.7 billion in excess of Anglo's own credit limit with ILP of €500 million, meaning the transactions needed required retrospective sign-off.
Tony O'Hanlon, a senior manager at Anglo, told the jury he was unable to do this as he didn't have to authority to do so.
During cross-examination, O'Hanlon said he had concerns about the way the bank was run, and agreed that credit increases at Anglo often came about by way of on-the-corridor type of conversations.
Witnesses from ILP testified that management had directed that the Anglo deal was to be kept "fairly tight" and not to be the subject of "idle chit chat".
During a call between ILP witness Paul Kane and Peter Fitzpatrick, the former ILP CFO instructed the transactions with Anglo be documented as a binding agreement "in case something goes pop".
ILP banker, Peter McCabe said his ears pricked up when he heard traders saying they were doing several billion deals with Anglo.
McCabe said when he mentioned to chief ILP dealer David Gantly that he thought things were getting dangerous, he was told that his input was not required and that "all the bosses knew about the deals".
Following the completion of the back-to-back deal, a member of staff at the Financial Regulator's office contacted Anglo on 1 October to discuss the deposits.
Witness Ciaran McArdle, an Anglo dealer, said he told the staff member: "We have boosted our customer funding number. It's not a real number."
Six weeks later at a meeting of the bank's audit committee on 18 November 2008, Colin Golden, Anglo's Head of Group Finance, read aloud a note detailing the ILP transactions and said that "the transactions bolstered customer deposits".
When Donal O'Connor, a non-executive director who had dialled in from Australia, asked: "Was this window dressing?" Willie McAteer replied that it was "balance sheet management".
Golden said that later in November 2008, the head of EY's audit team, Vincent Bergin, "shrugged his shoulders" and said the ILP deal was technically sound, before signing off on Anglo's accounts.
Michael Jacob, a non-executive director at the bank, testified that a PWC review carried out at the request of the Financial Regulator had found no overlaps or gaps in Anglo's books.
The balance sheet was published on 3 December as part of Anglo's preliminary results, with no explanatory note to show that €7.2 billion of the deposits were linked to the same value in loans to ILP.
Matt Moran gave evidence of his shock at the "hostile and aggressive attitude" of the Financial Regulator at a meeting on 12 or 13 January 2009, as he believed they were aware that the transactions between Anglo and ILP had taken place.
The trial viewed an email written by Drumm after he heard about the Dame St "hostile ambush".
"I would relish the opportunity to sit in front of Con Horan and ask him to tell me to my face that he did not know about this," he wrote. Horan was prudential director at the Financial Regulator in 2008.
He said the financial regulator and the Central Bank were fully aware of what Anglo was doing to protect themselves.
"I'll go public if they deny it and try to protect themselves," he wrote.
An expert accountancy witness for the State told the trial that the transactions were "misleading and inaccurate", lacked commercial substance and could have continued ad infinitum.
At closing, the prosecution described the deals as "a massive con" while the defence said Drumm had not committed fraud and had "answered Ireland's call" and "togged out for Ireland" during the financial crisis.
The maximum sentence for the conspiracy to defraud charge is unlimited. The maximum sentence for the false accounting charge is 10 years.
Drumm will be sentenced on 20 June.
Comments are off as Drumm has not yet been sentenced.