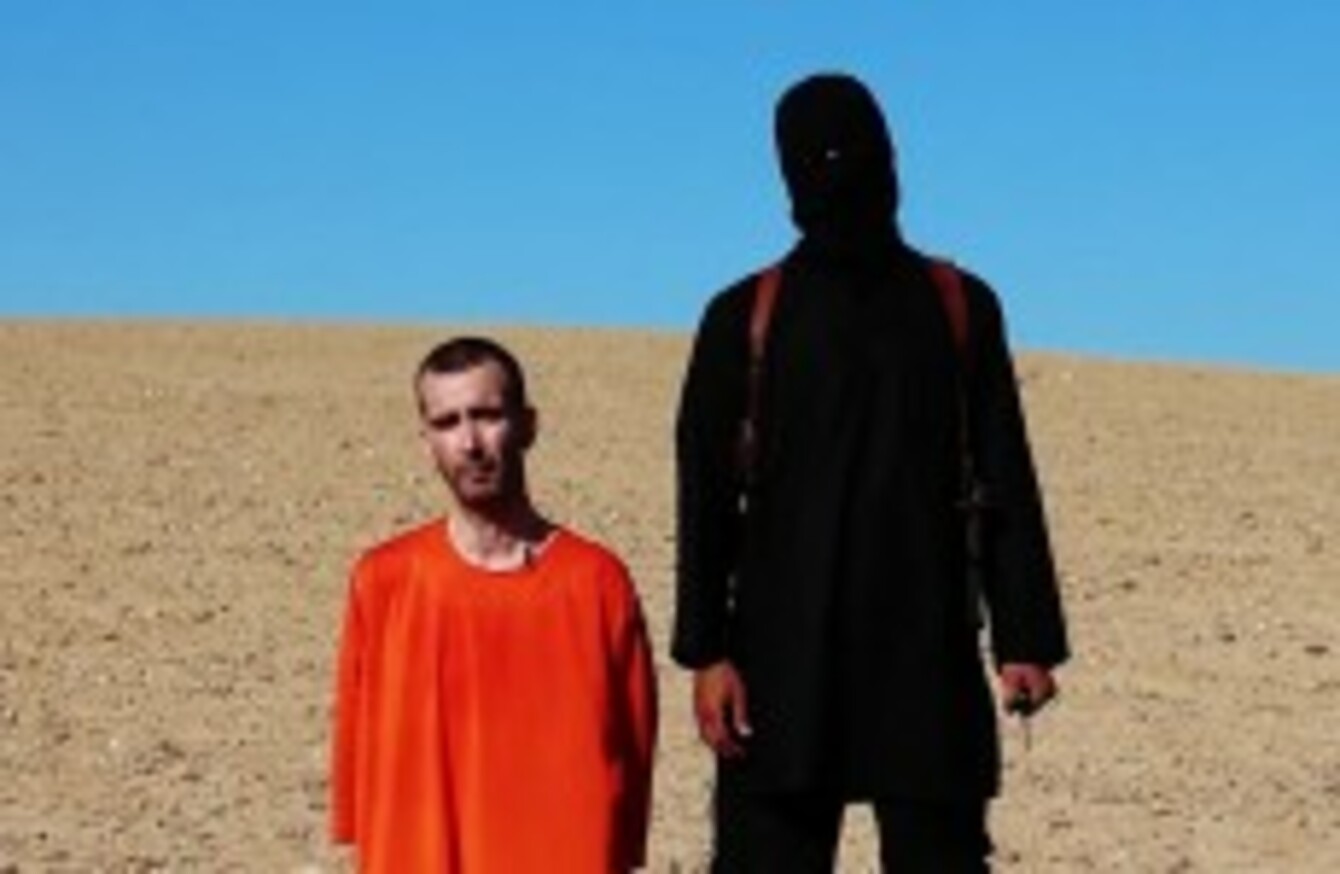 David Haines
Image: AP Photo
David Haines
Image: AP Photo
Updated 1.29
THERE HAS BEEN widespread condemnation after Islamic State militants released a video showing British hostage David Haines being beheaded.
The video was posted online last night, just hours after Haines's family appealed to his captors to make contact.
British Prime Minister David Cameron described the killing as "an act of pure evil" and warned that Britain  will "confront the menace" of ISIS.
"We do not seek out confrontation, but… we cannot ignore this threat to our security and that of our allies," he said.
"Step by step, we must drive back, dismantle and  ultimately destroy ISIL and what it stands for.
"We will do so in a calm, deliberate way – but with an iron determination".
"We will do everything in our power to hunt down these murderers and ensure they face justice, however long it takes," he said.
He described David Haines as a "British hero" who "went into harm's way not to harm people, but to help his fellow human beings in the hour of their direst need".
His selflessness, his decency, his burning desire to help others has today cost him his life.
Haines had been working with an aid agency in Syria when he was abducted in March 2013. The British government had managed to keep his kidnapping secret out of concern for his safety until video of the beheading of Steven Sotloff identified him as a hostage.
In the video, Islamic State threatens to kill another British captive.
Haines's killer appears to be the same masked man with a British accent who killed American journalists James Foley and Steven Sotloff.
He makes reference to airstrikes which began on 7 September, indicating that the killing took place sometime during the past week.
In the video, the killer tells the British government that its alliance with the US will only "accelerate your destruction" and will drag the British people into "another bloody and unwinnable war".
The killer says that Haines was paying the price for Britain's decision to supply weapons to Kurdish Peshmerge fighters, who are battling the Islamic State militants in northern Iraq.
American response
US president Barack Obama said the United States strongly condemned the barbaric murder.
"Our hearts go out to the family of Mr Haines and to the people of the United Kingdom," he said.
The United States stands shoulder to shoulder tonight with our close friend and ally in grief and resolve.
He pledged to continue to work with a coalition of nations from around the world "to bring the perpetrators of this outrageous act to justice, and to degrade and destroy this threat to the people of our countries, the region and the world".
Originally published 7.50am