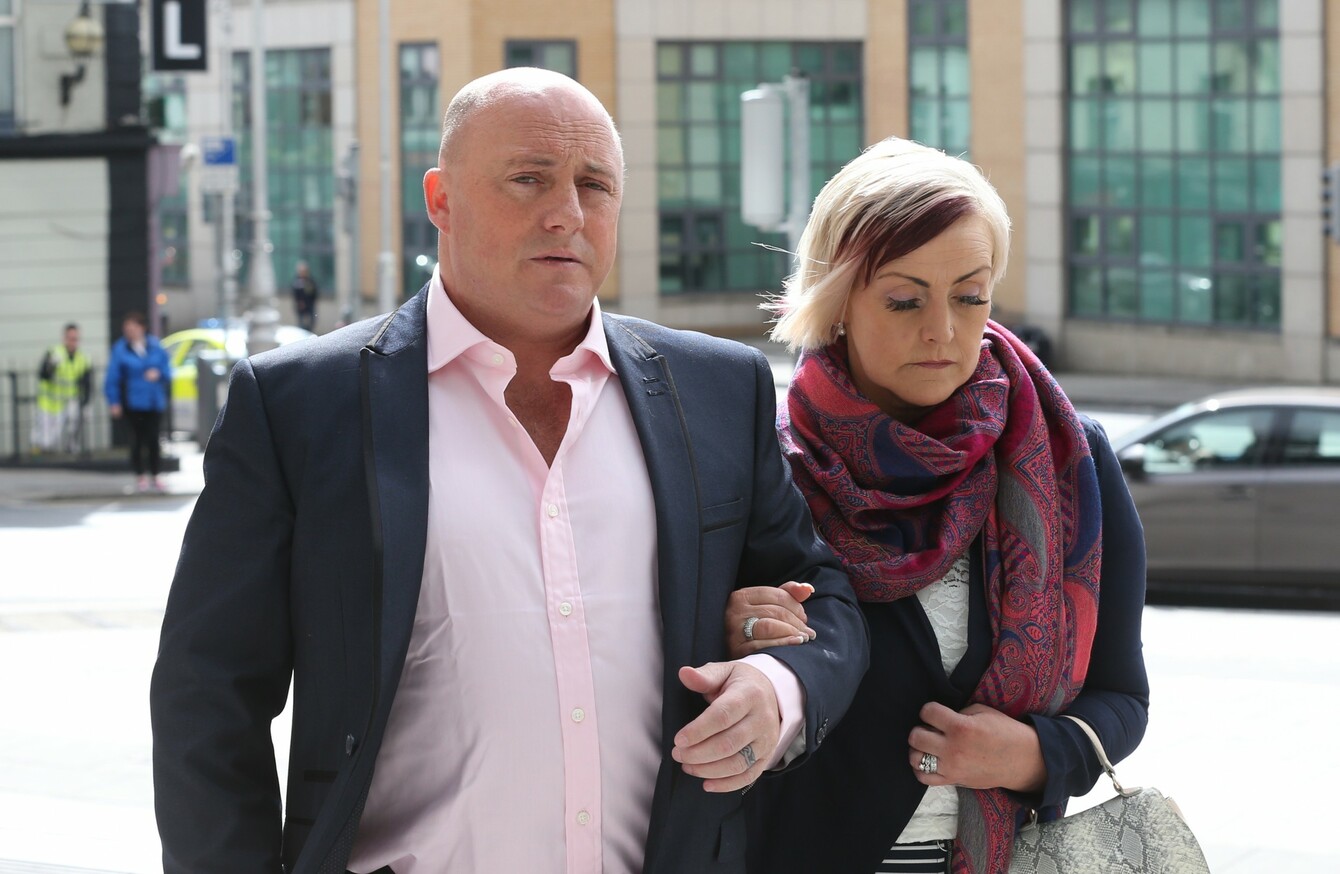 Image: RollingNews.ie
Image: RollingNews.ie
Updated 5.51pm
THE JURY IN the David Mahon murder trial has gone home for a second night, after failing to reach a verdict on whether he murdered his stepson, Dean Fitzpatrick.
The deceased was the older brother of missing teenager Amy Fitzpatrick and the accused has pleaded not guilty to murdering the father of one on 26 May 2013.
The 23-year-old received a stab wound to the abdomen outside the apartment that his mother, Audrey Fitzpatrick, shared with Mr Mahon at Burnell Square, Northern Cross in Dublin.
The State says that the 45-year-old accused was drunk, angry and agitated when he stabbed his stepson with deadly intent. Mr Mahon says his death was an accident or possible suicide.
He said they had been arguing after the deceased had taken a water bottle off his bicycle to annoy him. He said that Mr Fitzpatrick had pulled a knife on him and that he had wrestled it from him and put it into his pocket.
He said he then took the knife out to show it to him and that Mr Fitzpatrick had walked onto it. The trial heard that Mr Fitzpatrick ran downstairs, but collapsed outside and bled to death internally.
Day two of deliberations
The six women and six men of the jury began deliberating on Wednesday. They returned to court today and asked the judge for Mr Mahon's knife block from which the accused said the deceased had pulled the knife. They also asked for another knife found on Mr Mahon's balcony.
Mr Mahon's barrister, in his closing speech, had suggested the jurors hold a knife in their hands while in the jury room. He was responding to the prosecution's suggestion that Mr Mahon's hand was tensed while holding the knife.
"Put it flat in your hand," said Mr Guerin, urging they take precautions.
He asked them to then say the words Mr Mahon claimed to have said to his stepson:
What are you doing, pulling a knife on your father?
"It's not a calm conversation," he suggested. "You will feel your hand tensing. It's how the body reacts."
The jurors also asked for the pathologist's report but Ms Justice Margaret Heneghan said they could not have it. She said she could instead read his evidence for them or read her summary of his evidence.
They again asked for all three possible verdicts to be explained: guilty, not guilty of murder but guilty of manslaughter, and not guilty.
The judge explained that for a murder verdict, they would have to be satisfied beyond reasonable doubt that Dean Fitzpatrick had been unlawfully killed by David Mahon, that Mr Mahon had intended to kill or seriously injure him, and that Mr Fitzpatrick's death was not accidental.
"If you believe what David Mahon said, that this was an accident, then you have to acquit David Mahon," she said.
Even if you don't accept what David Mahon said was true, but if you believe it might reasonably be true, you acquit.
She said that, even if they rejected his account, this didn't mean they would rubberstamp guilty on the issue paper.
"The prosecution has to prove its case beyond a reasonable doubt," she said.
She said that for a manslaughter verdict, they had to be satisfied that Mr Mahon had committed an unlawful and dangerous act in producing the knife with an intention to assault, but not seriously harm.
She explained that assault did not need to involve touch, but could simply involve the accused putting the deceased in fear. She also believed that a person could be guilty of this offence if they were reckless about the danger.
The jury had previously asked to watch CCTV footage shown in the case, which showed the deceased arrive at the apartment block that night.
Part of the afternoon was spent facilitating the showing of this footage on a large screen in their jury room. The jurors were told to cease deliberations while the registrar accompanied a technician into the jury room to show the foreman how to work the equipment.
The jurors had spent a total of five hours and 11 minutes considering their verdict before going home for the night. They will continue their deliberations tomorrow morning.