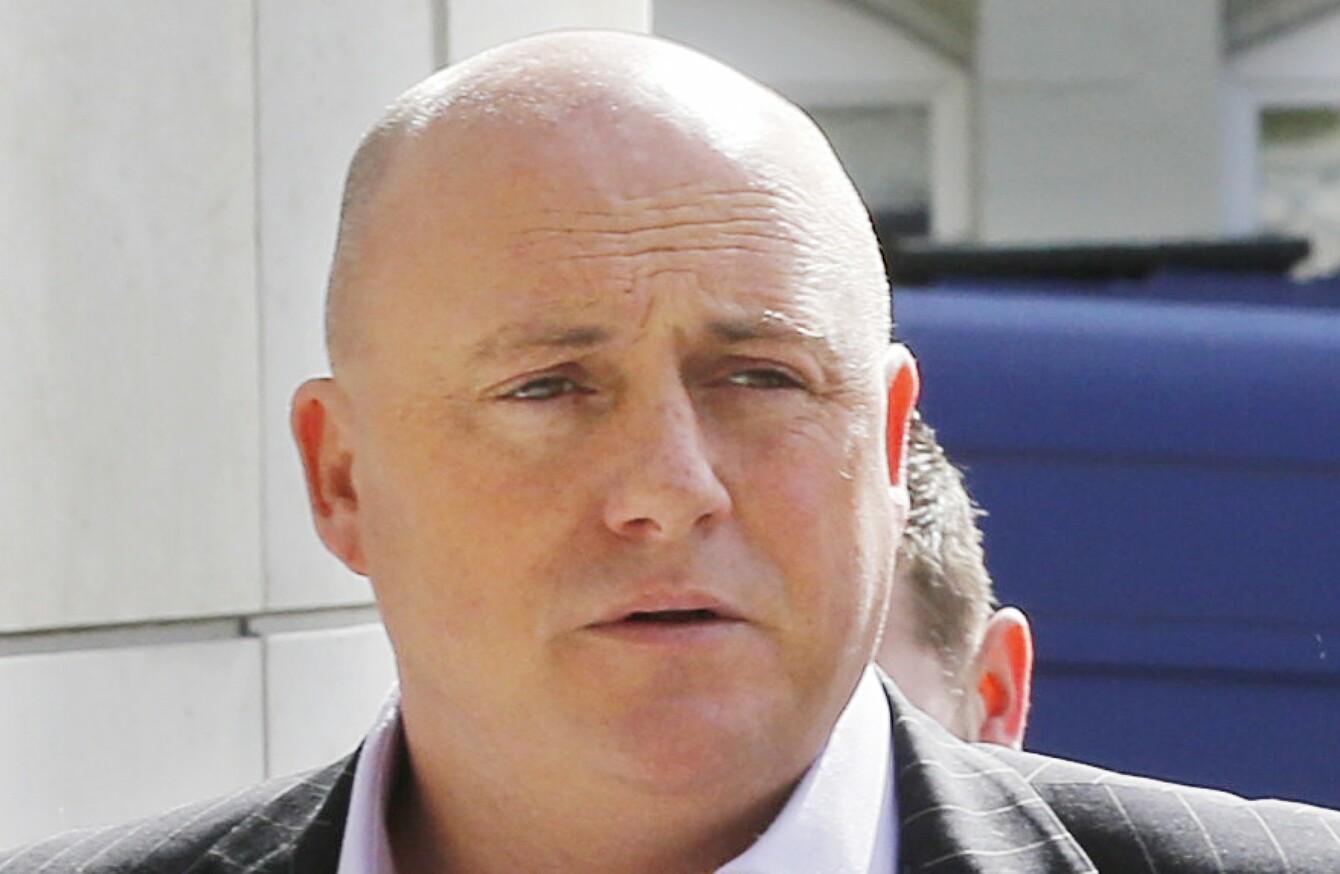 David Mahon
Image: RollingNews.ie
David Mahon
Image: RollingNews.ie
A MURDER TRIAL has heard that the stepfather of missing teenager Amy Fitzpatrick told gardai that her brother had walked into the knife he was holding, his murder trial has heard.
David Mahon had arrived at Coolock Garda Station after ringing to say: 'It was me'.
Memos of his statements to gardaí were being read to the jury today on the third day of the 46-year-old's trial at the Central Criminal Court.
The Dubliner has pleaded not guilty to murdering the 23-year-old on 26 May 2013 after the deceased had interfered with his bicycle to annoy him.
He father-of-one received a stab wound to the abdomen outside the apartment that his mother, Audrey Fitzpatrick, shared with Mahon at Burnell Square, Northern Cross, Dublin.
Phone call to garda station
Garda Noel Brodigan testified that he answered a call from a man at Coolock Garda Station on the morning of 26 May.
"This man identified himself as David Mahon," he recalled.
He said: 'It was me that did it. I didn't know he was dead. I just heard it on the news this morning'.
The caller accepted the invitation to the station and arrived a short time later.
Crying and upset
"The first thing I noticed was that this man was crying and upset. He walked with a walking stick," said the garda.
Mahon said that he and the deceased had an argument around 11 o'clock the night before in his apartment. He was asked what they were arguing about.
"He's just an eejit. We were always arguing. He was always putting it up to me," he said. "I was trying to put him on the straight and narrow. He took a knife. He pulled a knife on me before, a gun before."
"I took it off him," he said. "I put it into my back pocket."
He said that his friend, John McCormack, took Dean Fitzpatrick out of the apartment. He said he followed them and was trying to get through to his stepson.
"I took out the knife and said: 'What are you doing, pulling a knife on your father?' And he walked into the knife. He was putting it up to me and he walked into the knife."
He said it was a knife from his kitchen block and that he (Dean Fitzpatrick) had previously pulled a knife on him from the same block.
Mahon said that he had thrown the knife out the window of the car, when being driven around by a friend after the incident.
"I don't believe this," he said.
He declined the opportunity to consult a solicitor.
"Visibly shaking"
Under cross examination by the defence, the garda agreed that Mr Mahon was 'visibly shaking' and constantly repeating himself when he arrived.
Detective Garda Colin Fitzpatrick said that Mahon was upset in the station that morning and kept asking if it was true and if he (Dean Fitzpatrick) was dead.
He also took a note of what Mahon was saying and this was read to the jury:
"Over the years, he took a gun to me," he said, before moving on to the night in question.
"I held the knife and he ran into it. I didn't kill him," he said. "He genuinely walked into it."
"God forgive me"
Detective Sergeant Eddie Carroll said he interviewed the accused later that morning, when he was still not under arrest and free to leave.
"God forgive me but he's a little bastard, but it's my fault he's dead," said Mahon of his stepson.
"I think I sent him a text saying I was going to stab him," he said. "Audrey said: 'He's your son and you have to sort out the row'."
"He's a little bastard. I'm trying to get through to him," he said. "He's dead now and it's my fault."
He said the argument in the apartment wasn't a screaming match and wasn't physical.
"He took a knife out and started waving it about. He's a scumbag. He carries a knife himself," he said. "I took the knife off him. I remember clear as day. I put it in this pocket."
He pointed to the back pocket of his jeans.
"He robs bikes. He's a scumbag. God forgive me for saying this. He's a bastard, but he doesn't deserve this," he said.
"I didn't stab him. He walked into it," he said. "I don't know if that makes any difference."
He said he had previously told Audrey Fitzpatrick that he didn't want him around, that he was bad news.
"He smokes and sells drugs," he said.
"I did say I was going to stab him. I said to Audrey: 'I'm going to kill him', but I didn't mean it," he said.
Asked if he meant to kill Dean Fitzpatrick, he replied: "Oh f**k, Jaysus Christ, no."
Mahon said it was a waste of a life.
"I knew he wasn't going to live old," he said. "Is this murder?"
The gardai told him that it wasn't for them to decide.
He asked how he was going to face Audrey Fitzpatrick, suggesting that she was entitled to shoot him.
Post mortem 
The Deputy State Pathologist Dr Michael Curtis testified this morning that he carried out a post-mortem exam on the deceased. He said that Dean Fitzpatrick had essentially bled to death from a single stab wound to his abdomen.
The wound, which was approximately 14.5cm deep, had tracked backwards. It wounded the abdominal aorta, the main blood vessel in the body. It also wounded the small intestine and terminated in the spine, where it left a groove.
He said the wound had resulted in a torrential haemorrhage into the intestines, which meant he bled to death.
"Despite medical intervention, he had succumbed to this injury, which was essentially non-survivable," he said.
The pathologist said the injury would have required either moderate or considerable force.
'Run-on' 
Remy Farrell SC, prosecuting, asked him about the possibility of a 'run-on', where someone is holding a knife and another person advances onto it.
"This is a location in the body, where that could happen," he said.
He said that it would be more likely to be deliberate if the wound tracked steeply upwards or steeply downwards. He said that this had tracked only slightly upwards, so it could be either.
"I cannot distinguish between a run-on and a deliberate thrust in this case," he said.
Dr Curtis said he had also seen multiple old scars on the front of Fitzpatrick's forearm.
"They may indicate an earlier episode in the distant past of self harm," he said, explaining that this was a possible interpretation.
Under cross-examination by Sean Guerin SC, defending, he agreed that Dean Fitzpatrick had not suffered a gutting. He agreed that he knew what a gutting was from fishing and hunting.
Jagged tear 
Forensic scientist Dr Fiona Thornton said she found a jagged tear in the bottom of Mr Mahon's shirt and a hole in the back pocket of his jeans. These had not been caused by normal wear and tear.
She was aware that Mahon had told gardaí that he had put a knife into his back pocket and she said that this could have caused the damage.
The court has already heard that Dean Fitzpatrick was the older brother of Amy Fitzpatrick, who went missing in Spain in 2008 and has never been found.
The trial continues before Ms Justice Margaret Heneghan and a jury of six women and six men.
Comments have been disabled as the trial is ongoing.