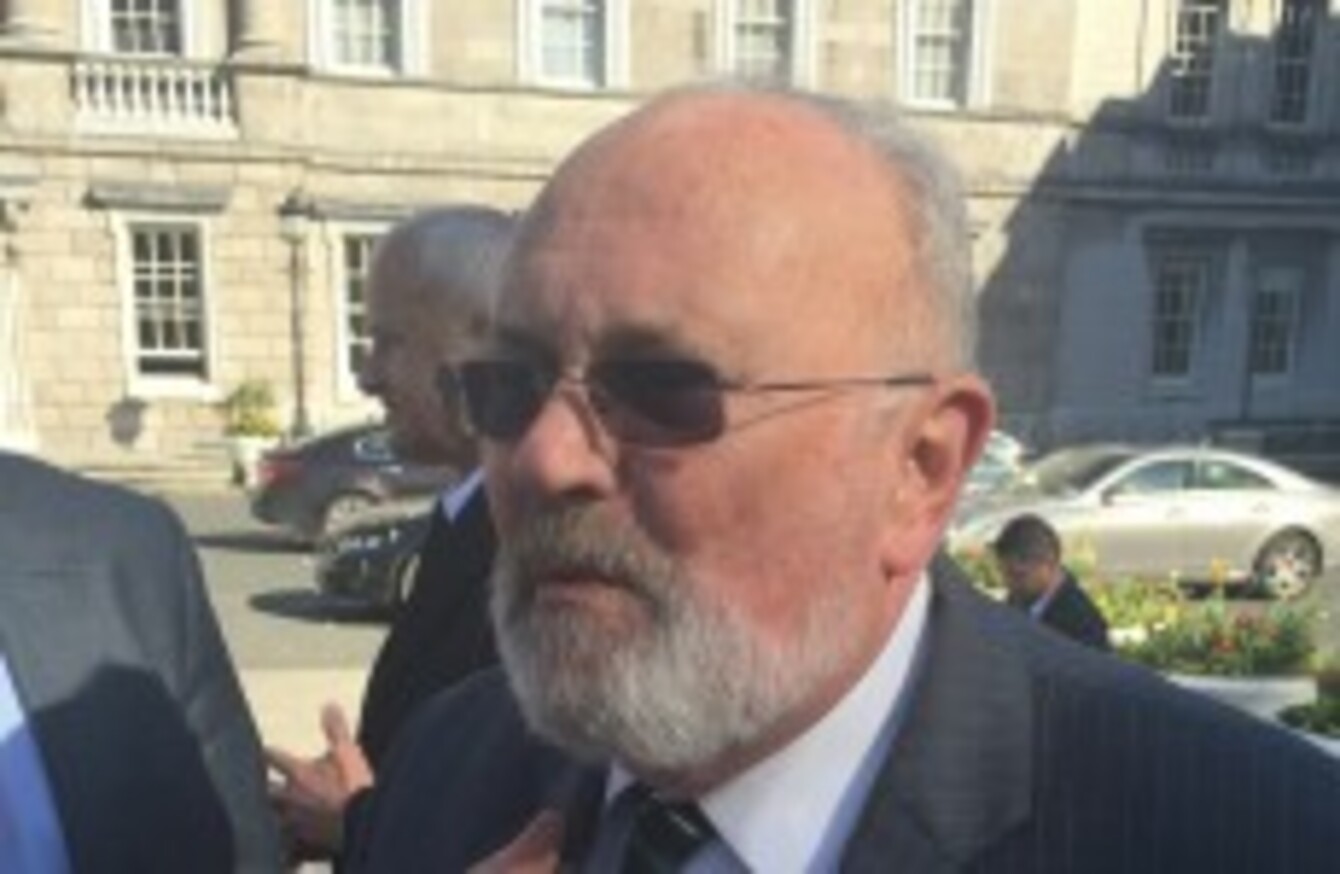 David Norris outside Leinster House today
Image: Hugh O'Connell/TheJournal.ie
David Norris outside Leinster House today
Image: Hugh O'Connell/TheJournal.ie
DAVID NORRIS HAS made an impromptu appeal for a Yes vote in next week's same-sex marriage referendum.
The independent senator, who successfully fought for the decriminalisation of homosexuality in Ireland, has kept a relatively low-profile during the referendum campaign.
But he appeared on the plinth this afternoon as No campaigners outlined their concerns about some of the Yes campaign's funding.
Rónán Mullen, Fidelma Healy-Eames, Michael Healy-Rae and Mattie McGrath raised questions about billionaire philanthropist Chuck Fenney's funding of groups advocating a Yes vote, including Marriage Equality.
They also questioned why some $8 million was donated to Túsla, the Child and Family Support Agency, when it had cut funding to the Catholic marriage agency Accord.
Mullen insisted no laws had been broken but said it was wrong that Atlantic Philanthropies had donated money in this way and all four politicians claimed it amounted to "massive interference" in the referendum campaign.
As they outlined their concerns, Norris appeared on the plinth to listen to what they had to say.
After a lengthy and somewhat heated press conference with journalists, Norris had his say, describing what he had heard as "an attempt to sew doubt and fear in the minds of the electorate".
"If there is doubt and fear people will vote No," he said.
This is about equality, full stop, and I heard the No people saying there are equality provisions in the Constitution. Oh, yes, indeed there are and they were there when I sued Ireland in the High Court and in the Supreme Court and the High Court and the Supreme Court found that there was nothing unequal in sending gay men to jail for ten years to life imprisonment.
"So that tells you how much the equality provisions protect gay people. There is no protection whatever for gay people in the Irish constitution."
The veteran senator, who unsuccessfully ran for president four years ago, said he could not understand why gay people were previously being accused of promiscuity but now that they wanted to settle down, they are still facing opposition.
He continued: "As a gay man, 71 years old, I would really welcome being voted to be an equal person.
"I think it would be wonderful. And what a terrible message it would be for young gay people. What a slap in the face for young people and that's what I'm interested in, the well-being of decent people.
I would have thought the people who campaigned for so many years against me because they said gay people were promiscuous, now gay people are settling down – saying they want to get married – and they're still not satisfied. What do they want? I don't know. I wish I knew what they wanted.
Norris insisted that the passage of the referendum on Friday week would not have any impact on existing marriages.
He added: "I really doubt if my many heterosexual married friends will wake up on the 23rd, look at each other and say: 'Oh darling, I feel so much less married to you today.' I just doubt it, it doesn't seem real to me. We want to live in the real world, with real people."