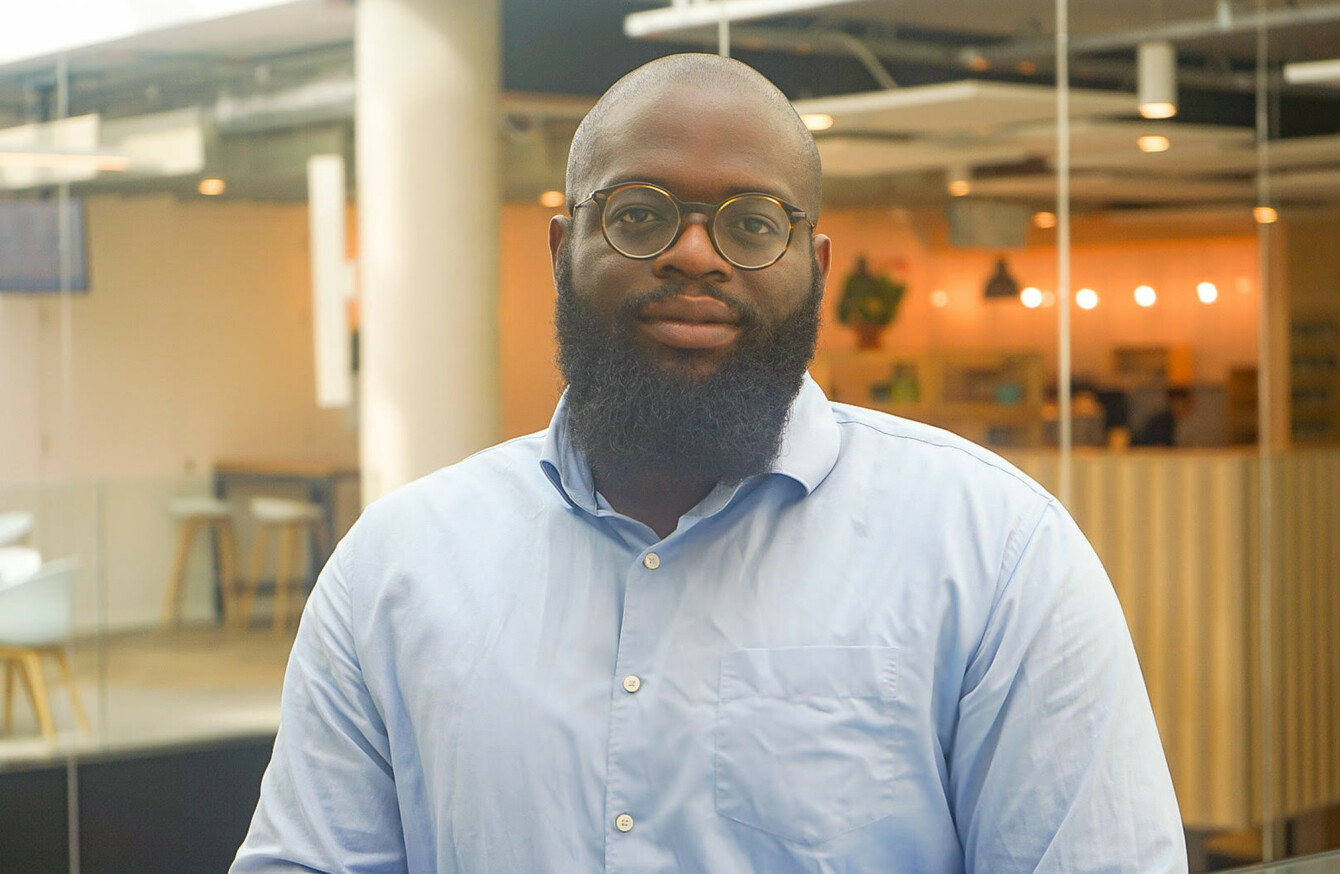 Brian Adeleye graduated from DCU Business School in 2017.
Image: Brian Adeleye/LinkedIn
Brian Adeleye graduated from DCU Business School in 2017.
Image: Brian Adeleye/LinkedIn
DCU Business School's MSc Management (Business) is designed for people without a business or management undergrad who are ready to take the leap to a new industry or progress their career in the long term. As well as covering the core business disciplines, students complete an applied project with a client company and develop managerial skills as part of the unique Next Generation Management programme.
After graduating with a law degree in his home country of Belgium in 2016, Brian Adeleye wasn't sure what his next steps should be. He used the MSc at DCU Business School as a bridge to the world of tech and business management, and is currently an Account Director at LinkedIn's Dublin office. Here, he shares his experience.
I kind of studied everything at secondary school: science, business, even Latin. I was fairly good at most subjects. My parents didn't push me to make any one choice. They said, 'You decide for yourself.' But of course at that age you're not sure what you want to do or be.
I figured that law would suit how my brain works. The reasoning, the cautious nature, the aspects of avoiding and resolving conflict… those were all things I could identify with.
But the big issue with a degree in law, at least for me, is that the profession is very set in its ways. I wanted to bring my skills and learnings to something else once I graduated, but I couldn't see any opportunities for me outside of the legal profession.
Yes, I could be a solicitor, or a barrister, but I had an entrepreneurial mindset and a passion for starting new projects and I wanted to explore those things. I did some thinking and spoke to a few different people, and decided that a Masters in business could help get me where I wanted to go.
Searching for the perfect course
Starting out, my first question was 'Which courses can I actually apply for?' A lot of Masters programmes require a business undergrad and obviously I didn't have that. It was also really important to me to find a course that covered the core concepts of business, without being so broad that I'd feel I was doing an undergrad all over again. The MSc at DCU felt like the right fit.
Ireland as a country appealed to me – I speak English and had spent some time living in the US, so I didn't feel it would be too tough of a transition from life in Belgium. Also, I thought that studying here could be a good stepping stone to some of the tech companies I had my eye on. (My instincts were right, as it turns out.)
A lot of people would say the workload is the most challenging aspect of a programme like the MSc. I was already pretty used to high workloads from my undergrad, so for me the challenge was more unexpected: I had to learn a whole new way of looking at things.
Broadening my horizons
In the legal world, your aim is to be as cautious and analytical as possible. You're trying to restrict your thinking. In business, it's the opposite, because you're always trying to broaden your view. I had a few professors say to me, 'Brian, you're being a bit safe, try to open things up a bit.'
It took me the whole of the first semester to really 'get it'. I had to work hard to transition my way of thinking, but once I did, I started to get a much clearer sense of how the course could help me to move forward in my career.
The MSc changed so much about how I look at things. It even made me see new possibilities for the work I could have done with my law degree – it's not just about becoming a solicitor or a barrister. I could have taken that degree and become an entrepreneur, I could have worked in contract renewal, or in negotiation.
Mix of backgrounds
The variety of backgrounds your classmates are coming from is a huge advantage of the MSc, and it's something you're really encouraged to leverage. We had people coming from nursing, from graphic design, from so many industries, which meant everyone brought their own expertise.
I'd say to anyone doing this course to dive in to those connections. The way the programme is structured almost makes it mandatory to build relationships with your fellow students. I think a lot of people tend to associate being determined with being isolated, but you can want to succeed and also be open to connection. Many of the people that I studied with are still great friends who I'd chat to day in, day out.
Looking to the future
Coming up to graduation in 2017, I didn't have a clear path forward set out, but I knew where I wanted to get to eventually: I did, and still do, want to become an entrepreneur myself someday.
So my aim to get me there is to work in different facets of business and learn as much as I can. It might take me 10 or 20 years to get to the point of leading my own business but when I get there, I'll have developed so many different skills.
After graduation, I started as a contractor at Twitter's Dublin office, before moving to LinkedIn. I've worked my way through the ranks there and went from sales to account management to my current role as Account Director. I love the role, and even the Irish weather has grown on me at this stage!
Even beyond applying for jobs, there are lots of other small ways the coursework has helped me in my daily work. I can have a conversation with a business client or executive about invoicing or tax, and I'll know where they're coming from. I have a certain level of comfort around business topics that definitely wouldn't be there otherwise.
Overall, I don't think I could have put all the various pieces together to start working toward my end goal without doing the MSc. It opened my mind in so many ways.
Want to bring your skills to the next level? DCU Business School's MSc in Management (Business) is designed for people without a business or management undergrad who are ready to take the leap to a new industry. Join students on an MSc programme that's ranked in the world's top 90 Masters in Management courses by the Financial Times. Applications are open now. Find out more here.