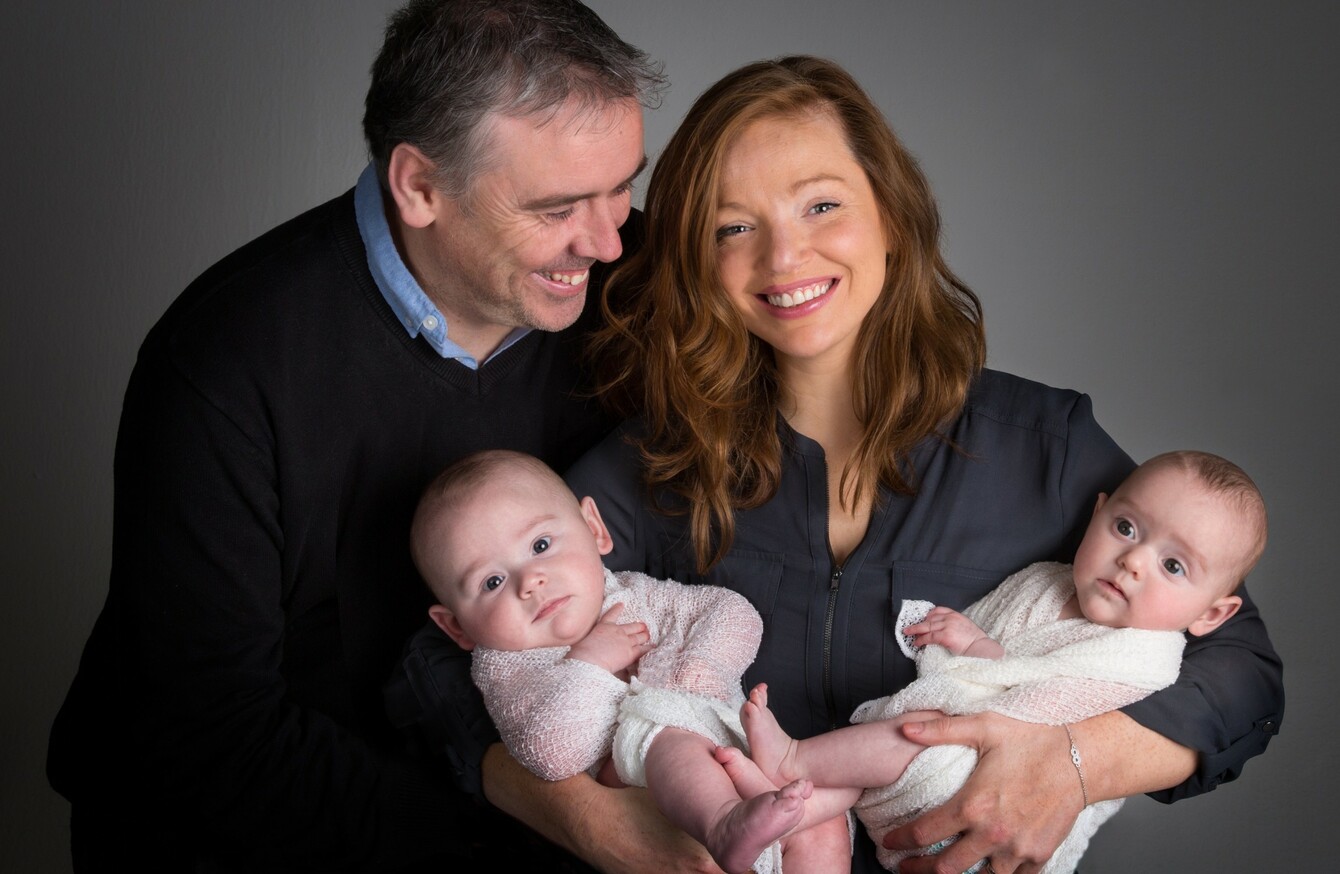 Sarah-Jane with her husband Conan and their children.
Image: Michelle O'Sullivan Photography
Sarah-Jane with her husband Conan and their children.
Image: Michelle O'Sullivan Photography
PRESENTER SARAH-JANE Moloney, who signs RTÉ news and weather, has said she had hoped during her pregnancy that her twins would be born hearing, as she did not want the societal barriers that Deaf people face to get in their way.
In a new RTÉ documentary, Moloney spoke of the decision she and her husband Conan made when asked at their IVF clinic in Spain whether they wanted to remove the Deaf gene – an issue that has caused controversy in the Deaf community.
"We decided we didn't want that, we wanted to let nature take its course."
Why would I want to remove a part of them that's from me? I love that I'm Deaf. I know some people might think that's a strange thing to say but it's a huge part of who I am and if I removed it, then what would that say about me and my friends and my family?
It would only be after the birth of their son and daughter that they would find out whether they could hear. Moloney said she feels she is "a strong Deaf person" because growing up her mother told her she could do anything. She too, "would teach her children to embrace their deafness as part of their identity" if they were born Deaf.
In an interview ahead of the birth of her baby boy and girl, however, she said she wanted them to be born hearing.
"Some Deaf people would be shocked to hear me say that, they'd be offended as if I'm saying there's something wrong with being deaf that it's a disability," Moloney said.
It's not that their deafness would be a problem, it's other people's attitudes that's the problem. The world won't change for us so we have to adapt to fit in.
She also described her labour, during which she said she felt as though doctors had "completely forgotten I was Deaf".
"The doctors were explaining the risks of having a C-section and if we understood the dangers. I didn't really understand what was going on at all so I just nodded so we could get the babies out as soon as possible."
#Open journalism No news is bad news Support The Journal

Your contributions will help us continue to deliver the stories that are important to you

Support us now
Moloney has had a cochlear implant for the last six years but she was told she would have to take it out for the procedure. "I accepted it, didn't have the energy to fight for it but it upset me so much because I really wanted to hear the babies cry for the first time," she said.
When she found out babies Conor and Louisa could both hear, she said she felt "an incredible sense of relief".
"I just felt like my babies would be okay, they'll be fine. No matter what they do, if they want to be astronauts or doctors, there's nothing stopping them. If they'd been Deaf I'd be worried about them because the world is really cruel and they'd have to fight for everything."
Deafening, produced by Mind the Gap Films, tells the story of what it is like to be Deaf in today's world of cochlear implants and hearing aids – and that the choice to use them is not as clear cut as people think. It will be broadcast on RTÉ One on 2 March at 10.15pm.