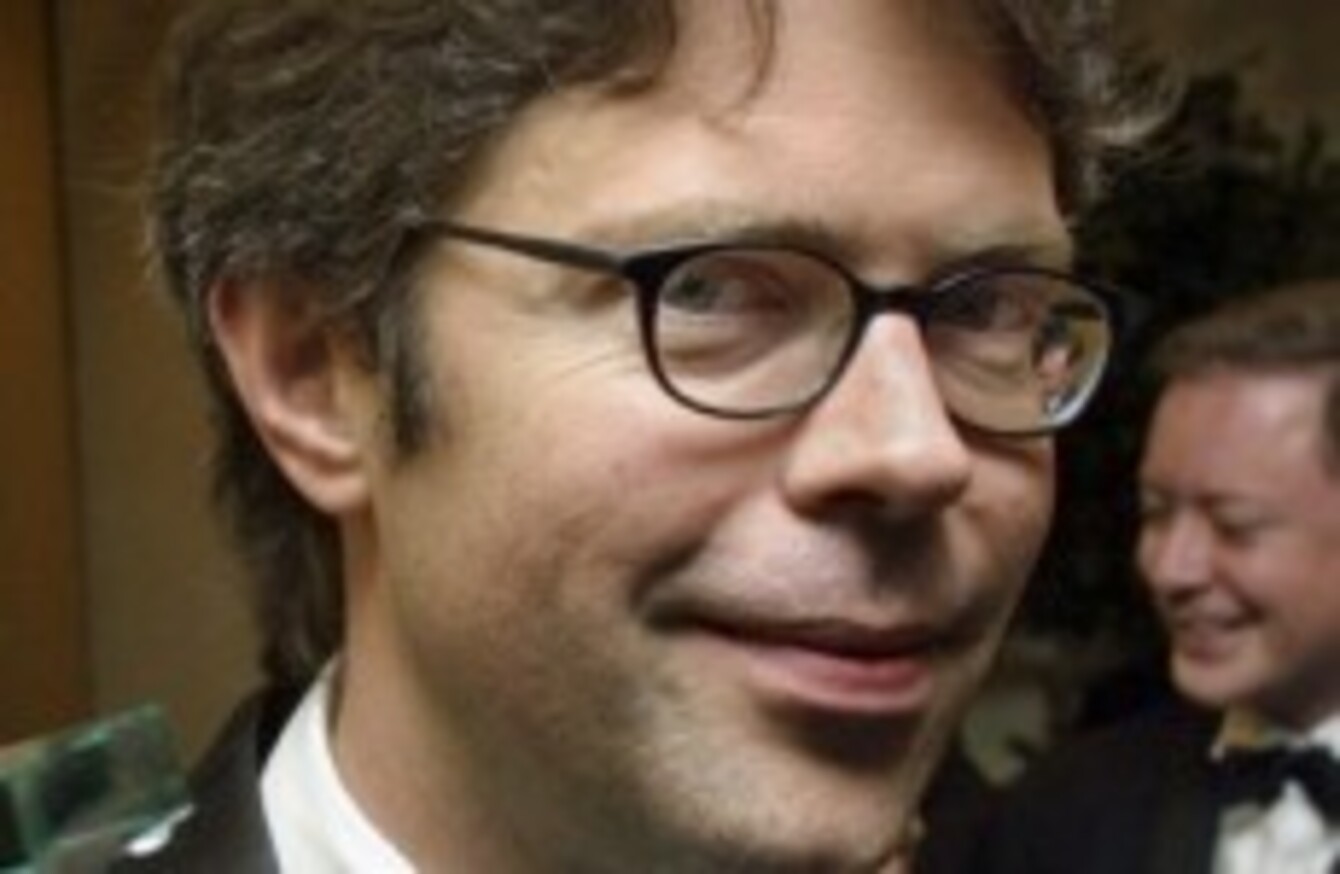 Happily reunited: Jonathan Franzen and his glasses.
Happily reunited: Jonathan Franzen and his glasses.
IT HASN'T BEEN  a good couple of weeks for author Jonathan Franzen.
First he had to face the trauma of seeing 80,000 copies of his acclaimed new novel, Freedom, sent to the shredding machine, after it emerged that printing errors had made it into the UK edition.
Then someone steals his specs at his own book party and hands him a £100,000 ransom note.
The BBC reports that the audacious heist, which happened on Monday evening in London, took a Bond-like twist, when the assailant tried to escape by jumping into the Serpentine Lake and a police helicopter was dispatched to apprehend him.
Graeme Neill, news editor of trade magazine The Bookseller, who was at the party, recalled what happened:
Around 8pm, two men, claiming to work for Puffin, gatecrashed the party at the Serpentine Gallery and approached Franzen. One snatched his glasses and escaped, before the other handed the stunned author a ransom note and also fled into Kensington Gardens.

The note read: "$100,000 – Your glasses are yours again!" and left a Hotmail address.
The news broke on Twitter, even as the book launch was still in progress. At 8.18, the London Review of Books, @LondonReview, tweeted:
Poor Jonathan Franzen. A man just ran up to him, pulled the glasses off his face, and legged it out of the room… At his own party!
Two minutes later, he added:
Franzen tried to give chase, but the man had disappeared.
At 8.51, the Guardian's Weekend Editor, @meropemills reported that the police investigation was already underway:
Jonathan franzen has had his specs stolen. Literally taken off his face. Police are interviewing people. This must be the worst book launch
A few moments later, she added an important clue:
Franzen tells me the glasses thief shouted "channel 4, channel 4″ as he ran off. There's a clue for the police in there somewhere…
Franzen himself later gave his version of events to NPR:
Somebody shouted, 'Channel 4, Channel 4,' and grabbed the glasses from my face, and took off running, and I actually thought, because I was suddenly blind, I thought it was my editor, warning me that Channel 4, from the BBC, had arrived. So, I trotted after this person, and knew something was amiss only when I saw him leap a five-foot fence and disappear into the trees.
The Bookseller's Neill adds that "the evening had another twist when north London independent The Big Green Bookshop mischievously listed a pair of glasses on eBay as the stolen pair, later reported as fact by some news organisations."
Director of Press Books, John Bond, revealed afterwards: "Franzen got his glasses back and will not be pressing charges as he sees it all as a harmless prank."
The Guardian notes:
Franzen is a notoriously fastidious writer who eschewed Oprah and spent nearly a decade in a soundproofed room to write Freedom. After the events of the last few days, he might be quite keen to get back there.